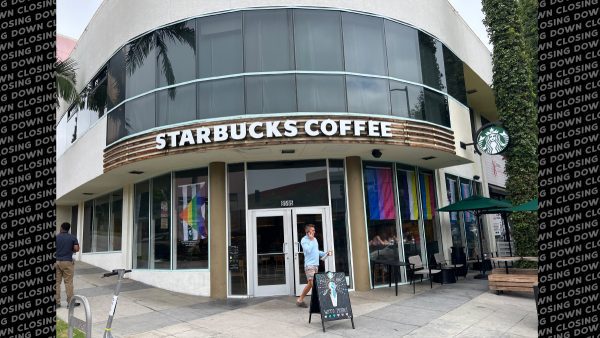 Update: Starbucks has announced that they are permanently closing 16 locations around the US by the end of July, The company issued the following statement. "After careful consideration, we are closing some stores in locations that have experienced a high volume of challenging incidents that make it unsafe to continue to operate. The incidents that workers have reported involve customers and other members of the public using drugs in the stores.
The store closed early this past monday for a staff meeting. The district manager told all the staff that the store would close on July 31st. And cited as the reasons, the "inability to keep employees safe'" Starbucks intends to close a many stores in 'woke' cities, – citing crime and homelessness.
The City of West Hollywood City Council recently voted to acquire the Holloway Motel and create a homeless transitional facility just two blocks from the Starbucks at Westmount. Homelessness has been an ongoing problem at the Westmount location and for the Starbuck's chain as a whole.
In addition, the City of West Hollywood recently passed a new minimum wage ordinance that was set to take effect July 1st. As the deadline approached the employees at the Westmount Starbucks did not receive any update about an application for a waiver or how the new rules would apply to their staff. The effects of the ordinance are still being learned by many employers. Homelessness is an ongoing problem along Santa Monica Blvd.
Starbucks is known for providing exceptional wages and health benefits to its employees.
Beauty Collection, located within the Pavillion's shopping center also announced their going out of business sale after 12 years this past week. That follows the closures of Chop Stop and Subway and Blue Mercury who closed their doors in the past two weeks leading up to the implementation of the new rules governing employers in the City of West Hollywood.