WeHo Councilmember Lindsey Horvath claimed the endorsement Wednesday of the L.A. County Democratic Party in the race for County Supervisor (Third District).
"A local leader and champion of our beloved democratic values, Lindsey Horvath demonstrates time and time again her dedication to her community and her passion to help those most in need. She gives her all to her work, always putting the needs of others above her own. Los Angeles Democrats are proud to endorse Lindsey Horvath, a strong, committed leader of our Democratic Party, for Los Angeles Board of Supervisors District 3," said LACDP Chair Mark Gonzalez.
State Sen. Ben Allen and Assemblymember Richard Bloom have endorsed her opponent, state Sen. Bob Hertzberg Hertzberg, who also picked up an endorsement from former WeHo Councilmember Steve Martin.
"Bob Hertzberg is the best choice for LA County Supervisor. His experience is deep, wide-ranging and unparalleled," Bloom wrote in a statement Tuesday. "Most importantly, Bob thinks creatively and innovatively when it comes to developing polices to solve problems. The Board of Supervisors will benefit from his ability to build coalitions among different people and groups, generate consensus, and get things done. I am fully confident that Bob will be a strong advocate for people across the 3rd District."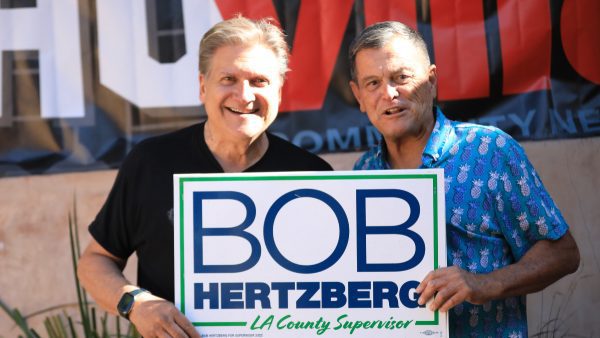 Martin, who pulled his support of Horvath over her push to defund the Sheriff's Department, elaborated on his change of mind in a letter addressed to her over the weekend:
July 9, 2022

Dear Lindsey,

Given your recent vote to de-fund the Sheriff's Department, I find that under the circumstances I must withdraw my endorsement of your bid for County Supervisor.

During your tenure on the City Council, I have admired your leadership in promoting the subway through West Hollywood and I worked with you to improve the working conditions of hotel workers and to prevent landlords from passing through earthquake retro-fit costs to tenants. You are an undoubted ally of the LGBTQ+ community.

But your alignment with Nika Soon Shiong and her rabid obsession to defund law enforcement was troubling and your vote to actually decrease the Sheriff's budget is a betrayal of our community. While I don't believe withdrawing my endorsement will have an impact on the race either way, it is something I need to do to remain true to my beliefs.

What is incredibly unfortunate, I believe that with your progressive credentials you would have received the endorsement of the Los Angeles Times without having appointed Nika Soon Shiong to the Public Safety Commission.

You knew when you appointed her that she had a political agenda and by all appearances you have set aside common sense to embrace that agenda. Your disappointing vote to defund the Sheriff while we are in a historic spike in crime is simply not reconcilable with putting the needs of the community first. The vast majority of the community believes you put your own political aspirations before their protection; I am just one more voice in the chorus.

I did not want to send you this note after the Council's vote as I wanted to be dispassionate in my reasoning and I did not want to confront you during the memorial services for former Public Safety Commissioner, Ruth Williams, who was our mutual friend. But frankly I am still having a hard time accepting that three members of the City Council were so willing to play politics with the safety of the residents and visitors of West Hollywood.

I wish you luck in all of your other future endeavors, but I regret that I cannot support you in your current bid for Supervisor.

Steve Martin