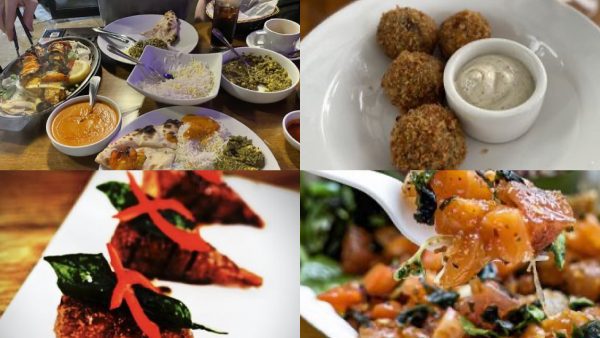 Yelp unveiled its favorite places to eat in the L.A./San Fernando Valley area this week, and four spots in West Hollywood made the list.
OSTE WEST HOLLYWOOD
WHAT THEY SAID: We specialize in Pinsa (Roman style pizza). Our dough is made up of high concentration of water and long cold fermentation, the process allows the dough to a natural rise, making our Pinsa extra light, low in fat, low calorie and easy to digest with the result of a divine crunchy bite. Buon appetito….
WHAT YOU SAID: Oste is our favorite spot on West Third Street! Outside of the incredible food and ambiance, the owners and staff take great pride in providing exceptional service for everyone. Gaby, the beautiful hostess with the gorgeous hair always takes great care of us. The Cacio e Pepe is one of the best I've had and the pizzas are light and cooked to perfection with PInsa dough. Its a perfect spot for weekend brunch or date night with indoor and outdoor seating. Highly recommend! — MEG D
http://ostelosangeles.com
8142 W Third St.
(323) 413-2372
PISCES POKE AND RAMEN
WHAT THEY SAID: #2 Restaurant in ALL of U.S.A. on Yelp 2020 (1st Location)! Joshua You, the man behind our restaurant, begins each morning at the market choosing the freshest fish. He's an experienced sushi chef, so he knows exactly what to look for. This is the starting point for our poke at Pisces. From here, we combine Joshua's choice cuts with other amazing ingredients to create our signature dishes. Each recipe comes with its sauces and accompaniments picked out in advance to ensure the most vibrant flavors. We also offer other convenient options like hand rolls and salads, all of which are served with eco-friendly utensils. We've taken care of every last detail in order to give you a thoughtful experience — one full of creativity, passion, and poke worth coming back for.
WHAT YOU SAID: Wow!!! I have never had such high-quality fish at a poke restaurant before. Everything is fresh, taste great, and the price is very reasonable for what you get. I have tried almost everything on the menu at Pisces and enjoyed everything. Pisces has been my favorite go to joint! — YOUNG MIN. Y
http://www.piscespoke.com
(323) 645-7293
7100 Santa Monica Blvd Ste.
LOVE
WHAT YOU SAID: There is no reason why this place shouldn't be packed for dinner. 100% plant based. 100% vegan. Shout out to my server Ryan for being so cool and helpful. Really made my solo date with myself a delight. Will be back with friends! I just went vegan again, so getting a sushi roll like this was a great surprise. The cucumber miso balanced out the slickness from the roll. The Thai wings were delightful. Spicy, but not spicy enough that you can't enjoy the lemon grass sauce. Finished my meal with some dessert and I couldn't be happier. Give this place a shot!
http://www.loveinweho.com
(323) 688-2065
8205 Santa Monica Blvd Unit 5
CURRY KINGDOM WEST HOLLYWOOD
WHAT THEY SAID: We Serve Authentic Indian food. We provide quality ingredient's and excellent customer service. We go above and beyond to reach our guests expectation. Our ultimate goal is to keep every single guest smiling by providing flawless service and by keeping our food quality higher. We do Dine-in, take out, delivery and catering for small/large events.
WHAT YOU SAID: The food was yum! I ordered a Madras Chicken and Chapati. Flavors were spot on in the Madras Chicken, and the heat perfect (I opted for medium-spicy); and I am glad they offer both the Chapati and Roti Bread. Chapati is more homemade version of the Indian bread and not all Indian restaurants offer it. Same for Madras chicken. I am glad they had these on the menu and flavors were so good. — TANUJ G.
http://www.currykingdomweho.com
(323) 380-5600
8281 Santa Monica Blvd