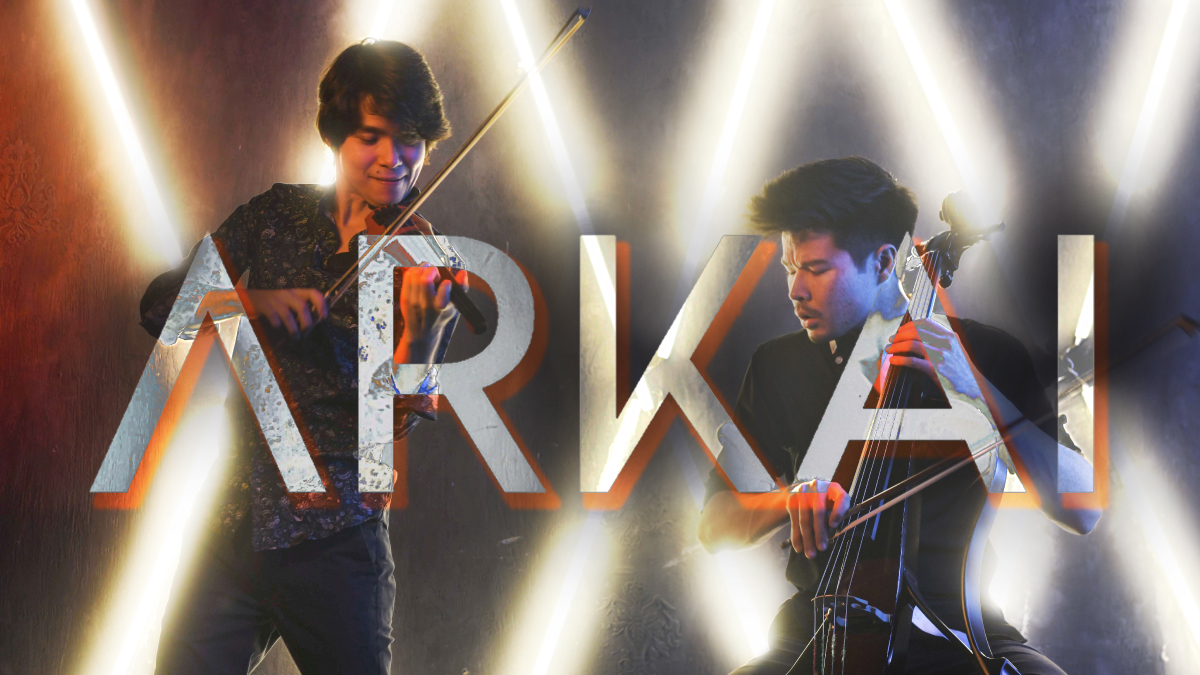 Sunday, July 17, 2022, 5PM
Plummer Park, 7377 Santa Monica Blvd., West Hollywood, CA 90046
ARKAI's genre-bending music fuses classical virtuosity with contemporary technology, forging new possibilities for what a violin and cello can be. Winners of the 2021 Astral Artists National Auditions, their past engagements have included performances at The MET Breuer, Rockwood Music Hall, Juilliard School, Lincoln Center, Carnegie Hall, and the 92nd Street Y. Their electronic debut composition, "Letters from COVID", was featured at TED@PMI for a global audience of over 30,000 people. Jonathan from ARKAI chatted with WEHOville for this exclusive Q&A.
I'm a record executive, and I'm giving you three sentences to pitch your band and your music. Go!

ARKAI is an award-winning violin/cello duo comprised of two Juilliard grads (Jonathan Miron & Philip Sheegog) that are charting new possibilities for what instrumental music can be. Our music is a fusion of the old and the new – through the instruments we play (acoustic + electric), the technology we utilize, and the genres we channel (classical meets rock) – creating dynamic and innovative musical experiences that have inspired audiences around the world. Past appearances include The MET, Chateau Marmont, Public Theater, Lincoln Center, Carnegie Hall, and TED.
ARKAI … where did that name come from?

ARKAI comes from the Greek ἀρχαί that has several meanings including 'source of action', 'leaders', and 'vanguard'. When we were first starting out, we thought it was a fitting name for what we were doing with our music. The good news is that we still believe it to be true years later!
What sets your music apart from acts that are similar to you?
Great question! I think what sets us apart is that in many ways, what we're doing is unprecedented, especially what we're able to achieve through just a two-member band. There are string groups that have taken their classical music training and virtuosity and crossed over into the mainstream music scene with incredible success (2CELLOS, for example). There are also exceptional artists who channel different stylistic influences in creating original music that transcends genre (ex. Bela Fleck and the Flecktones). We try to do it all – fusing the virtuosity of our Juilliard training with the incredible possibilities of modern technology and a love for different kinds of music – all in hopes of creating new, innovative music that reflects our world and speaks to diverse audiences. Our performances feel much closer to a rock show than a classical one – epic in scope, sonically and visually dynamic, emotionally substantive – a journey that we hope is transformative and unlike any other concert.
You guys give a lot more performance than your typical classical musician. How did you develop your stage showmanship? How do you use it to market yourselves?
Both of us have been performing since we were kids, so being on stage is in our blood. We were trained as classical performers, but there was a moment in our college years where we realized that we wanted to do more with our music. Ever since, we've led with a curiosity and desire to learn from iconic mainstream performers and the transformative experiences they create for their fans. Creating our ideal 'ARKAI' experience is something that is constantly changing as we grow and our music evolves. As for marketing, audiences have definitely taken notice of how we're unique. I mean, two dudes rocking out on the electric violin + cello in a club with cool lighting…don't tell me that doesn't intrigue you just a little bit?!
Tell me about yourself. Where did you grow up? When did music become your full-time passion?

I've grown up living around the world – born in Taiwan, then Singapore, Cincinnati, and New York City (my home for the last 16 years). When I was a wee lad, I would sit and watch the legendary cellist, Yo-Yo Ma, perform over and over again on Laserdisc (yep, those days). Story goes that I demanded to play the cello when I was 4 years old, so my parents had one made for me. It ended up being bigger than I was, so I switched to the violin (the tiny cello), which has been a part of me ever since.
Three musical artists you're currently listening to?

Kishi Bashi, Jacob Collier, Khruangbin
Which artist would you love to be the opening act for on a world tour?
Jon Batiste. That dude does it all – exceptional chops, incredible artistry that transcends genre (jazz, classical, pop, you name it!), film composer, late-night band leader, all-around kind and generous human, and so much more!