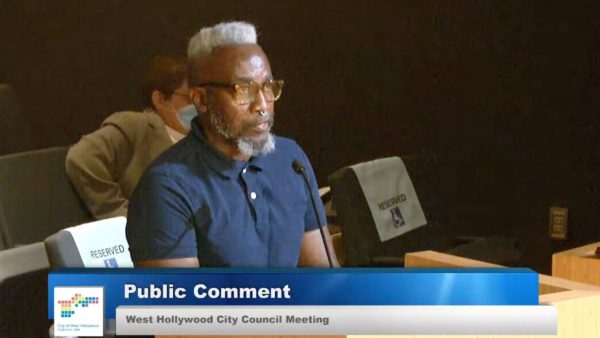 Tod Hallman, new chairperson of WeHo's Public Safety Commission, chastised a recent WEHOville report on the past homicide conviction and prison sentence of one of the city's top safety officials during City Council's meeting Monday night.
Shea Gibson, the operations manager of the Block by Block security ambassadors program, was convicted of manslaughter in the late 1990s and served more than eight years in a Georgia prison. Councilmember Lindsey Horvath and other city officials have known this since at least Fall 2021, when an unnamed security ambassador informed them via email. The general public was left in the dark.
"When outgoing manager David Aguilar introduced me to Shea Gibson, I had full confidence that we were in good hands and he understood what was going on in our city," Hallman told the Council. "And I ask that you let him continue, because this is important. Shea did his time. He paid his debt to society. And this recent hit job on him, I consider to be racist. As a black male who has lived in this city for over 30 years, it is racist. And for those who think this is West Hollywood and we don't have racism — wake up. I've experienced it. This man deserves the right to go on with his life and be the amazing leader that he has been our security ambassadors."
The WEHOville article made no mention of Gibson's race, but it was used as source in separate stories published by national conservative media outlets that did.
It's not the first time charges of racism have echoed through council chambers this year.
This past spring, Councilmember Horvath berated members of the public who questioned the wisdom and motives of her friend and appointee, Public Safety Commissioner Nika Soon-Shiong, as they pushed for a reduction in the sheriff's budget.
"I find it disgusting the way that she has been vilified in local blogs and demonized for offering an alternative point of view," Horvath said. "To put that responsibility solely on this on the shoulders of one commissioner is rooted in racism and othering of people and community who have a different point of view."
During Monday night's meeting, City Manager David Wilson read an official statement from the City of West Hollywood on Shea Gibson:
"Community Safety is the City's top priority, and the city takes seriously its judiciary obligations to ensure that contract vendors meet legal requirements and ethical standards. … Regarding background checks, the RFP process by which Block by Block was selected, includes specific requirements for adherence to guidelines established by the US Equal Employment opportunity Commission. Block by Block has responded in a statement that it complies with state law in not taking into consideration criminal convictions older than seven years. The city respects Block by Block adherence to State Law on this matter."
Former Councilmember Steve Martin, an advocate for the Block by Block program, thought Gibson had become entangled in the crossfires of a different debate — whether or not to decrease the sheriff's budget.
"I don't think you really have a handle on just how disappointed, angry and betrayed people feel," Martin told Council. "We are not a poor city. We could have afforded to fully fund the sheriff and provide the Mental Health outreach team. We could have also expanded Block by Block. But we chose not to. That is not, in the public's view, putting their safety first. That's putting politics first. …. People are viewing it as, Block by Block is getting a break at the expense of the sheriff. And that's probably not a good way to look at it, but that's what's going on. Because people don't believe you. Your credibility on this issue is affecting your credibility on all issues."