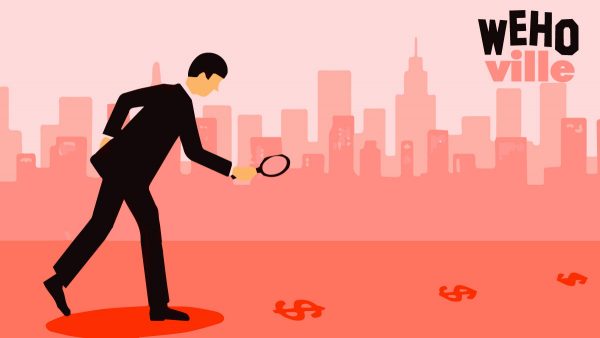 The past two years have been a roller-coaster ride of issues.
And in most all those cases, city councilmembers voted for policies that favored their supporters.
UNITE HERE Local 11 was central to the campaigns of Sepi Shyne and John Erickson and those councilmembers brought forward items as payback. You might recall the short discussions of the hotel worker ordinance — Danielle Wilson, the union representative literally had a seat on the zoom dais.
In the past months we witnessed a discussion about the movement of dollars from the Los Angeles County Sheriff's budget to Block by Block. Nika Soon-Shiong, a Horvath appointee brought forward her own data, which was not vetted by City Staff. Ms. Shiong is the daughter of the owner of the LA Times. Horvath happens to be running for County Supervisor.
Karen Bartak stepped forward to speak at the City Council meetings as an "insurance person," but not West Hollywood's insurance agent. She stated West Hollywood could be "uninsurable." The motion to move $3 million into the coffers of Block by Block was put on the table. The choice was to not maintain the Sheriff and expand other measures.
At another meeting, Mayor Meister asked Ambrose Brooks of Justice LA Coalition directly, 'if we could fund 3 million dollars without cutting the sheriff would that be acceptable?" Brooks replied, "It would not."
People have been accusing me of bias against Block by Block. Please think back and recall all the statements I've made over the years in support of Block by Block. My shop has placed hundreds of calls to the ambassadors, and many of them come to the store for a water or chips, and I've spoken up for the "mission" of the ambassadors multiple times. I know many ambassadors personally. Some have been at my house.
In fact, WEHOville had been in possession of both Shea Gibson's and Rodriguez's record and history for more than a year. We never ran a story. I had personal conversations with multiple city councilmembers about the Gibson's criminal record. WEHOville never published any story on this matter until the City Council voted to remove Sheriff's deputies and then create a giant expanded Block by Block initiative under Gibson's command.
City Council then widened the purview of Block by Block, adding increased responsibilities and increased risks. Shea Gibson, the person in charge of the measures, was convicted of armed robbery and voluntary manslaughter, and was imprisoned for 8 years. As the responsibility of Block by Block was to expand it should be fair to ask questions.
Councilmembers who had knowledge of this could have been open and transparent. There is a potential increased liability to the city. Councilmembers had a responsibility to acknowledge, disclose it and bring the hiring practices of Block by Block into consideration when making decisions. Instead, they asked few questions … and the hijacking continues.
Then we find out that Block by Block is owned by SMS Holdings, a Tennessee-based company, and their partner, Mydatt Services, a Kentucky based company. And although the company does not make campaign contibutions, their employees do — and 99.9% of their donations went to Republicans.
How can Lindsey Horvath or Sepi Shyne not be outraged? They scream "my body, my choice," and then vote to hire this company whose employees donate to Mitch McConnell, Marco Rubio and a host of anti-abortion advocates. They vote against travel to Texas to take a stand against harsh anti-abortion crusaders but but vote to send West Hollywood's Public Safety dollars to Republican causes. Why is John Erickson silent? Where is Hollywood NOW (mum's the word, they are speechless) where is the Women's Advisory Board asking questions?
We are not talking skilled workers here. The skill set to become a Block by Block employee on the street is minimal. Here is a copy of the job requirements.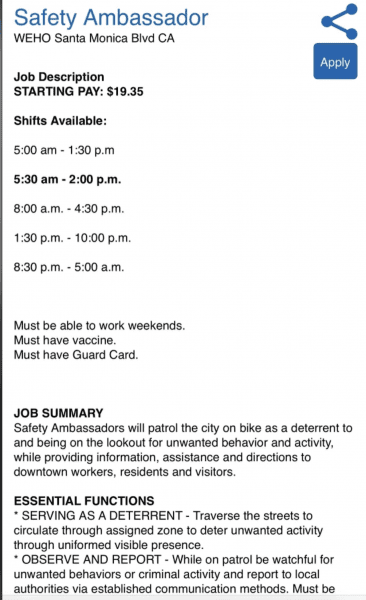 There are many security companies located in California or closer to West Hollywood than Tennessee. Where is the outrage?
There is something bigger going on here. The funding of Block by Block is the start. To me it looks like more of the same payback. The goal is to make the contract large enough to make it worthwhile to unionize them under UNITE HERE Local 11. West Hollywood will serve as the petri dish to those ambitions. What looks like defunding the Sheriff today will turn into funding the ambitions of the UNITE HERE Local 11 in the future. Mark my words.
Today, it is a requirement of all the cannabis businesses in West Hollywood to be union workforces. Two out of the city's 22 hotels are unionized and the rules that apply to the non-union hotels do not apply to the union hotels. So let's just be honest about what is going on here. West Hollywood will be more like the Las Vegas Strip in years to come than the quiet community we used to recognize. The powerful interests groups are taking over.
We can also follow the money when it comes to 'affordable housing' too. Today is cost $800,000 to build an affordable housing unit. Where's that money flow? To developers. And who gets those units? Thats a story of another expose.
If you want to know what's going on in this town. Just follow the money.