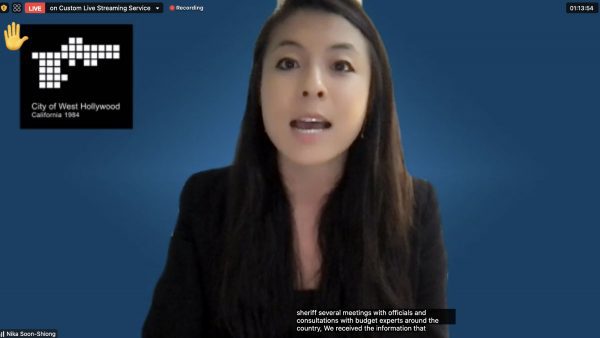 Nika Soon-Shiong, who successfully led the push to defund the Sheriff's Department, announced she will step down from the Public Safety Commission.
In an interview with WitnessLA.com, Soon-Shiong said she is resigning from the commission in order to finish her PhD at Oxford University, but that she "hopes to engage other contract cities around the process that was taken in WeHo."
No date for her resignation has been set. Soon-Shiong was working on her thesis — cash transfer systems in India — when the pandemic struck and she returned to the U.S.
Soon-Shiong's stint on the commission was short but her impact on public safety will be felt for years to come, in WeHo and beyond.
"We should look to the efforts of coalitions across LA County to challenge the LASD's monopoly over public safety budgets and narratives," she said. "I'd like to highlight the mobilization to pass an amendment to the sheriff's charter (which was approved by the Board of Supervisors last week), as well as the work of the Civilian Oversight Commission to raise the issue of deputy gangs."