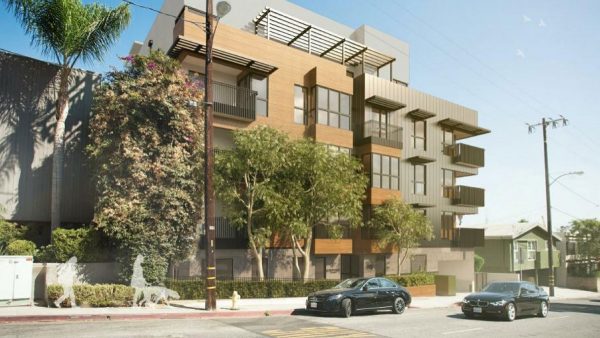 A five-story rental complex is planned for the property 948 San Vicente Blvd. just south of the Sunset Strip in West Hollywood.
The modern edifice clad in beige and grey will feature 24 apartments. The units will range in size from one two three bedrooms, from 650 to 2,166 square feet.
The new complex will replace three smaller buildings.
A staff report from the Design Review Subcommittee reads: "From a massing perspective, a singular building block is set at the setback lines with box bays and private decks or balconies projecting even further into the setbacks as 'allowable projections. Such projections in the front and rear yards create greater difficulty in establishing a meaningful tree canopy, however, if carefully coordinated with the parking footprint below grade and the landscape design on grade can work together efficiently and in full alignment with one another."