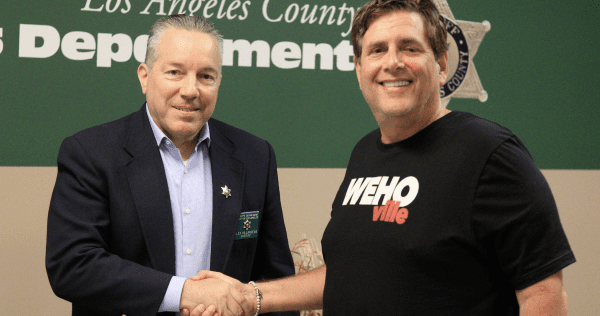 This weekend, WEHOville is proud to introduce an exclusive one-on-one interview with Los Angeles County Sheriff Alex Villanueva.
In this two-part series, WEHOville publisher Larry Block and editor Brandon Garcia were given access to a private meeting in media room inside the Hall of Justice. They were joined by Captain Lorena Rodriguez, formerly of the West Hollywood Sheriff Department and Elizabeth Espinosa, former KTLA executive handling strategic communications, as well as other deputies and security personnel.
WEHOville had full access including video. There were no pre-conditions. Block and Villanueva sat elbow to elbow in a no-holes barred question and answer period with the top man at the Los Angeles County Sheriff's Department.
Block solicited questions from all five West Hollywood City Council members as well as other public input.
Block posted online. "At the end of the interview I stood up to shake Alex's hand. The deputies and others in the room were clapping. I caught the corner of Brandon's eyes. We knew we nailed it."