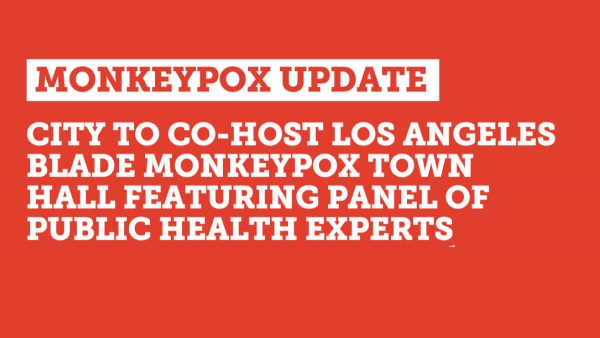 The City of West Hollywood is co-sponsoring the Los Angeles Blade Monkeypox Town Hall featuring a panel discussion of public health experts on Wednesday, July 27, 2022 at 6 p.m. at the City of West Hollywood's Council Chambers/Public Meeting Room, located at 625 N. San Vicente Boulevard.
The Monkeypox Town Hall is free and open to the public. Advance registration for in-person attendance is required. To register, please visit https://bit.ly/3yV2PJd. Seating will be available on a first-come, first-served basis and there will be limited validated parking in the adjacent five-story West Hollywood Park structure.
As an in-person indoor event, use of masks is highly recommended. The City follows guidelines established by the Los Angeles County Department of Public Health, which has announced that LA County has entered the High COVID-19 Community Level with the Omicron variant BA.5 having become the dominant variant, which may have increased ability to escape immunity.
The Town Hall will be broadcast live on Spectrum Cable Channel 10 in West Hollywood, livestreamed (and available for future viewing) on the City's WeHoTV YouTube channel at www.youtube.com/wehotv, and livestreamed on AppleTV, Amazon FireTV, AndroidTV, Roku platforms by searching for "WeHoTV."
The panel discussion of public health experts will include representatives from the Los Angeles County Department of Public Health to discuss the latest information about monkeypox, community transmission, and available vaccines. Participants scheduled to-date include: Dr. Leo Moore, Medical Director for Clinic Services, Los Angeles County Department of Public Health.; Dr. Andrea Kim, Director of the Vaccine Preventable Disease Control Program, Los Angeles County Department of Public Health; Matt Ford, an actor, writer, and video producer who recently recovered from monkeypox; Matthew J. Mimiaga, Ph.D., Professor and Vice Chair of Epidemiology at UCLA Fielding School of Public Health and Psychiatry & Biobehavioral Sciences at UCLA David Geffen School of Medicine; Dan Wohlfeiler, who leads a consortium of public health leaders and gay dating website and app owners who are working together to support HIV and STI prevention online; and Adam Sukija-Cohen, Ph.D., MPH, Director of Advocacy and Policy Research, Public Health Division Research at AIDS Healthcare Foundation. The panel discussion will be moderated by KTLA's John Fenoglio.
As public health officials track cases of monkeypox in the region, concerns about infection and access to vaccine, as well as confusion and fear, may cause concern among community members. Early data suggests that gay men, bisexual men, and other men who have sex with men (MSM) comprise a high number of cases of monkeypox virus. Anyone, however, in close contact with someone who has monkeypox is at risk. The Los Angeles Blade and partner organizations are hosting the Monkeypox Town Hall to help provide information, explain the science, and answer questions that people may have about the transmission of monkeypox and the experience of having it.
While the risk of contracting monkeypox is currently very low in the general population, the City of West Hollywood is disseminating information from the Centers for Disease Control and Prevention (CDC) and from the Los Angeles County Department of Public Health (Public Health) so that community members can be informed about what do to if signs of monkeypox appear. Monkeypox is spread by close physical contact (including sexual contact) with someone who has symptoms or by touching contaminated items, such as clothing and bedding. It can cause flu-like symptoms and/or a distinct rash that can be bumpy or fluid-filled on the face, body, genitals, arms, and/or legs. The CDC and Public Health officials urge anyone with a rash that looks like monkeypox to isolate from others and to speak with their healthcare provider.
LA County Public Health has prepared a variety of health education resources, including flyers and handouts, such as: Pamphlet; Flyer; Signage; Pocketcard; and Intimate Contact Handout. LA County Public Health has recently expanded the eligibility criteria for Los Angeles County residents to receive the monkeypox vaccine. Learn more at https://ph.lacounty.gov/media/Monkeypox.
The Los Angeles Blade Monkeypox Town Hall is co-sponsored by the City of West Hollywood and is presented in partnership with more than a dozen LGBTQ and HIV nonprofit groups including: AIDS Healthcare Foundation; APAIT; APLA Health; BlackAIDS.org; California Libraries; Equality California; Ariadne Getty Foundation; Grindr; In The Meantime Men's Group; JYNNEOS (the preventive vaccine from Bavarian Nordic); Latino Equality Alliance; the Los Angeles LGBT Center; TransLatin@ Coalition; and WeHo Times.
For more information, please contact Andi Lovano, the City of West Hollywood's Community & Legislative Affairs Manager, at (323) 848-6333 or at alovano@weho.org. For people who are Deaf or hard of hearing, please call TTY (323) 848-6496.