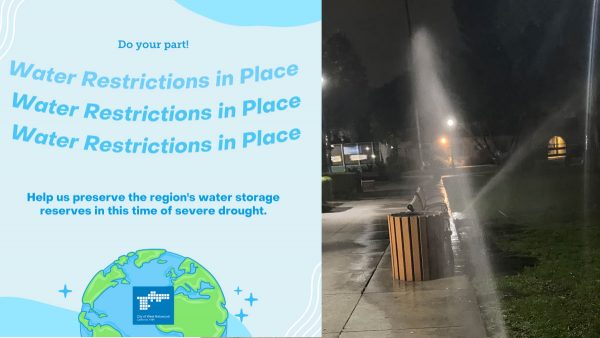 West Hollywood has embarked on a campaign to raise awareness about water restrictions in the midst of major statewide drought.
"Southern California is experiencing severe drought conditions," a recentcity news release stated. "Across the western U.S., scientists have found that the extreme dryness since 2000 has become the driest 22-year period in at least 1,200 years, a megadrought that research shows is being intensified by climate change."
As a resident with a water bill, you're required to follow these rules when you're watering the lawn or using the water hose:
No water should flow off of property
No water should leak from any pipe or fixture
No watering within 48 hours after a measurable rain event
No hosing of driveway or sidewalk 
No washing of vehicles using a hose without a self-closing nozzle
But whoever handles irrigation at Plummer Park clearly didn't get the memo. High-powered sprinklers were soaking both the lawn and the sidewalks in the wee hours of Monday morning, wasting water left and right while our reservoirs are at critically low levels.
For additional information, please contact the City of West Hollywood's Department of Public Works at (323) 848-6375.