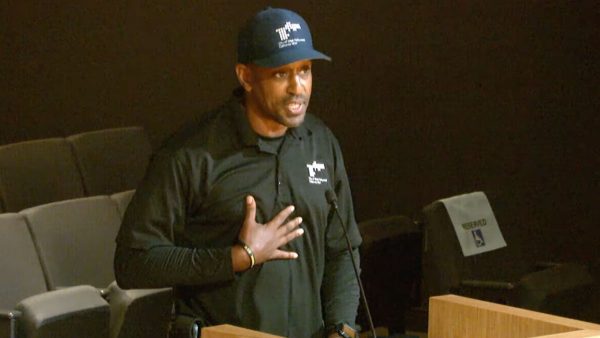 Three weeks after WeHo's top security ambassador made headlines over a prior conviction and prison sentence, Shea Gibson found himself inundated with support from the community.
Councilmember John Erickson presented Gibson with a proclamation from City Council at their meeting Monday night as members of the audience clapped and cheered.
"To know Shea and his dedication to our city, to our businesses, to our residents, is something that is exemplary," Erickson said. "I'm not going to re-litigate the horrible things that have been said about someone with such upstanding value and honor in this community, but it goes without saying that on behalf of all of us sitting up here as well as those all watching at home, and to all of those people that you have truly made sure that they felt safe in our community, we owe you a debt of gratitude."
While many WeHo residents were shocked and angered by Gibson's criminal history, many others came to his defense. The chairman of WeHo's Public Safety Commission called the coverage racist. The story was later picked up by national conservative media such as Breitbart.com, further inflaming the situation.
"(Gibson's) story is one where he changed his life and he has become an asset to our community, to Block by Block, to our Sheriff's station and working with the whole Public Safety Division," Mayor Lauren Meister said. "And I say congratulations to him for being able to do that."
Gibson thanked the Council and the Block by Block program for their support.
"I do appreciate everything that you all have been able to provide me with here as far as a canvas to kind of create art, if you will, as far as in the safety realm," Gibson said. "I also want to thank all the people who have shown me support through this situation that we went through. I just want to continue doing the best job that I can hear and continue to try to raise the bar for the citizens of West Hollywood."
During Public Comment, Public Safety Commissioner Kerri Balbone joined in saluting Gibson while asking for support for the Sheriff's Department as well.
"Tonight was really important because we as a community rallied around Shea," Balbone said. "Shea has lived his life to make up for probably some things that he regrets. I repeatedly come to this chamber and hear people talk about the Sheriff's Department as if they are one organization or one group of people who all have the same behavior. And I think if we're going to extend empathy and consideration, we need to do that in a balanced way. There are 9,000 people who work for L.A.S.D. and not all of them, especially those who come here to work for us and save lives, are all painted with the same broad brush. We have to give everybody balance and consideration, like we extended to Shea, and I hope that we continue to extend to our sheriffs."