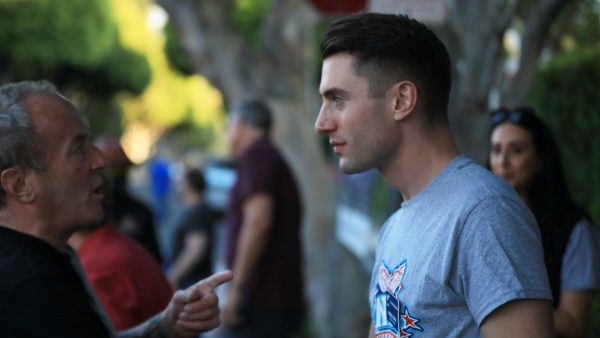 Sheriff's deputies served as security escorts for several WeHo City Councilmembers and commissioners at National Night Out on Tuesday, the department confirmed after resident Alan Strasburg raised the question in a letter to Capt. Bill Moulder.
"We have traditionally accepted requests to escort City Council Members for National Night Out," Moulder responded.  "Mayor Meister, Lieutenant Lapkin and I traveled together.  This year, there was a request for escorts for the Public Safety Commission.  Chair Tory Berger, Vice Chair Kerri Balbone, and Commissioner Robert Oliver had Deputy escorts, with City Staff accompanying them."
The conversation continued in a back-and-forth correspondence between Strasburg, WEHOville and other city officials.
"This is incredibly bad optics, particularly for a commmissioner-candidate who voted for the PSC motion to defund the LASD by $3.6 million," Strasburg wrote, referring to Robert Oliver, who originally supported a reduction in funding for the sheriff before switching his position. "This motion set off a period of angst and division in this city that continues to this day."
Strasburg wondered how the escorts/ride-alongs were being paid for.
"As Captain Moulder mentioned, the City has historically offered and coordinated transportation for City Councilmembers, Public Safety Commissioners, and Staff during the NNO event with our West Hollywood Sheriff's Station," wrote Community Safety Director Danny Rivas. "This approach has been consistent over the years and extending transportation to our City Councilmembers, Public Safety Commissioners, and Staff is intended to enhance the relationship between neighbors and law enforcement while bringing back a true sense of community under positive circumstances which is a top priority for the City Council, Public Safety Commission, and Staff."
"You didn't answer my question about where the hours come from for these efforts," Strasburg wrote back to Rivas.  "In (Mayor Pro Tem) Sepi (Shyne)'s new 'fiscal responsibility' mantra, are these hours taken from the block of hours we pay for public safety, or are they a separate line item?  We have increasingly limited LASD resources and I want to see those resources used to protect us.  Again, I understand the wisdom of community outreach."
"With regard to the question concerning hours and LASD resources, the transportation that is provided every year at NNO events is performed by our West Hollywood Sheriff's Station Community Impact Team (CIT) Deputies," Rivas wrote. "This is a Special Team the City funds separate from patrol services that works closely with our neighborhood watch/resident association groups, businesses, and City staff to address a variety of quality of life issues. In addition, CIT Deputies are responsible for conducting extensive outreach in the City as part of their community policing efforts and are required to be present at NNO events whether or not they are providing transportation to City Councilmembers, Public Safety Commissioners, or Staff."