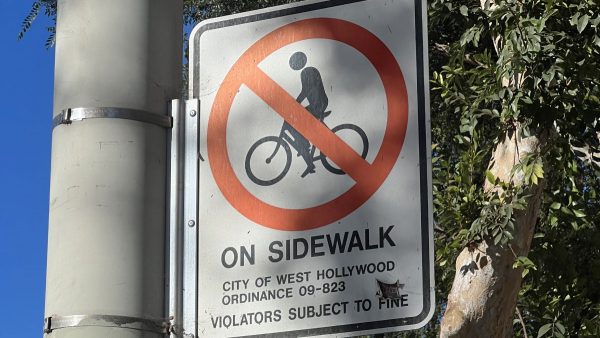 I used to think scooters were so dumb, so I know how you're feeling.
But I was wrong. Scooters are the future.
They're fun. They're cheap. They're fast. You can go to the bank or Ralphs and get back in the same amount of time as you would in a car.
So scooters are going to take over the world — but what about the sidewalks?
Maybe one day every road in WeHo will have dedicated bike lanes. But until then, scooter riders need to use the sidewalks sometimes.
This is not going to be a popular opinion. I suspect Manny Rodriguez has unfriended me by now.
It's illegal, yes. But does it have to be?
In many places, there's no realistic alternative. A trip down Fountain is hair-raising in a car — it's a death wish on a scooter. On the flip side, there are miles and miles of sidewalks in this town that hardly ever see any foot traffic. What rational person wouldn't pick an empty sidewalk over a busy street?
So can't we co-exist?
That's up to the scooter riders, and we as a group have work to do.
Leaving a scooter in the middle of the sidewalk or someone's driveway or under someone's car is pretty shitty behavior. It's beyond easy to use the kickstand and park it out of people's way.
Scooter riders need to take on the responsibility that comes with operating a high-speed vehicle capable of causing serious injuries. It's our job and in our best interest to yield to the pedestrian, to bikes and automobiles.  
How? Just hop off for a second.
Dismounting a scooter when passing a pedestrian in a tight spot is courteous and it tells people we're not out to take over the limited spaces available to get around in WeHo. 
Technology is on the way that will force scooter riders off the sidewalks, or throttle our speeds or maybe issue us demerits. We don't really need a techno nanny state — we need a code of conduct. It needs to become common knowledge what you want us to do and not do. We need big signs, with big arrows and big Xs. 
And the sidewalk question has to be resolved. It makes no sense to prohibit riding on sidewalks when sidewalks are the de facto parking lot for scooters. Nor does it make sense to allow bicycles, whose speed cannot be controlled remotely, to ride on sidewalks while prohibiting the smaller and more agile scooter from sharing the same space.
WeHo has the chance to write the rulebook on micromobility, while cultivating courteous, law-abiding riders today and especially in the generations ahead. Design a future where scooters and their riders are fully integrated onto our roadways. That would be real progress.