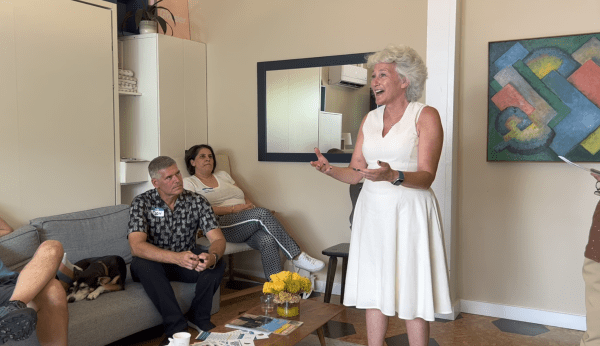 Mayor Lauren Meister told a gathering of supporters Sunday that it will take more than her own re-election to get the city back on track this November — residents who are worried about the direction of the city will need to elect two other like-minded councilmembers to ensure the majority necessary to reverse or alter the unpopular policies enacted by City Council over the past two years — like the controversial minimum wage ordinance.
"Whereas in the old days when when we were running, we would say, 'Just vote for Lauren' … we cannot do that this time," Meister said. "You have got to pick out me and two other strong candidates that can work with me. I'm not saying we have to agree on everything because we will never agree on everything. But to be at least aligned in terms of the direction of the city and what's important to the city."
Meister pointed to the minimum wage ordinance passed last year as a prime example of the current City Council's habit of governing without compromise.
"I believed in raising the wage and did vote for it, but I also believed in implementation that made sense. Although I voted for minimum wage, I voted against what my colleagues decided for the implementation because I didn't feel like it took into consideration that we just got out of a two-year lockdown with COVID, that we're possibly going into a recession and we want to bring back and support our businesses, particularly our small businesses. I felt that expecting a business to change the minimum wage every six months until they got where we wanted them to be was just asking too much. I felt that adding another year onto (the timeline) would not have really hurt anybody because we were still ahead of the game in terms of paying the best wages in the region."
She also felt the same way about the similar hotel worker ordinance also passed last year.
"I believed in all of the public safety aspects of that ordinance," Meister said. "But then there was a part of the ordinance that basically told the hoteliers how how to run their business, and I just didn't feel comfortable with (approving that) without discussing it with them in a meaningful way and getting their input."
She implied some of her colleagues had simply taken cues from "a special interest group who had been helping councilmembers get elected for just that purpose" — likely UNITE HERE Local 11, the labor union that helped propel Councilmember John Erickson and Mayor Pro Tem Sepi Shyne into office in 2020 and coordinated the theatrical protests and barrage of public comments that accompanied discussion of the minimum wage and hotel worker ordinances.
"And I will say, in 2019, I was endorsed by that special interest group — but that did not stop me from voting 'no' on an ordinance that I felt would hurt our hoteliers in a city where hospitality is one of the most important industries."
At its peak, the hospitality industry provided WeHo with more than a quarter of its tax revenues.
Meister elaborated on her top three priorities for WeHo — public safety, homelessness and residential/commercial affordability — before the crowd at the private event held by Patrick Shandrick and Don Freeman at their home.
"We want small business here," she said. "We want unique businesses here because that's what sets us apart from other cities. Otherwise we're just like the city of L.A."
If Meister successfully defends her seat, she will be rewarded with her third term on City Council. There are two other seats on WeHo City Council that are up for election — they are currently occupied by John D'Amico, who is retiring, and Lindsey Horvath, who is vacating the position in hopes of becoming County Supervisor.
A motley crew of more than a dozen candidates will compete against one another for those three seats. The top three vote-getters win the positions.
Describing herself as a "local gal" who started at the bottom and cut her teeth as a neighborhood block captain, Meister said her independent streak remains her greatest asset on the dais.
"You have to be willing to to go out there and vote 'no' when everybody else is voting 'yes.' And 'yes' when everybody else is voting 'no.' You stand by your convictions. I represent the whole city, and I think that no matter who you speak with, they will tell you that my door is always open to hear what you have to say."