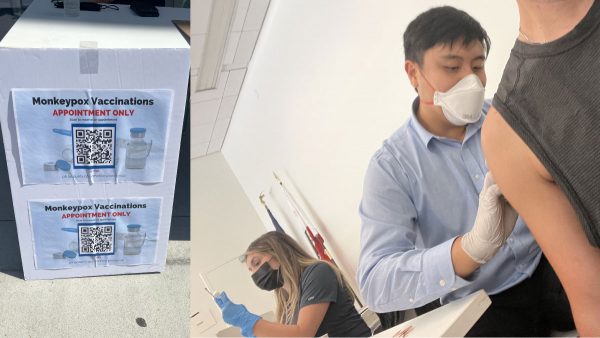 Two months after the first cases of monkeypox appeared in the L.A. area, the county's vaccination program is finally getting its ass in gear.
After signing up for the wait list a couple of weeks ago, I got a text message over the weekend telling me to come get my first dose of the JYNNEOS live monkeypox vaccine at the new popup vaccination clinic inside the Community Meeting Room of the West Hollywood Library. (If you walk through the park, it's in the area beneath/behind the big staircase they just built.*)
I was apparently supposed to make an appointment beforehand, but it didn't matter, they let me in anyway. There was hardly any line, maybe eight or nine people total in the room. I was in and out of there in less than 20 minutes. This was Monday afternoon.
Once you're inside, they make you take a questionnaire out loud, and the whole room gets to find out whether you've had an STI or been to a bathhouse recently (guilty!!!).
Then they send you over to the nurse who injects you with that JYNN juice and, voila, you're done.
So I'm still not clear exactly how protected I am against monkeypox at this point, but I know it's enough to update my Grindr profile.
OK, your turn.
The wait list is, as of Monday afternoon, still closed … but the L.A. County Public Health people I talked to said it might open up later tonight or tomorrow. Bookmark this link so you'll have it when it does.
In the meantime, you're going to want to subscribe to the newsletter so you can get a notification when the wait list re-opens (see below).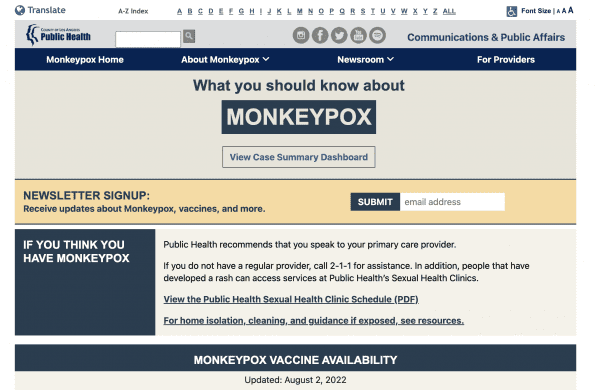 Eligibility is currently limited to gay or bisexual men and transgender persons 18 years of age and older who have had multiple or anonymous sex partners in the last 14 days including engaging in survival and/or transactional sex (e.g., sex in exchange for shelter, food and other goods and needs).
Basically everybody in L.A.
Get on that wait list, girl!
*It would be so cool if, after climbing all those stairs, there was something other than a row of barricades at the top. Maybe the stairs could lead to the pool that's on the roof? Just a suggestion!