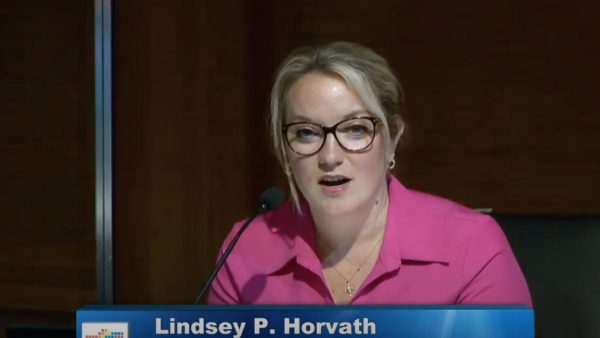 Councilmember Lindsey Horvath and Mayor Pro Tem Shyne bemoaned the broadsides they frequently received on social media, with Shyne vowing to name names at future City Council meetings.
The two took to the podium at Monday night's council meeting to heir their grievances and defend themselves against the nasty and often outlandish attacks aimed their way.
"There continue to be some engagement with city officials and city council members and I think that it's important to hear what we're talking about because what we're describing isn't just so you know, words and hurt feelings and name calling — but really some scary language," Horvath said.
"Two examples since our last meeting, one comment that was sent to a member of our city council: 'You literally deserve to be hung in the middle of the street. The best part is cops won't save you since you don't believe in them. Apparently, you're a piece of shit and I hope a real woman who trains kills you and leaves you on the street for homeless people to eat.' Another series of comments on Facebook and response to neighborhood: 'Much of the crime in West Hollywood is committed by or enabled by Sepi Shyne, John Erickson, and Lindsey Horvath, get rid of those three, and we get rid of much of the crime in West Hollywood.' A neighbor responded, We should lock the criminal, lock the criminals, and those three in a room for 15 hours with nothing but a set of 24 steak knives. The next day clean up, whatever is left with a wet vac.
"Perhaps these are ways that people joke to express their frustration, but you can see that when they're read aloud in a room like this, they don't feel like good way to express disagreement, they don't foster productive engaged dialogue and they certainly aren't reflective of the kind of comments that we want to have in our public discourse."
Shyne went a step further, promising to expose the people who attack her.
"I received an email from a person named Steven L. Pope who said 'I sure hope you get robbed or carjacked hopefully, both you worthless pos queer bitch," Shyne said. "Some people may say that we should be more thick skinned and that this is what it's like being in politics. Well, this is not the political world. which we should strive to live in, nor the community that I think any of us want to be a part of. So, from here on, whomever writes to me, any violent bullying or intimidating posts emails. I will call it out by name during my comments. And that is my First Amendment right to do so."