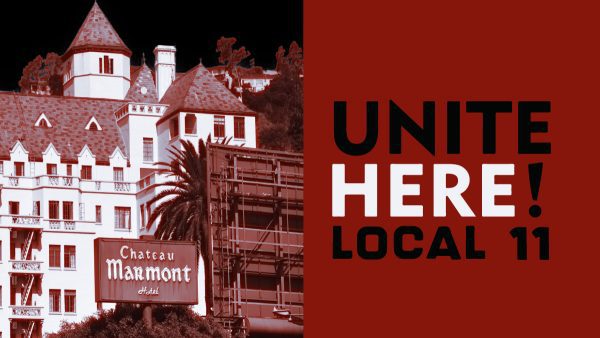 After 2+ years of boycotts and protests, the Chateau Marmont has finally recognized its workers' union and will soon return to normal operations.
The legendary West Hollywood hotel and UNITE HERE! Local 11 reached an agreement Thursday that will "lay all prior disputes to rest."
"We believe that it solidifies the foundation of the Chateau's historic success: the commitment to its guests and employees, both of which are famous for their loyalty and longevity," the parties wrote.
Workers will begin negotiations on their first contracts soon, the end of a bombastic and highly public row that began at the onset of the pandemic in 2020, when the hotel fired almost all of its non-union staffmembers and allegedly left them without healthcare or severance pay.
UNITE HERE rallied a small army of celebrities to the cause, including Jane Fonda and Tom Morelli of Rage Against the Machine, putting them to work as spokespeople and embedding them into the raucous protests outside the hospitals.
The movie industry's support of hotel workers was on full display around the time of the 2021 Academy Awards ceremony, when a huge boycott nearly crippled the store. Later in the evening, celebrities such as Gabrielle Union, Spike Lee, Issa Rae, Robin Thede, Quinta Brunson, Ta-Nehisi Coates, Roxane Gay, Ashley Nicole Black and Samira Wiley all took to the streets to voice their anger.
UNITE HERE continues to become a more powerful force in local politics. The union helped guide City Council in instituting a controversial wage increase last spring.