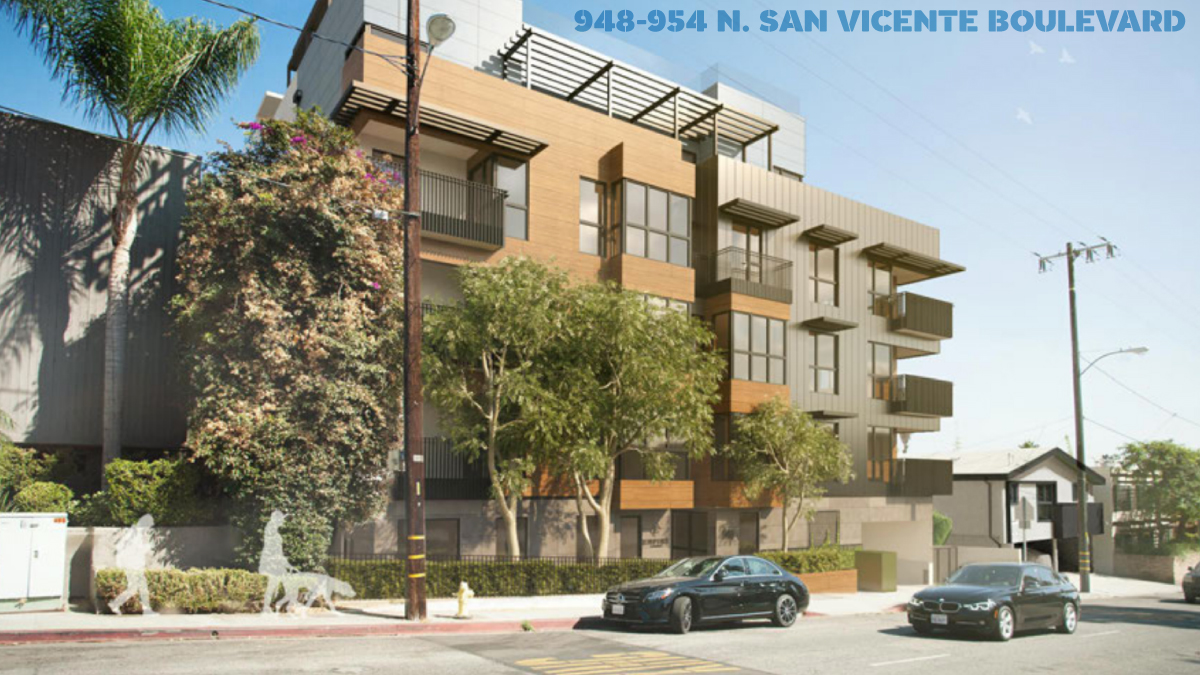 Today, Planning Commission will be hearing a proposal for a new project for 24 condominium units (a requested Tract Map is also in the application) to replace an existing 13 rental housing units (the tenants were "Ellised out" in 2019) at 948-954 N. San Vicente. While on paper this sounds like a net increase in housing, the staff report leaves open a number of questions that I hope will be addressed by the Commission. I will not be able to make all my comments in three minutes so I thought I would share some of them here.
Overall, this project is more of the same we see throughout the city. A large beige and brown box that pushes to the limit and beyond—every setback, height, greening and other requirement in our city code. However, a few things stand out from the staff report.
Affordable Units
First let's talk about affordable inclusionary housing. Per our city code, and as cited in the Resolutions for the project:
3.3) The inclusionary units shall be reasonably dispersed throughout the project, shall contain on average the same number of bedrooms as the non‐inclusionary units in the project, and shall be comparable with the non‐inclusionary units in terms of appearance, finished quality, and materials as approved by the review authority…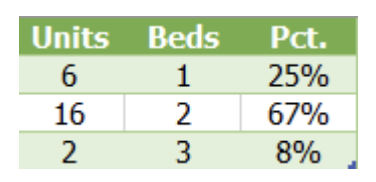 The proposed project includes 6 one-bedroom (four of which have been set aside for affordable inclusionary), 16 two-bedroom and 3 three-bedroom units. That works out to 25% one-bedroom and 67% two-bedroom. Thus, per the above language, at least two of the affordable units should be two-bedroom — if not three. What is staff's rationale for making these all one-bedroom?
One-for-One Replacement
The staff report gives a clear outline of the state requirement that the 13 existing dwelling units be replaced with comparable affordability in the new units. The four "affordable" units discussed above are mentioned on p. 9 that they will be "deed-restricted affordable units" — this again implies that they will be condos. It goes on to discuss that there will also be "nine rent stabilized units" but what is unclear, both in the staff report and the Resolutions, is how one goes about having "rent stabilized units" in a condominium building.
Are they proposing only half the building be condos and the other half rentals? The proposed Tract Map is for 24 units which implies that they will all be condos and the language that the affordable units be "deed-restricted" implies the same.
But more importantly, the state passed a law over three years ago that gives each jurisdiction the discretion to determine if the replacement units must be AFFORDABLE or only "Rent Stabilized." Mayor Meister has asked staff multiple times over the years where the ZTA is that will codify the city's decision (presumably to require Affordable) and yet nothing has been drafted to date. And now we have a prime example of what should be 13 Affordable Units and is only 4.
Question for legal, in the absence of a ZTA, given the state law, does the PC have the ability in their quasi judicial capacity to designate ALL 13 units as AFFORDABLE? This is also 9 units that could count towards our RHNA numbers for the next cycle—but not as staff is proposing this project to be approved.
Comparability
The staff report further goes on cite (p. 6) that the affordable units with be "of 'builder's quality' finishes and appliances." What is not made clear is if ALL the units will be 'builder's quality'— including the three-bedroom penthouses. If not, this is not "comparable…finish quality" and it is not specified or clarified in the resolutions. In case anyone is confused, "builder's quality" is what you watch get ripped out of every remodel on HGTV and replaced with "high-end finishes." How does staff propose to enforce the "comparability"?
Parking
There is only enough parking for 20 units of the 24. Four of the parking spaces are tandem and are assigned to the two or three-bedroom units. Setting aside the very dubious business decision to build million-dollar condos with insufficient parking, the staff report does not clarify HOW the missing parking will be allocated.
Is it just a coincidence that there are four affordable units? Will those be the four units with no parking? How does that comply with the "comparable" language in the resolution 3.3 as well as:
3.12) Affordable units shall be provided with the same number of parking spaces provided to market rate units of the same unit type based on bedroom count.
Height
Once again, the applicant is asking for a mountain of Waivers of building requirements in our code on top of the three Concessions allowed by State Law. I will not go into all of them as that would take forever but there are two that stick out. Under State Law the applicant is allowed a Concession for an additional 10' of height for providing affordable housing.
The applicant does not do that, instead they are asking for a Waiver (of a development standard that would have the effect of physically precluding the construction of the project). They are asking for an additional 8' 3" (almost an additional story) which includes 4' for a pool deck above the roof deck.
What is unclear from the staff report is why that additional 4' is required and how not having a pool deck that high precludes the construction of the project. Why can't it be on the same level as the main roof deck?
Ground Floor Common Open Space
Code requires that 600 sq.ft. of common open space be on the ground floor. The applicant asserts that this is physically impossible, yet there is room for both a 627 sq.ft. Entertaining Space and a 547 sq. ft. Media Lounge—both with full kitchens and bathrooms.
What is unclear is why a building that has an AVERAGE unit size of 1,352 sq.ft. (code is 1,200 sq. ft and this is another Waiver request) needs these two additional entertainment spaces.
Are there future plans to convert those two spaces into two new "units"? Has staff designed the Resolutions in a way to prevent a future conversion? If this is in fact a 26 unit building then all of the affordability calculations etc. go out the window.
Deliveries, Ride-share, Moving Vans
There is no provision for delivery vehicles or ride-share for this project and moving vans on San Vicente PLUS delivery vehicles should make for fun traffic patterns. It is very disappointing that none of this was addressed in for this project.
Trees
And since it is me, we have to take a moment for the trees. Seriously, trees growing into the middle of a dining room? The trees proposed for this VERY narrow front yard grow to 30' in diameter. As designed, they will have to be trimmed in half in order to grow up against the building. They are never going to be taller than this building so any argument that this drawing represents is what they will look like above the roofline does not fly. AND at the same time the street trees proposed are NOT canopy trees. Crepe Myrtle are lovely but they do not provide the canopy that our code envisions. We are in the middle of yet another brutal heat wave, trees make a huge difference in our climate yet we continue to cut them all down and replace them with shrubs.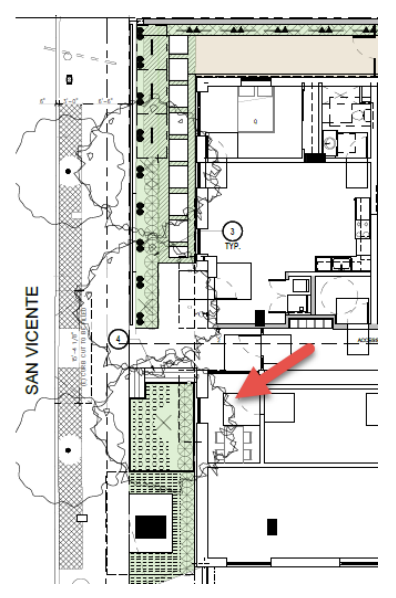 I pledged to many of you that I would continue to speak out on planning issues and so I shall. Some of the decisions you will make on this project will have long-ranging implications for both this project and those in the future. You have the right and obligation to challenge many of the assumptions made on this project and as your neighbor I am respectfully asking that you do so.
Date: August 31, 2022
To: City of West Hollywood Planning Commission
From: Lynn M. Hoopingarner
Re: 948-954 N. San Vicente Blvd.