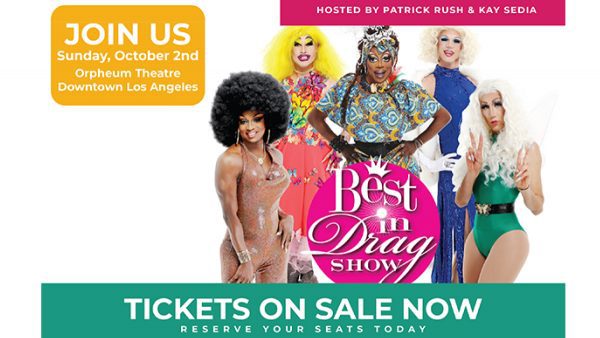 The most laughter you will have had in years! The Best in Drag show features song, laughter, community and fun all for a great cause.
The Best in Drag beauty pageant is a hilarious good time. This year's hosts will be Patrick Rush and Kay Sedia and will be held at the Orpheum Theatre in Downtown Los Angeles on October 2nd.
Best in Drag Show began as Battle for the Tiara—a small annual party and AIDS fundraising event filled with love and heart in Alexis Pittman's living room. Each year it has grown in size and renown to become a not-to-be-missed event. No longer able to squeeze into a tiny living room, the event now attracts 2,000 people and takes place at the Orpheum Theatre in downtown Los Angeles. The event is helmed by an amazing group of dedicated and creative people including Jeffrey Drew, Patrick Rush, Jimmy Cuomo, Joey Alfano, John Paschal, Todd Gadjusek, and Greg Butler. Filled with outlandish characters, over-the-top performances, elaborate costumes and celebrity judges, Best in Drag Show embodies the ideals of humor, love and dedication, continuing the work started all those years ago in Alexis's living room.
Some of the services Alliance for Housing and Healing provides are:
Group Homes with 24/7 care for those who are too ill with HIV/AIDS to live on their own and have no other resources
Permanent, subsidized apartments that are safe places for individuals and families with HIV/AIDS and a second diagnosis
Emergency financial assistance to pay rent and utility bills for those with HIV/AIDS who are facing eviction and homelessness
The West Hollywood Aging in Place program assisted many residents through the Covid crisis:
The Alliance for Housing & Healing's Aging in Place COVID-19 Rental Assistance Program provides financial assistance to West Hollywood renters, age 55+, who are unable to pay rent due to issues related to COVID-19 (illness, loss of employment, reduction on working hours, caring for a household member with COVID-19, etc.). Renters can apply for assistance to cover 25% of their rent for one month up to $1,000, which will be paid directly to the management company/landlord. Up to 6 grants may be accessed based upon need and eligibility. Required documentation includes: 1. Utility bill, 2. Identification, 3. Documentation of COVID-19 impact, 4. Lease and landlord information, 5. Declaration of COVID-19-related financial distress hardship. Additional benefits may be available for those who are low-income and/or living with dependents.
You can also make a donation here: https://alliancehh.org/