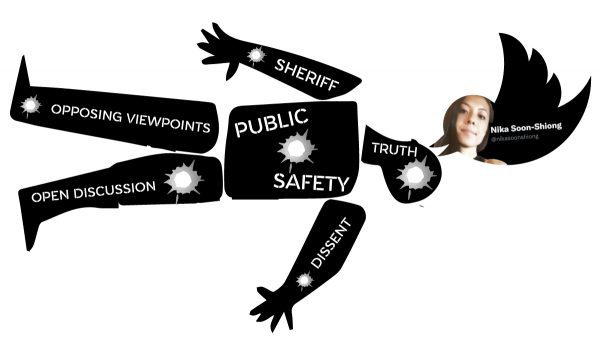 The main argument against cutting any deputies (and in fact restoring the number to pre-pandemic levels) is that crime is rising in our city. Fewer police officers will make us less safe. Commissioner Soon-Shiong and her supporters counter this with three narratives:
1. There Is No Crime, or Crime Is Not Rising.
Both are infuriating to anyone who has lived in our city for years. Not only are there statistics that prove there is crime, and it is rising, but we have our lived experiences and the ability to compare how things were and how they are.    
2. OK, There Is Crime But It Only Looks Bad.
This is the one about cell phones. I had a city councilperson dismiss the number of felonies in our city to me by arguing that it's only because cell phones are so expensive now that stealing them makes it a felony. I would hope that having thieves in our city stealing anything from us would be the issue. Commissioner Soon-Shiong says, "The majority of crimes in the city are cell phones pickpocketed at nightclubs." I know of quite a few robbed on our own streets at gunpoint. Does she think it's finally a problem if a gun is involved? Or does it only still look bad because the armed robber took something worth enough to make it a felony? What about the woman who was murdered in the hall outside of her apartment above the Trader Joes? Or the guy who was stabbed, almost to death, walking out of my local Whole Foods? We could go on and on. Or the guy who just recently died on Santa Monica Blvd right outside of the police station? Or does he not count because he was shot outside of city limits and only died within them? 
3. The Police Are Lazy/Don't Do Their Job.
When a criminal is apprehended the defund Twitter accounts go wild with lies that the police did not do the capture. Therefore, you don't need police. Commissioner Soon-Shiong did this herself at a recent Public Safety meeting when she lied, saying a criminal who had escaped custody in West Hollywood had just "…turned himself in." Lt. Lapkin corrected her saying, "…it was our Special Enforcement Bureau, in collaboration with our Major Crimes Bureau." There is a whole Twitter account, Film The Police LA, that pushes these ideas. Commissioner Soon-Shiong often likes and retweets their posts like when they saw West Hollywood Police cars outside of city limits because, "WeHo LASD have 'too many' cops and not enough crime." (See 1 above, There Is No Crime or Crime Is Not Rising) Let me repeat that, Public Safety Commissioner Soon-Shiong is spreading disinformation online that our city, West Hollywood, does not have "enough crime."
I do not agree with everything written on WEHOville and many of the comments often appall me. Therefore, I don't share or like those stories online. A like on social media is just like an endorsement of that idea. The people and organizations whom Commissioner Soon-Shiong likes and shares online, and who back her efforts in our city, are not Democrats. They are not Liberals, and they are not Progressives. In one case she literally endorsed a candidate, as did her father's newspaper, who helped elect Trump by pushing a 3rd party candidate and promoting their right-wing attacks against our Democratic nominee. She is supporting someone who helped us lose 3 Supreme Court Seats and Roe v. Wade.
I recently read a piece in Vanity Fair titled "Free Radicals" by nationally respected journalist James Pogue (https://archive.vanityfair.com/article/2022/5/free-radicals). In it, the author spends time with the "intellectuals" of extremist movements who follow Trump and are calling for a dictator or monarch to take over and run the United States. They just want to tear it all down. A lot of them said they had been "Progressives," and many had been big Bernie supporters in the 2016 election cycle. In tone, in their willingness to lie to make things fit their ideology, and in their desire to tear down important institutions, these people reminded me of those I had bothered to defend myself against on Twitter.
If you are lying about Trump losing the 2020 election because you want a dictator or monarch, or about the rise in crime because you want to defund the police, you are participating in degrees of the same thing for the same goal, to tear it all down. The desire to destroy stability is the worst example of entitlement. Ask anyone who has ever lived in a failed or oppressive state.
I've read a lot of history and the most basic lesson I have learned is this, Extremes Are Bad.
A lot of people compare America today to early 1930s Germany. I see a much better comparison to late 30s and early 40s France. It is all laid out very well in The Collapse of the Third Republic by William L. Shirer. France was so weakened by extremists on the right and the left, who looked abroad for leadership, that when those two competing nations made a pact, so did the French extremists, sealing the fate of the country. Extremists are extremists and no matter their ideological differences, they have more in common with each other than they do with the rest of us.
This is not about right vs. left, it is about those who believe in the American Experiment vs. those who want to destroy it. They might differ in what they hope will replace it, but they both have that same goal. We have to be very careful with how we vote and make sure they lose this fight.
I have had so many conversations around this defunding issue which begin with a clarification that the person who is about to say they believe in reality and facts and commonsense is a liberal. I've done it myself. I will do it now, one more time. I am a Gay, Vegan, Atheist whose husband is an immigrant. Unlike Councilwoman Horvath who appointed Nika Soon-Shiong to our Safety Commission, and now seeks higher office, I have never supported or voted for a Republican for office at any level of government.
I mentioned my opposition with W's war in Iraq. As much as I protested it and fought against it, I never called for the defunding of our military. Despite the horrific actions carried out by some of its members. That is because I am an adult. I do not engage in black and white thinking. The answer is to remove and prosecute those in the military who committed war crimes, and reform the institution. Not to tear it all down and leave us vulnerable to our geopolitical foes.
Another conversation I have had is how this all feels homophobic. I don't like to bring this up. I loath the current climate which makes a zero-sum game of suffering and ranks you according to how trendy your minority status is, but gay men and lesbians have a long unpleasant history with the police. Even before West Hollywood became a city it became a safe space for my community because it was unincorporated and outside the jurisdiction of the Los Angeles Police Department. We could live and work and play here and not be harassed and jailed by the LAPD. After we became a city, we had more struggles with police who would not even display our city emblem, which incorporates the rainbow flag, on their vehicles. After a lot of hard work, over many years, we finally have a police force in our city that proudly displays our rainbow flag, marches in our Pride Parades, and is led by a gay Sheriff. But outsiders want to tear it all down. All of our hard work. Generations of LGBTQ folks who came here to live and work and play openly and freely in safety. The desire to destroy that is another example of Commissioner Soon-Shiong's great entitlement.
My hero is Emma Goldman, champion of the poor and working class. I admire her passion and dedication to her cause. She went to prison for her beliefs, multiple times, opposing WWI and fighting for women to have the right to use contraception. She was stripped of her citizenship and deported. Although I do not follow her Anarchist philosophy, I don't think her beliefs were wrong, I just believe that people are not yet good enough to make them work. Who would not love a world where we needed no police, no jails, no prisons? But just taking it all away does not make the need for them disappear.
Let me be clear, I am in no way comparing Commissioner Soon-Shiong, or her fans and supporters, with Emma Goldman. Goldman spent a lifetime giving speeches and writing extensively on her philosophy and vision for making it work. All these Social Justice InfoWarriors do is spread disinformation online and disrupt city council meetings.
I never did get an apology from Councilwoman Horvath. I never expected one. But she owes us all one because her decision to appoint Nika Soon-Shiong to our Safety Commission, at the very least, has the appearance of corruption. An appointment for an endorsement to the detriment of her constituents.