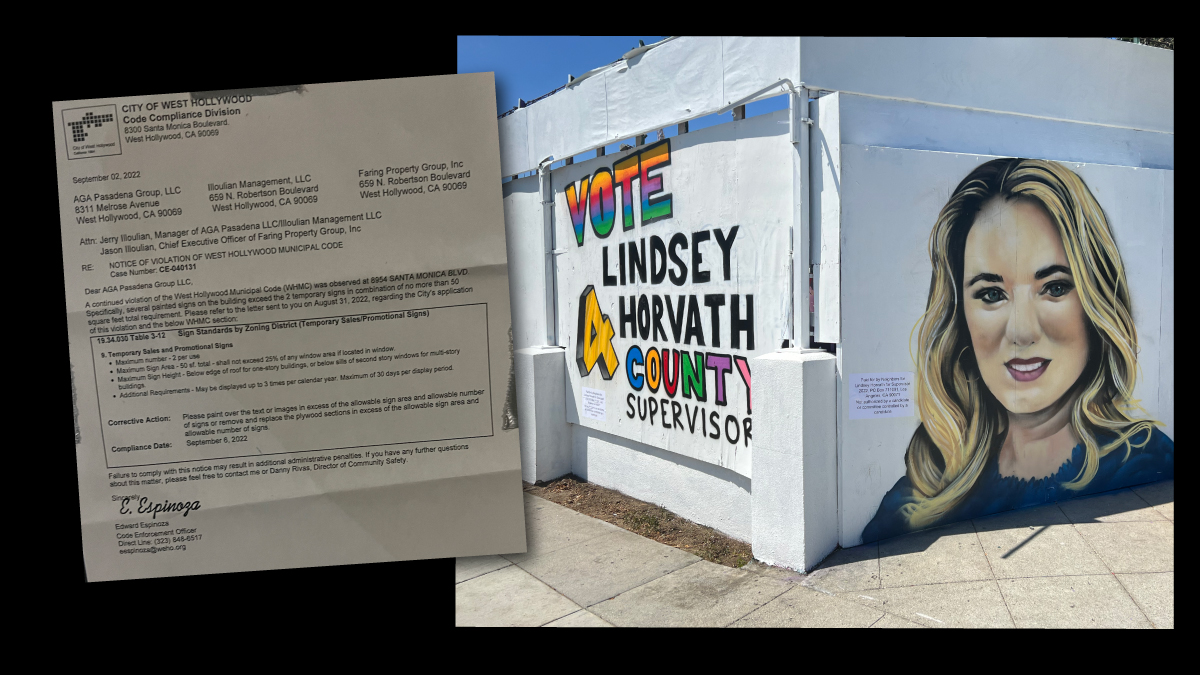 The mural on Santa Monica Blvd. and Robertson Blvd. featuring a larger-than-life portrait of Councilmember Lindsey Horvath in a political ad for her county supervisor race has received a code violation from the City of West Hollywood.
The city cited AGA Pasadena Group, Illoulian Management, LLC and Faring Property Group Inc. — specifically Jerry and Jason Illoulian, the manager of AGA and the CEO of Faring, respectively — for the ad, which exceeded the two temporary signs in combination of no more than 50 square feet, a violation of the West Hollywood Municipal Code, case no. CE-040131.
The citation lists 19.34.030 Table 3-12 of the code — which allows for two temporary sales and promotional signs at 50 total square feet — as the violated ordinance.
The Code Compliance Division instructs the recipients to "please paint over het text or images in excess of the allowable sign area and allowable number of signs or remove and replace the plywood sections in excess of the allowable sign area and allowable number of signs." The citation says administrative penalties will follow if the corrective action is not completed.
The mural appeared last week replacing a piece of public art celebrating the LGBTQIA+ community by artists Lauren YS.
The mural has a placard which names a PAC —Neighbors for Lindsey Horvath — as the entity which paid for the political advertisement.
Two weeks ago, Horvath voted to move forward on the development project under construction at the site of the mural. The applicant on that project is Faring Property Group Inc.
Any prior knowledge of the mural's creation or installation by Horvath would constitute a violation of the laws that allow Neighbors for Lindsey Horvath to receive and spend political donations on behalf of the candidate.
The group has until today to remedy the violation.