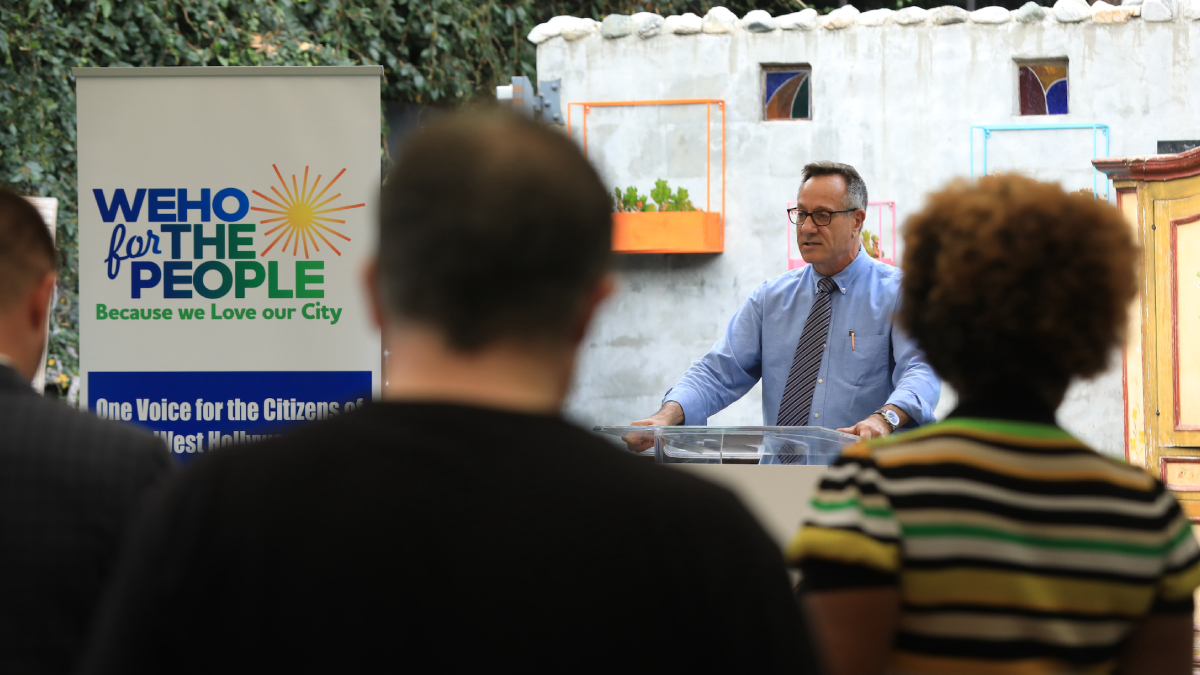 We are here today to introduce a new coalition, WeHo for the People, representing residents and businesses who have come together with a shared vision of the issues facing the city and the need for change.  
We have come together because we love our city. It is our mission to educate voters about the real issues facing our city. To help them understand how the misguided policies of our current city council have driven our city further and further away from our core values and the vision of a dynamic and unique urban village upon which we were founded. 
To encourage people to get out and vote this election in what is probably the most important municipal election since the founding of our city in 1984.  The stakes are indeed high as our public and economic safety are increasingly threatened. 
My name is Keith Kaplan. I am a 36 year resident and property owner here in West Hollywood and a local Realtor with Sotheby's International Realty. 
Over the past 11 years I've welcomed many new residents into our city. You might Say that I have been one of West Hollywood's greatest cheerleaders … I had to be to do my job and I believed in the product I was selling…West Hollywood.But things have changed in the past 2 -3 years and that is what compelled me to bring these groups together to form WeHo for the People.  
My friends and neighbors are increasingly afraid to leave their homes to walk to the grocery or to dine outside at their favorite restaurant.  Two doors south of me on Kings Road, neighbors were held up at 11am as they left their house, their jewelry and handbags stolen.  Up the street at the corner of Kings and Fountain a 66-year-old friend was beaten down at 12:30 in the afternoon as she walked her two dogs. 
Across the street a neighbor was bludgeoned in his home late one night by an intruder that climbed up on his first floor balcony and broke through his window.
Five friends were relieved of their cell phones as they walked down Santa Monica Blvd. in just one week. In just this past month two local businesses were held up the very night of the ribbon cutting celebrating their Opening.  In the midst of a reported 137% increase in serious crime our city council has voted to defund our sheriff, putting our public safety in peril. 
Whose interests are they representing?
As local businesses struggled to recover from two years of the pandemic, enduring increased costs from supply chain shortages and struggling to pay back rents, our city enacted some of the most aggressive economic policies of any city in America.  Several of these ordinances were put on consent, not even agendized as would be the norm…because this city council did not want discussion of these proposed policies.  They did not want to listen to the businesses speak about the potential impacts and threats to their very survival. 
They did not want to listen to the residents, many on fixed incomes and without mobility who feared the impacts these policies would have on affordability…. How they might have to give up treating themselves to breakfast at Joey's, a drink at La Boheme or a burger at K-24 because they simply could not afford it anymore. 
They did not want to hear from our young entrepreneurs, minority businesses and the LGBT community about how these policies impeded their ability to live and play and launch businesses in this city.  Their aggressive economic policies have resulted in the closure of small, independent businesses…and even corporate owned businesses like Subway and Chop Stop closed their doors and moved out of West  Hollywood. 
The economic policies of this council do not invite people in and encourage the development of new business. Rather they have built a veritable wall around West Hollywood because they have failed to understand the outsized impacts on businesses here in our little 1.9 sq mile island who must compete in a much larger region not facing these same issues. Our economic safety, our future and vitality are at risk.  
And once again we ask…whose interests are they representing?
Our city has been hijacked by several council members who are allowing our city to be used as a petri dish for special interest groups who recognize the value of the huge media visisbility of our city and the relatively minor costs of executing public policy campaigns here. 
Without regard for the real impacts on our residents and businesses. The constituents these council members have been elected to serve.  Without even engaging the community in fair discussion, they have proceeded to enact these "virtue signaling" policies to promote their own personal agendas and political careers at our expense. 
It is time to take our city back. To put our city back on track supporting our core values and the original vision of a dynamic, inclusive and creative urban village. As we approach this vitally important election it is time for the voters of West Hollywood to understand the real issues facing our city. To learn why and how our public and Economic safety has been threatened. And to get out and vote. That is why we are here today.