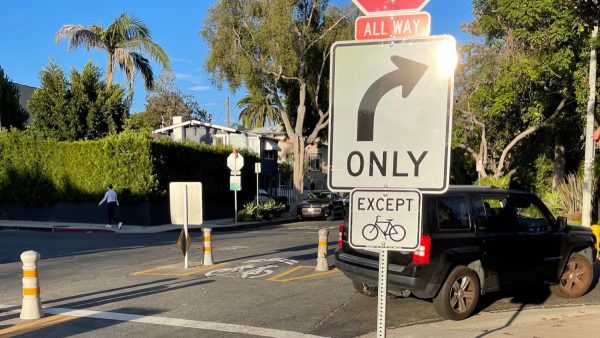 The City of West Hollywood clarified details about the traffic diverters that were removed from Willoughby Ave. this week.
The pilot phase consisted of temporary traffic improvement strategies installed along Willoughby Avenue – a traffic diverter at Ogden/Willoughby, a mini-roundabout at Curson/Willoughby, and corner curb extensions at Spaulding/Willoughby – which were always scheduled to remain in place through August/September 2022 as the community evaluated the temporary improvements and provided feedback to City staff.
The cost of the temporary installations as $300,000 is not correct. The project is continuing into the next phase as planned and the cost of the installations was approximately $26,000, not $300,000.
City staff held numerous outreach efforts including two final community workshop meetings on August 25 and 27 and received numerous feedback points through the City website and text-survey, with more than 150 comments and more than 430 respondents who weighed-in on topics such as the diverter (246 do not like; 46 like); bulb-outs (77 do not like; 93 like); and traffic circle (93 do not like; 101 like).
At this time, City staff has completed the outreach phase of the study and the temporary installations are planned to be removed as staff moves into the next phase which includes evaluating options and developing recommendations moving forward.
In the upcoming months, City staff will be working closely with its consultants and its partner at the City of Los Angeles to develop a set of recommendations (taking into account community feedback) to bring to the City Council. City staff anticipates bringing this item to the City Council in Fall of 2022.