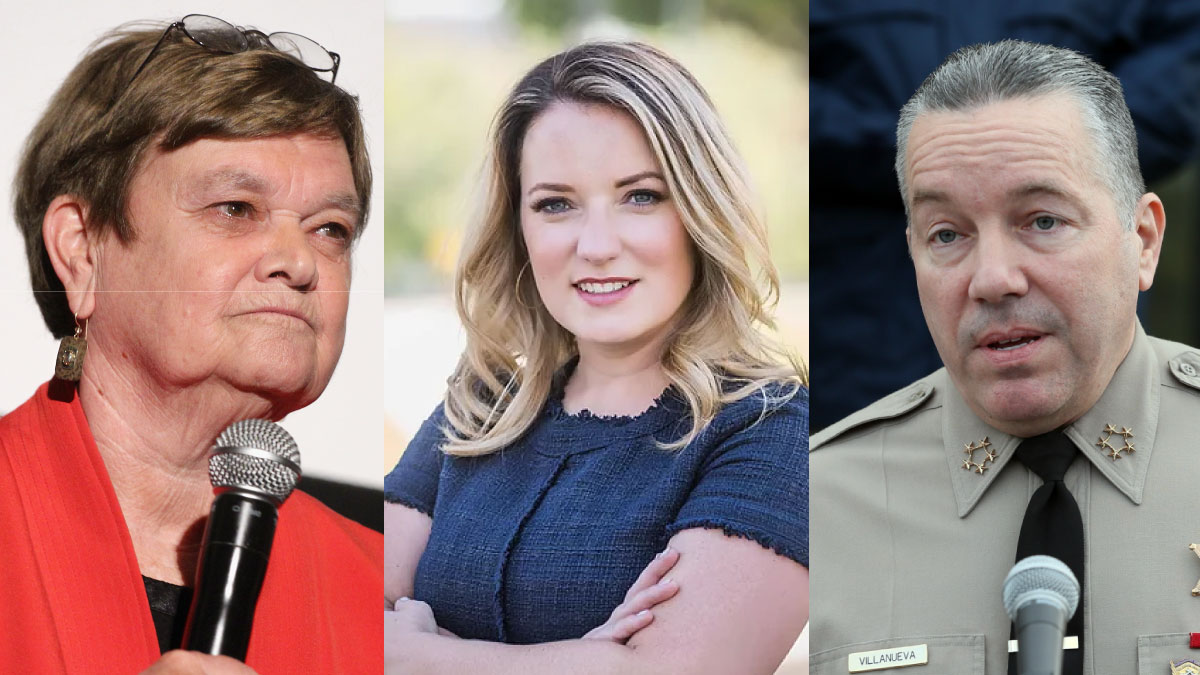 Lindsey Horvath dragged WeHo into the crossfire last year when she had City Hall admonish the sheriff for probing the affairs of her political ally.
County Supervisor Sheila Kuehl was escorted barefoot out of her Santa Monica home at the crack of dawn today as L.A. County Sheriff's Department deputies executed a search on her property related to a felony bribery investigation.
The search warrant, signed by L.A. Superior Judge Craig Richman, allowed authorities to seize documents and evidence on Kuehl's property that were connected to Peace Over Violence, a nonprofit organization run by Kuehl's friend and political ally Patti Giggans.
The Sheriff's Department has been investigating Peace Over Violence over a controversial, publicly funded domestic violence hotline that suspiciously few people have ever used. A Fox 11 report calculated that the program was costing about $8,000 per call. Giggans, the nonprofit's director, was also appointed to the powerful Civilian Oversight Commission by Kuehl, and both have been fierce critics of Sheriff Alex Villanueva.
As deputies confiscated her phone and took photos in her house, Kuehl called the search "totally bogus."
Meanwhile, investigators were also searching Giggans' home, the Peace Over Violence offices, the L.A. County Hall of Administration and the headquarters of the county's Metropolitan Transportation Authority, which gave contracts to Giggans' organization.
Giggans lashed out as her car was towed away and deputies removed hard drives and computers from her property. The investigation into Peace Over Violence began last year when a former employee accused Supervisor Kuehl of helping the organization acquire the contract to run the hotline.
#BREAKING @SheilaKuehl @MayorOfLA @ericgarcetti gives Patti Giggins @PeaceOvrViolnce permission to "create a generous budget"with public funds & just denied on @FOXLA knowledge of the contract. Here is communication w/ Kuehl's office & @metrolosangeles @BillFOXLA @Elex_Michaelson pic.twitter.com/uNFdXPDiIm

— Cece Woods (@ceceswoods) September 14, 2022
In September 2021, Councilmember Lindsey Horvath involved West Hollywood in the imbroglio when an agenda item she authored directed city staff to correspond with the sheriff and other departments relaying WeHo's opposition to the use of funds to investigate Peace Over Violence. Nine months later, Horvath's crusade against the department culminated in a major budget reduction that will leave West Hollywood with fewer deputies on patrol.
Horvath is currently in a runoff race to replace Kuehl, who is retiring as 3rd District County Supervisor at the end of the year. Kuehl is heavily invested in Horvath's race, endorsing her on day one and publicly attacking Horvath's opponent, Sen. Bob Hertzberg.