Hollywood Temple Beth El, the first synagogue of Hollywood, marks its 100th High Holy Day Services since its founding in 1922.
Rabbi Norbert Weinberg stated that this centenary has a very important message for us all: "Join with us, in the spirit of the early figures of Hollywood—the Warner Bros, Laemmle, The Vamp, Edgar G. Robinson, Hal Wallis, and many others, who came together to find a Jewish with Hollywood Temple Beth El. We have kept our services going, through the Great Depression, through WW II and now, through the COVID pandemic, even if, for a while, we moved to online for safety's sake. Now, we are once again holding our services in person, a reminder that there is always a proverbial "light at the end of the tunnel."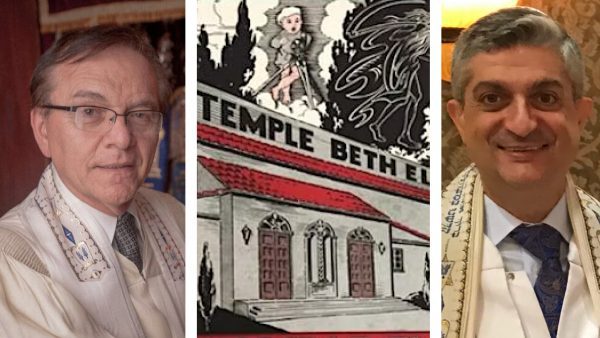 Join us for beautiful and deeply moving services led by Rabbi Norbert Weinberg and Cantor Isaac Boudaie . The Mahzor, prayerbook, used is specially designed with contemporary readings, translations, and transliterations, so that the ancient Hebrew liturgy is accessible and addresses the spiritual search of the contemporary Jew.
Rosh HaShanah begins Sunday evening, September 25 and runs through Tuesday, September 27. Yom Kippur begins Tuesday evening. October 4, and continues through Wednesday, October 5 . The services will be conducted in the synagogue, with access through streaming services for those unable to attend in person.
Registration and donations to join in either in-person or on-line must be done through Eventbrite.com or by mail to Hollywood Temple Beth El, 1317 N Crescent Heights Blvd, West Hollywood, CA 90046
---
High Holy Days Schedule
EREV ROSH HASHANAH
Sunday Evening, September 25, 2022, 8:00 PM
On-line only through Facebook and You Tube -offered as a public service.
ROSH HASHANAH DAY 1
Monday, September 26, 2022, 10:00 AM
In person and on Zoom
ROSH HASHANAH DAY 2
Tuesday, September 27 2022,10:00 AM
In person and on Zoom
YOM KIPPUR KOL NIDRE
Tuesday Evening, October 4, 2022, Service 7:00PM
In person and on Zoom
YOM KIPPUR and YIZKOR
Wednesday, October 5 ,2022,10:00AM
In person and on Zoom
Yom Kippur Mincha
5:00 PM- Commentary on the Torah and Haftarah for Yom Kippur Mincha
By Rabbi Weinberg=online at Facebook and YouTube as a public service
Yom Kippur Neilah
Wednesday, October 5. 6:00 PM
In person and on Zoom
Rabbi Norbert Weinberg
Cantor Issac Boudaie