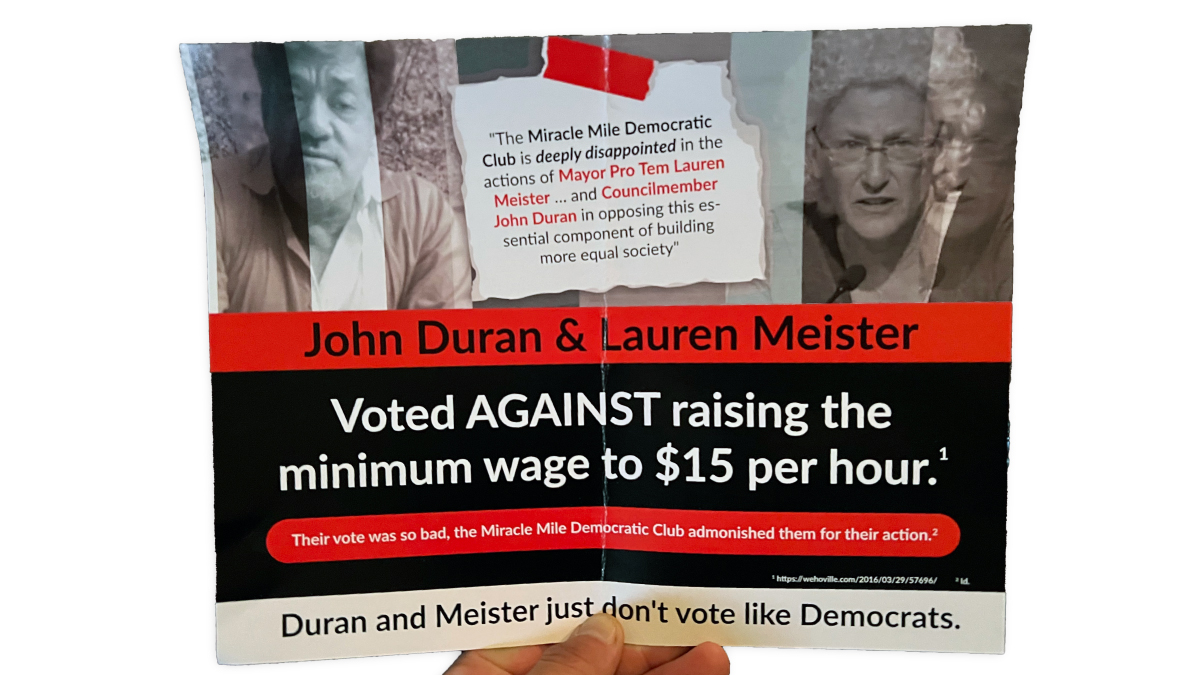 Like many of you reading this, I too received the "John Duran & Lauren Meister voted against raising the minimum wage to $15 per hour." The hit piece was paid for by UNITE HERE Local 11 PAC. In the mailer, they reference a Council vote that was taken on March 21, 2016.
Interestingly, when I ran for re-election in March of 2019, UNITE HERE 11 asked me to come in for an interview. Even though I was honest with them that I would not be influenced by special interests, they still endorsed me — three years after the vote referenced in the hit piece.
Certainly they had done their homework. Certainly, Councilmember Horvath would have told them about the minimum wage vote (they also endorsed her in 2019 as well as Sepi Shyne). Perhaps they weren't bothered by my vote in 2016 because they knew I had sound reasons for voting the way I voted.
Decide for yourself.
You can access the Minimum Wage Staff Report from March 21, 2016 here: https://weho.granicus.com/MetaViewer.php?view_id=22&clip_id=2822&meta_id=110939
You can access the Minutes of the March 21, 2016 Council meeting here: https://docs.google.com/gview?url=https%3A%2F%2Fweho.granicus.com%2FDocumentViewer.php%3Ffile%3Dweho_3e180044f84cf4ae69934cac5e1c014e.pdf%26view%3D1&embedded=true
Here are some excerpts from the Minutes:
"Mayor Pro Tempore Meister requested clarification on what city would be comparable with West Hollywood as it relates to studying this issue. Maribel Louie responded that Santa Monica would be the comparable city. Mayor Pro Tempore Meister also asked if there was any outreach to the Russian business community, and Staff stated that Outreach had not been conducted as of yet, as it is one of the recommendations in staff report but stated that the West Hollywood Chamber of Commerce has had meetings with the business community. Staff also confirmed that over 70% of businesses in West Hollywood have 25 or fewer employees."
"Mayor Pro Tempore Meister thanked everyone who came out to speak. She stated that there needs to be outreach to the businesses in the Russian-speaking community. She agreed that the issue of how this will affect tipped employees needs further research and discussion. She stated that our City cannot be compared to other cities, especially Los Angeles. She spoke in support of an increase but in favor of moving forward with a starting point of $12/hour and then reviewing the impacts and also seeing what recommendations come from the County's Small Business Initiative in May and the ballot measure in November."
The motion that was approved by three of the five councilmembers (D'Amico, Duran, and Meister) was as follows:
"Councilmember D'Amico made a Substitute Motion to: 1) Receive the report providing an overview of wages paid by West Hollywood businesses; 2) Direct City Attorney to prepare an ordinance establishing a City of West Hollywood minimum wage within 60 days and requiring the payment of a city-wide minimum wage of $12.00/hour as of July 1, 2017 for business with 26 or more employees; and require the payment of a city-wide minimum wage of $12.00/hour as of July 1, 2018 for businesses with 25 or less employees and non-profits of any size; 3) Include a Learner's Exemption; 4) Direct staff to conduct outreach meetings during a 60-day discussion period with the business community, including small businesses, to present the framework of the ordinance and solicit their input and study the issue of workers between the ages of 16-17 who have a work-permit, as well as tipped workers, prior to returning to Council with the draft ordinance; 5) Follow-up on the Los Angeles County small business initiative and the result of the 2016 Election. Councilmember Duran seconded the Substitute motion and it passed, with Councilmember Heilman and Mayor Horvath voting No."
Unlike one of my colleagues, I am a life-long Democrat. But being a Councilmember on a non-partisan board for a small city is not about political party. It's about implementing sensible policies, studying the impacts of those policies on the city overall, and making adjustments where needed.
In this case, my two colleagues and I were being cautious. The state minimum wage had just been raised to $10/hour. We agreed that $12/hour was a more appropriate starting point. We also understood that nearly three-quarters of our city's businesses were small businesses and that small businesses are what make our city unique.
Why would Council risk hurting our small businesses when we could offer a compromise to accommodate both workers and businesses as well as a commitment to continue the conversation?
Making policy for a small city like West Hollywood requires smart decision-making. We should not be a petri dish for outside influencers. Being an idealogue is easy; being a thoughtful policymaker is much more complicated and, frankly, requires a lot of work and attention to detail.
You may agree or disagree with my decisions but I will always tell you why I voted the way I voted. I will always have the best interests of the City at heart. UNITE HERE LOCAL 11 apparently recognized that in 2019. Their memory lapse makes me wonder who's running their campaign.
I'm sure there will be more hit pieces to come because when candidates don't have a lot of positives, their supporters tend to go negative. If you have questions about how I voted on any issue, just call me. I'm always happy to discuss. 310-801-9839.