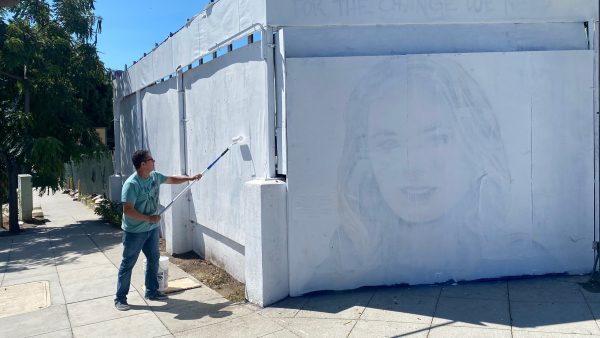 City Council tabled the move to amend a zoning map Monday in the wake of code violations generated by the mural of Councilmember Lindsey Horvath painted illegally on the property under development by Faring at Santa Monica Blvd. and Robertson Lane, known as the Robertson Lane Hotel project and the Treehouse project.
Councilmember John D'Amico described the mural, paid for by a PAC supporting Horvath's run for County Supervisor, as "bone-headed," and assailed Faring for their handling of the situation.
"That is the most blatant, impossible-to-understand move that I have seen in my many years of being involved with this city," D'Amico said
"It violated our election rules. (Faring) laughed off the requirement that they do something about it until it became a hubris moment in which the tidal wave that they were laughing at crashed around them. And suddenly, we're left with today's decision — to not move forward with a critical part of the city's development future. I really hope that someone over there loses their job because this kind of bone-headedness is what we've come to expect from that developer. I think it's time for them to be the big boys. We always thought they might do the hard work of showing up. Doing the construction and doing the development the city wants and not playing with us and our time."
The mural was painted last month and received code violations shortly thereafter. As a matter of process and law, a business would not be allowed to receive a certificate of occupancy if there were an outstanding code violation.
It was painted over this week, but in conversations with WEHOville Publisher Larry Block prior to City Council's Monday night meeting, Vice President Jake Stevens shared Faring's intention to repaint the mural in a smaller size to conform to city code.
The item to amend the Robertson Specific Plan will return to City Council after the Nov. 8 election.