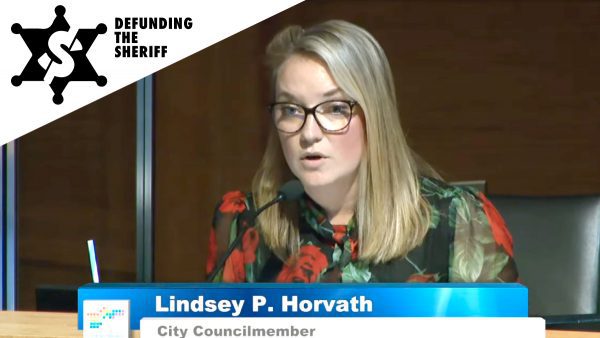 Barbs fly as Council kicks the can on plan to reduce armed law enforcement presence in the city
West Hollywood City Council pushed back the timeline of reducing the number of sheriff's deputies until the end of the year — a delay in the controversial plan they enacted over the summer that infuriated business owners and residents across the city.
The slashing of two or more armed deputies from patrol was scheduled to happen in tandem with the hiring of 30 additional unarmed Block by Block security ambassadors by Oct. 1.
With the deadline less than two weeks away, the program has only hired and trained 20 new ambassadors.
"I support this move to keep the Block by Block ambassadors moving ahead at the rate that we're doing it," said Councilmember John D'Amico, "but I also think it's worth giving ourselves 90 more days with Block by Block in place from October 1st to maybe the first meeting in January, or the last meeting in December, to sort of record how crime is trending, how safety is trending, and how security is trending," "I think we should leave the number of sheriffs that we have in place at the budget level that we have. As I said to you in June, when we met I think we should be doing this in December. I don't think we should be doing it in October. We needed time to sort of see where this goes."
D'Amico motioned for the delay, and Mayor Lauren Meister, who voted against the original reduction, eagerly seconded it. The motion passed 5-0.
The councilmembers who supported the original reduction — D'Amico, Mayor Pro Tem Sepi Shyne and outgoing Councilmember Lindsey Horvath — tried to temper the public's fear of rising crime and fury over how they've handled public safety, blaming politics for inflaming what they see as a problem they have under control. 
"The number of crimes in our city has dropped precipitously over the summer," D'Amico said. "As we discussed in early June, though, there are two-time losing councilmembers who seem to be promoting the unsafeness of West Hollywood. I would say directly to John Heilman: You've turned yourself into an anemic version of Steve Martin. Crime has gone down. Your need to scare our seniors and ouur non-English speaking residents with your lies about the crime in our city is pitiful."
"If you've already printed your yard signs and it says 'Restore Public Safety,' you might want to consider getting new signs because public safety doesn't need to be restored because it was never taken away," Councilmember John Erickson said.
In an awkward exchange, Erickson attempted to get Capt. Bill Moulder of the WeHo Sheriff's Station to state aloud that "crime is down."
"Crime is down … right, Capt. Moulder?" Erickson asked.
"…. uh, yes it is," Moulder said.
"Could you say that one more time for me?"
"Do you want me to say 'Yes, it is' again?"
"No, you can just say: 'Crime is down.'"
"Um, it is. So this year we had—"
"—but I didn't hear you. What was that?"
"I said this year we actually had, in terms of Part One crimes, we had record highs, which you don't want to have those records."
The total monthly Part One crimes broke records three times this year — 250 in February, 280 in May and 355 in June — before trending downward in July. Moulder attributed the lower rates to more foot patrols, his team's success in stopping a pickpocketing ring, and the Entertainment Policing deputies that were restaffed.
Horvath tried to deflect scrutiny over cutting the sheriff's budget onto Meister.
"I think we can address the reality that crime may be down statistically, but people still have concerns about what's going on in the community and I think those concerns in large part have been fueled by a disinformation campaign, including by our mayor."
Horvath claimed Meister had sent out a campaign email to her supporters the day after the vote calling out her fellow councilmembers for "defunding the police."
"You can spin this any way you want," Meister responded. "But the vote in June was: You proposed to add back the one EPT (Entertainment Policing Team deputy) and to cut five sheriffs over the next nine months. The email that I sent out talked about cutting sheriff's deputies, not about defunding — because I do read my staff reports and I know what the budget was. So I would appreciate if you would tell the truth."