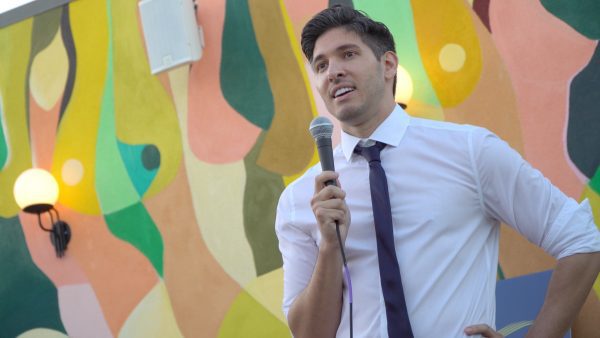 Homelessness has been at the forefront of every discussion, debate, forum, article, and concern for the residents of West Hollywood. Times are tough, people are struggling, and almost all of us have gone through some sort of mental breakdown since 2016. Unfortunately, those mental breakdowns have affected some more than others.
We're seeing more and more people living on the streets, and there isn't a "One Size Fits All" solution. In order to start to help people, we first must understand why they are homeless – and there isn't just one reason: mental illness, drug and alcohol abuse, escaping abusive relationships, being cast out of your home for being LGBT, and sadly the list goes on.
To make matters worse, it's not even just a West Hollywood problem. It's a regional problem. We won't be able to solve homelessness by ourselves, we have to work with the cities around us, the county, and even the state, to help people get back on their feet, and integrated back into society again.
Every candidate knows that homelessness is an issue, and every candidate says we need to do something to help them, but I've yet to see an actual plan from anyone about HOW they're going to address the issue. That's why I want to talk to you about my plan to tackle the issue of homelessness when I'm elected to City Council.
The city of Santa Monica has partnered with a company called Akido Labs, who developed a software/application called Project Connect. Project Connect has helped their emergency service providers (police, fire, and medical) streamline and share information with each other, in real time, to identify what they refer to as "high utilizers" of emergency services.
"High utilizers" are people that 911 receives higher volumes of calls about, and those people tend to be homeless. Connect allows our emergency service providers to collect and identify information, down to the specific person suffering from homelessness, and respond with the appropriate course of action.
Imagine 911 receives calls all of the time about someone who is suffering from homelessness, and that person goes through episodes (either mental illness related, or drug/alcohol related) and concerned citizens and neighbors frequently call 911 when it happens. When someone calls 911 and gives a description of the person, that information is collected and stored in a database, so when 911 receive calls in the future that match the High Utilizer's description, our emergency service professionals know how to respond.
Caller: "Hello, 911? There's a man near the intersection of Fairfax and Santa Monica Blvd. who is yelling and waving his hands and walking in and out of the street. I'm worried he's going to get hurt."
Operator: "What does the man look like"?
Caller: "He appears to be in his 40s, he has long brown hair down to his shoulders."
Now 911 operators have the information they need to make a decision about how to respond to the call. They can search their database and see if anyone matches the description of a man in his 40s with long brown hair who hangs out around Fairfax and Santa Monica Blvd.
Bingo.
We have a match. They've gotten calls about this man before. He suffers from mental illness, and when he doesn't have medication, he goes through episodes that might put him in a situation that could hurt himself or others. They've dealt with him before. He responds very well to a medic and his social worker. Now they know that they don't need to send out anyone from the Fire Department, they only need to dispatch a medic, his social worker, and maybe an officer if they're worried that he may become violent.
If they've had lots of experiences with him before and they know he's not violent, they may decide they don't need to send anyone from the Sheriff's department. That decision is made by the emergency service providers based on the information they've gathered every time they interact with him. This saves time, money, and resources that we can use in other places around West Hollywood.
In the one and a half years that Project Connect has been in Santa Monica, they've been able to reduce unnecessary arrests by 37%, and unnecessary interaction with ANY emergency service providers by 33%.
Now what about getting them off of the streets and into proper care facilities?
Gathering information on the specific needs of people suffering from homelessness also helps them quickly locate that person when a spot in a mental health facility, rehab, or transitionary housing unit becomes available. When the city or social worker is notified of an open spot in a mental health facility, they can go through their data and find someone who needs that spot.
"A spot has opened up at ABC Group Home for someone suffering from mental illness. Let's check our data to see who could benefit from that spot".
After combing through Project Connect:
"Oh! Our friend who hangs out around Fairfax and Santa Monica Blvd could use that spot! We know the area he frequents, let's go find him".
Project Connect allows them to quickly identify someone and get them into the care facility they need. Now, the social worker and anyone else who is needed to bring our friend on Fairfax and Santa Monica into his new home can quickly go find him, help him off of the street, and get past the starting line into a happy, healthier life.
Since being implemented in Santa Monica, Project Connect has transitioned over 120 homeless people into a care facility that is right for them. Because as we know, homelessness doesn't have a "One Size Fits All" solution.
I want to implement Project Connect (or something similar) into West Hollywood.
This is a plan that I want to bring to West Hollywood when I'm elected to City Council. But I'm not an expert on homelessness. There are people who have been working to solve homelessness for longer than I've been alive.
I always welcome feedback, ideas, criticisms, or anything else you want to share with me. Please reach out to me with a call or text to (323) 250-0992, or send me an email at JC@JordanForWeHo.com.
You can also check out my website and see more of my plans at JordanForWeHo.com. Looking forward to hearing from you!