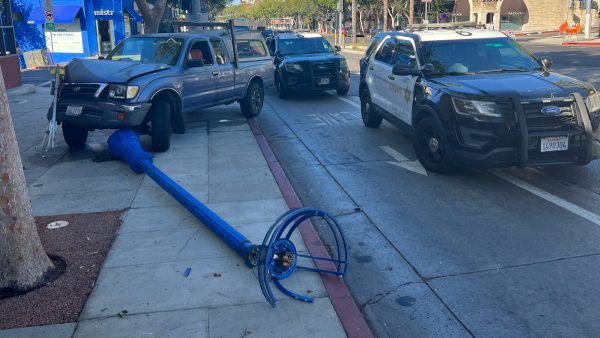 At about 8:30 Thursday morning a loud bang was heard on Santa Monica Blvd as construction workers arrived to work at the John Reed Fitness location at Santa Monica Blvd.
An officer on the scene spoke off the record, – the driver of the truck that demolished the light pole in front of the bus stop at Westmount and Santa Monica Blvd spoke only in Spanish. A sheriff on the scene was able to translate to the other deputies.
It appears the construction worker was headed west on Santa Monica Blvd and attempted to make a U-turn at Westmount drive. The driver lost control of the vehicle and took out the light pole. There were no injuries.
The construction worker, and his truck were filled with materials. It appears the driver was on the way to work at the John Reed Fitness center.
John Reed Fitness, which has been under construction for almost two years has met many delays. Construction teams have told WEHOville that delays and changes in personnel at City Hall has caused delays in moving the project faster. The new fitness center is expected to open in 1st quarter of 2023.