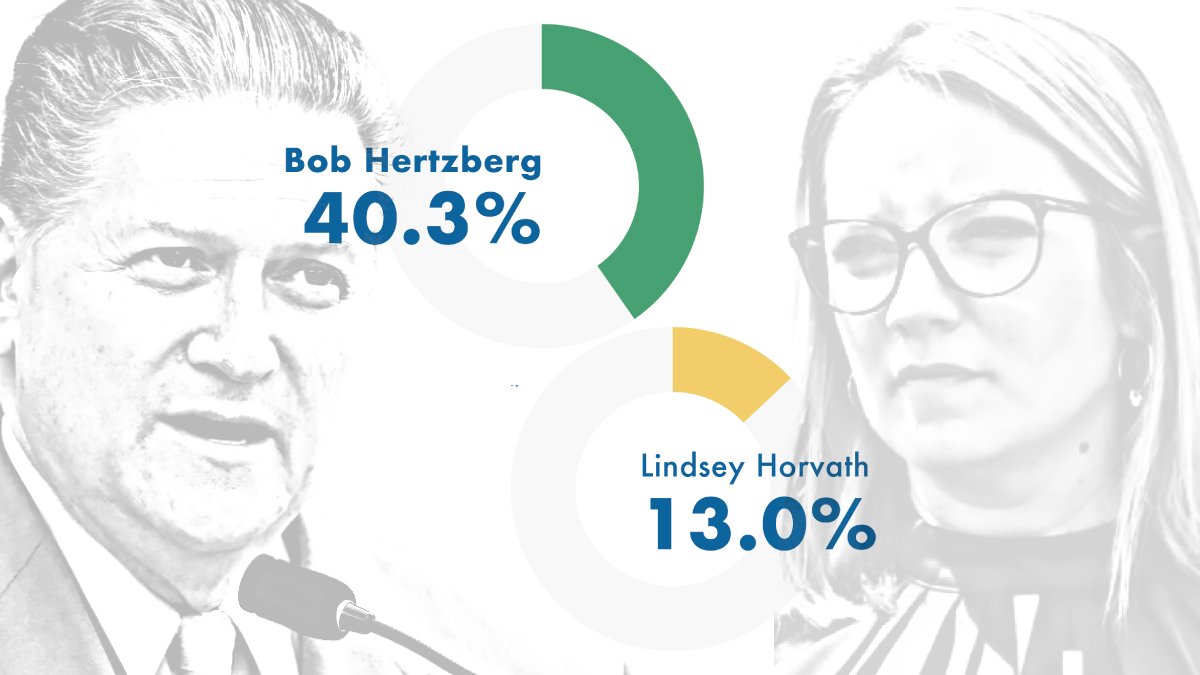 A poll of 300 likely voters conducted by J. Wallin Opinion Research on behalf of the WEHO PAC shows Lindsey Horvath at unusually unpopular levels with just 13% of likely West Hollywood voters supporting her for County Supervisor.
Data was collected between the dates of Sunday Sept. 12 though Thursday Sept. 16 via a telephone survey of likely voters in the November 2022 General Election from throughout the City of West Hollywood. 300 respondents speaking Spanish and English and were contacted on both mobile and landlines.
The survey of this size yields a margin of error of +/-5.2% (95% confidence interval). Sample is stratified that the demographic composition of our results matches the demographic composition of the region surveyed.
179 respondents identified as male and 121 as female. 216 respondents identified as Democrats, 24 as Republican, and 51 declined to state.
The strongest demographic for Horvath was women ages 35-54. Hertzberg's strongest demographic was adults 65 and older with 45% of the vote. Hertzberg's weakest demographic was youth ages 18-34 where he got 33% of the vote.
Among definite, probably and leaning voters, Hertzberg gathered 40.3% of the vote to Horvath's 13%.
The decline in Horvath's popularity follows a number of decisions by the councilmember including voting to reduce the number of sheriff's deputies (which has now been postponed until January 2023), and a mural that was painted on the corner of Robertson and Santa Monica Blvd at the Robertson Lane project which Horvath had recently voted to approve.
Horvath's unpopularity at home also follows the slight she made to West Hollywood voters when she removed all references to WeHo in her bio shortly after succeeding in the June runoff. In addition Horvath removed all references to LGBTQ from her biography which received attention in the Los Angeles Times, LA Magazine, The Acorn among others.
West Hollywood Mayor Lauren Meister has endorsed Bob Hertzberg for County Supervisor, and the WeHo PAC, the political action committee arm of the West Hollywood Chamber of Commerce, has also endorsed Senator Bob Hertzberg.
Likely turnout model of November 2022 General Election voters (PDI universe 22G7) consists of these voters: [(Voted at least 1 of 9/21 or 6/22), Or (Voted at least 2 of 11/14, 11/18 or 11/20)] & to qualify for universe voter had to have voted 11/20, 9/21, 6/22 or any election in 2021, or re-registered since 9/21. This consists of 18,435 voters (69.4% and 14,266 households (75.1%)