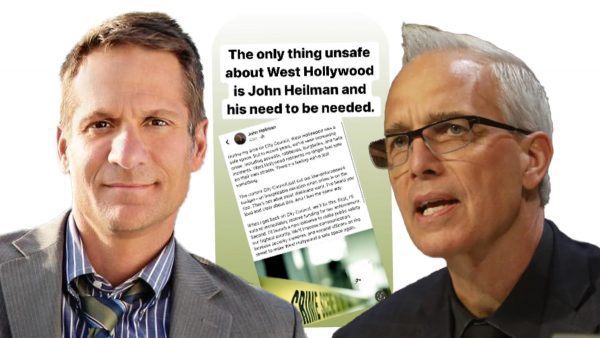 At the September 17th City Council meeting Council member John D'Amico took aim at former Council member John Heilman, calling him a two-time loser from the council dais.
"As we discussed in early June, though, there are two-time losing council members who seem to be promoting the unsafeness of West Hollywood. I would say directly to John Heilman: You've turned yourself into an anemic version of Steve Martin. Crime has gone down. Your need to scare our seniors and our non-English speaking residents with your lies about the crime in our city is pitiful."
Despite the divisive remarks, all the other city council members sat silent. Council member John Erickson who has endorsed John Heilman tagged along with D'Amico's remarks. Erickson was John Heilman's direct appointee to the Planning Commission. Erickson defeated Heilman in the 2020 election but has told associates that he really does not want John Heilman to win, once using the phrase "I don't want a daddy". Heilman, who also appointed Mayor Pro Tem Sepi Shyne to the Business License Commission, does not have the endorsement of his former Commissioner. Shyne is said to be working closely with D'Amico to do "all they can to make sure John Heilman does not get elected".
D'Amico who was first elected to the City Council in 2011 and served alongside Heilman from 2011-2020. Heilman was first elected to the West Hollywood City Council in 1984 and served until 2015, when he was defeated by D'Amico, and the first terms for both Mayor Lauren Meister and Council member Lindsey Horvath. That same year Heilman ran for the open seat vacated by Jeffrey Prang in the June 2015 election and was re-elected after a 3 month hiatus. Heilman was again defeated in 2020 by Erickson and Shyne.
The longstanding feud with Heilman pre-dates D'Amico's election to the City Council dais. Upon D'Amico's election to the City Council he and Heilman did not shake hands for a number of years. Their relationship seemed to be cohesive when D'Amico endorsed the re-election of Heilman and John Duran in 2017.
D'Amico's tags on Heilman calling him a "Chump! , Two-Time Loser," and to Heilman's messaging of "The only thing unsafe about West Hollywood is John Heilman and his need to be needed." In another post D'Amico touted results of a supposed poll saying Heilman was in 7th place and calling him a two time loser again.
The last week's city council meeting lacked any semblance of decorum. In addition to D'Amico's rant toward Heilman, Horvath took off her gloves again at Meister. Meister defended herself clearly with facts.
Bullying residents or candidates from the City Council dais is the new normal.
At a previous city council meeting Shyne read a letter she received from a member of the public that she found disturbing. The Council member took to the dais to warn any person who sends her a disturbing letter that they may be outed publicly from the dais. One resident contacted WEHOville explaining that Shyne's words are an intimidation of the public process.