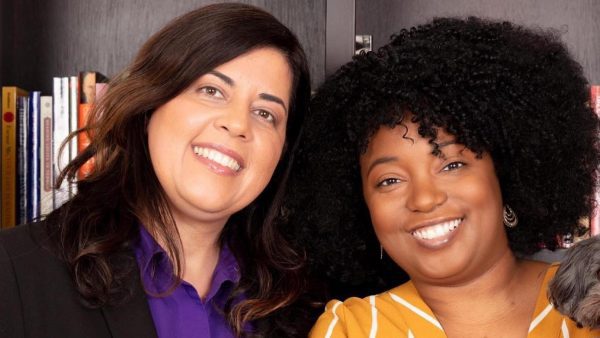 Ashlei Shyne, the wife of West Hollywood Council member Sepi Shyne, took to social media to announce their separation after 11 years. While asking for 'privacy', Ashlei announced the separation on her social media account.
Ashlei Shyne is an actress. She is described on IMDB an LA-based comedy writer, actress, filmmaker, and activist hailing from Dayton, Ohio. She is the founder of Rainbow Bright Comedy. A BIPOC LGBTQ+ improv troupe. As an activist Ashlei serves on the board of Still Bisexual, and on the #Out4MentalHealth San Fernando Valley Task Force. She served on the Community Engagement Committee for the Human Rights Campaign Los Angeles as well as the 2018 & 2019 planning committee that brought the world's first city-sponsored Bi Pride to the city of West Hollywood. Ashlei's love for community and visibility has helped her create programs like Sacred Space: A Black LGBTQ+ Wellness Event, which centers around providing a safe space where Black LGBTQ+ members can receive healing from other Black LGBTQ+ wellness practitioners. Bi Visibility in Film, a one-day film festival that celebrates Bi+ stories and storytellers.
Despite Ashlei's accomplishments there is no Wikipedia page for the actress under the name Ashlei Shyne.
Sepi Ghafouri adopted Ashlei Shyne's last name after their marriage. While it is a traditional custom for traditional women to take the 'man's', last name, Sepi has been an activist for equality and women's rights. Sepi did not change the name of her legal office. There is no reference to the 'Shyne' name at the Sepi Ghafouri Law Office which specializes in business law and intellectual property and is located in Century City.

During Black History Month, Council member Shyne brought forward an item proposing an event involving Ashlei. The event — "Sacred Space," a wellness-themed Zoom conference featuring meditation and breathing exercises — was hosted by Ashlei, the event's creator and a board member of the organization in charge of it. The proposal requested $850 from city coffers to cover the cost of the practitioners plus supplies and a gift for the attendees. The proposal noted that Ashlei Shyne would be volunteering as host without compensation but was the only person of color in the organization.
The question for 2024 is what name will Council member Shyne use to run for re-election. Will she continue to use her ex's last name or will the Sepi Gharfouri run for West Hollywood City Council as a proud Iranian woman, with a Persian last name that would be the first name of Persian heritage on the city council dais.