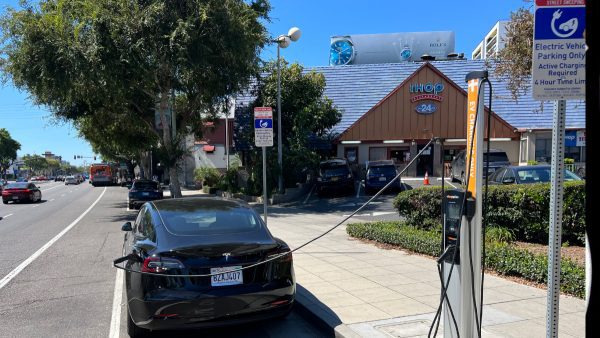 The legend of Route 66 is written in the tales of gas stations, roadside diners, and lots of automobiles and parking meters. Those meters make lots of do-re-me for the city coffers. In West Hollywood Route 66 is commonly known as Santa Monica Blvd. And featured just east of La Cienega is the next generation of charging stations where there is normally an old fashioned parking meter. New charging stations such as this one will produce even more do-re-me for the city coffers.
Fast forward to 2022, a debate about removing the parking lanes on Fountain and to install bike lanes in their place, eliminating two for cars to drive. Those bike lane people are ferocious in their arguments. If you had to drive a bike and cars whipped past you it might cause a sense of anger that you deserve a safe space too. But perhaps bike riders who choose to use the road should also be licensed. Maybe they should pass a written test to travel 40 miles down the road. Perhaps they can pay a license fee to help offset the cost of these installations. As a partially sighted part-time driver I can say that it is difficult to drive past the bikes who often show little respect for the road weaving in lanes. But that is another story.
The City of West Hollywood recently voted to ban the development of new fossil fuel gas stations. The state and federal governments are adopting green energy goals and all look forward to a future of with less carbon emissions. Starting on January 1, 2035, governor Gavin Newsome's executive order would ban the sale of new vehicles that are powered by an internal combustion engine, which includes gasoline, diesel and hybrid electric vehicles. Ten years goes quick. The next car you get will not need a gas station.
Those gas stations will follow the Silver Spoon and Hamburger Habit. New developments will take the place of the extinct fossil fuel gas stations. More developments, more cars, and more bikes. Every single apartment building will need to invest in new charging stations. And along Route 66, by the old IHOP the future has arrived.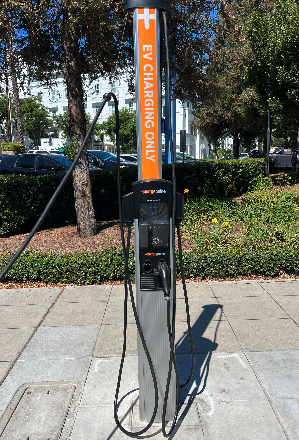 A parking meter/charging station is the future of parking and charging. And when we think of bike lanes on Fountain Ave, we need to incorporate the ability for cars to re-charge those new energy vehicles on the streets while they are parked overnight. But the City Council will probably do what they love to do: waste a lot of money on a short term project and then have to re-do it all over again. So bike lanes without thinking of electric cars? No bueno.
If we are going to re-imagine Fountain Ave., or the Sunset Strip, or bike lanes along Santa Monica Blvd. then we need to look to build the infrastructure now, to be built as a priority in the next ten years, to meet that 2035 goal.
Before jumping the gun on bike lines, share the conversation with the implementation of electric charging stations citywide. Perhaps we can build the city of the future thinking of longer term solutions.