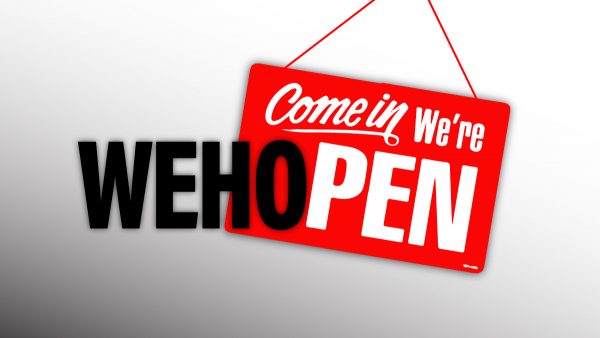 Supporting our business community is imperative to the prosperity of our city. After all, our business' success is our city's success.
Historically, the relationship between the city and our business community has been strong. But recently, our city council has made some decisions that have fractured that relationship.
Repairing that relationship and getting West Hollywood back on track is of the utmost importance to me, for a multitude of reasons.
One, it's just the right thing to do. Our city has become the beacon that it is thanks to the businesses who took a chance on what was once a scary, unincorporated part of LA County.
Two, I am not at all oblivious to the fact that West Hollywood gets to provide the amazing services that it does for our community thanks to the tax revenue that they collect from the businesses in the city.
That's why I don't understand why anyone, especially council members or candidates, who should know better, since they're supposed to be very versed and informed on the city's finances, are supporting ordinances that burden our business community.
It's not fair to apply the same rules and regulations to companies worth hundreds of millions of dollars and have thousands of employees to mom-and-pop shops with a handful of employees who can barely afford to keep their doors open each month. The City of West Hollywood's website says that's 74.44% of businesses in West Hollywood have between 1-4 employees. 87.83% have less than ten1.
So this ordinance doesn't just effect a large number of small businesses, it affects a HUGE number of small businesses. The ordinance that was passed by city council on November 15, 2021, is called the West Hollywood Minimum Wage Ordinance. This ordinance didn't only raise the minimum wage, it also added other requirements that businesses had to implement, like vacation, sick leave, and paid time off for part-time employees. (as a side note – city council is supposed to represent the people who live in West Hollywood.
Right now, only 5% of employees in West Hollywood live in West Hollywood, and only 1% of those workers who also live in West Hollywood are part-time.2 This seems to be helping workers from outside of our community a lot more than it helps workers who live here). I understand the thought and good nature behind it, but we can't apply the same blanket policies across every single business in the city. What works for a company with 500 employees doesn't work for a company with five.
I've spoken with business owners around the city to hear their stories and their thoughts. One of the people I spoke with, whom I will call "Taylor" in this article, is a real estate agent. For anyone who knows me personally, you may have a guess as to why I chose the name Taylor for her pseudonym. For those of you that haven't gotten to meet me yet, you'll find out within two minutes of talking to me that I'm a borderline-obsessive Taylor Swift fan.
Taylor has a small office in West Hollywood with two part-time assistants. She actually got her assistants from the Los Angeles LGBT Center's Youth Employment Program! For anyone reading this who isn't familiar with the program, the LA LGBT Center has a program that helps LGBTQ+ youth who are struggling to find work, need work experience, or want to be connected with a mentor, do exactly that.
It's a great program, and I will include the information on how you can get involved at the bottom of the article. Taylor didn't even really need one assistant, but she's a supporter of the program, and as a member of the LGBTQ+ community, she wanted to pay it forward and give an opportunity to someone who could benefit from it.
Originally she just had one assistant, but she decided to get a second because she became aware of another person in the program who needed the experience, and a source of income. Her assistants have flexible hours, which allows them the freedom and ability to pursue full-time opportunities in the career fields that they want to work in.
Now, with the passing of the West Hollywood Minimum Wage Ordinance, Taylor is required to pay them an increased hourly wage, and has to provide them with paid vacation, paid sick leave, and paid time off. Taylor doesn't want to have to lay off either employee.
She hired them BECAUSE she wanted to give them an opportunity when they needed it most. But this puts a huge burden on her business. We see the ads on the carts at the grocery stores, the flyers in our mailboxes, and the posts on our instagram timelines — we know real estate is a competitive field in our city. Taylor was trying to do a good thing by helping her two assistants, and now she faces the difficult decision, and very real possibility, of either having to let one or both of her assistants go, shut down her business, or move it across the street to Los Angeles.
I want it to be very clear, in no uncertain terms, that I absolutely support increasing the minimum wage and making sure employees have benefits. What I don't support is the city passing blanket ordinances that treat every West Hollywood business the same, when they are not at all.
If we make it harder to start a business in West Hollywood, we aren't stopping large corporations from opening up shops here, we're stopping small, black-owned, women-owned, AAPIowned, LGBTQ+ owned, Russian-owned, etc businesses from coming here, since the barriers to entry are so high. We'll telling them that it's too difficult to open a business here, and that they should do it across the street instead. We want those small business owners to come to West Hollywood.
There need to be exclusions for small businesses like Taylor's in the ordinances we as a city pass. I want, and I expect, large businesses that have the means to provide higher wages and benefits to their employees to do just that. But I don't want the neighborhood mom-and-pop shops, the local ethnic shops, the ones that make West Hollywood the incredible city that it is, the city that I fell in love with almost a decade ago when I moved here, to crumble and disappear in the name of council's inter-fighting over politics and ideologies.
We have two choices as a city.
We can either push our neighboring cities to join us in raising the minimum wage and additional benefits so that the scales aren't tipped against us, or we have to make amendments to the West Hollywood Minimum Wage Ordinance that are fair to our business owners, that provide our workers in West Hollywood the benefits they deserve, and continue to make West Hollywood the best place to own and operate a business.
As your city council member, I'm going to fight for both, and get our businesses and employees what they deserve As always, I want and I welcome your feedback on my thoughts and plans for West Hollywood.
I'm not pretending to be the savior with all of the answers and solutions to the issues our city faces. My ideas come from talking to wonderful people like you. I hope you reach out to me either by phone or email with your thoughts, concerns, and your own ideas!
My number is (323) 250-0992 and my email is JC@JordanForWeHo.com.
You can also find more information at my website, JordanForWeHo.com. If you like my plan and what I think the city should do moving forward to support our businesses, I would very much love and appreciate your vote on November 8th. I would also love and appreciate if you could tell 10 other people about my campaign and to support me in the upcoming election.
I have another idea for helping new businesses open up in West Hollywood (that I got from talking to two West Hollywood residents and business owners, and whom I give all the credit to!) that I'm so excited to share with you, that will come in another OpEd very soon.
If you can, please also consider checking out the Los Angeles LGBT Center's Youth Employment Program if you're looking for employees, or want to mentor some of our city's incredible LGBTQ+ youth. The link for the program is lalgbtcenter.org/social-service-and-housing/youth/ employment Thank you so much for reading my article.
The reason I'm running for city council is because I want to represent passionate and caring people like you. You're what makes West Hollywood great, and I love you all!
Sources
1. https://www.weho.org/business/business-resources/interactive-data-tools/community-profile#:~:text=Labor%20Force,an%20unemployment%20rate%20of%208.8%25.
2. https://www.point2homes.com/US/Neighborhood/CA/West-Hollywood-Demographics.html AND https://datausa.io/profile/geo/west-hollywood-ca/#economy