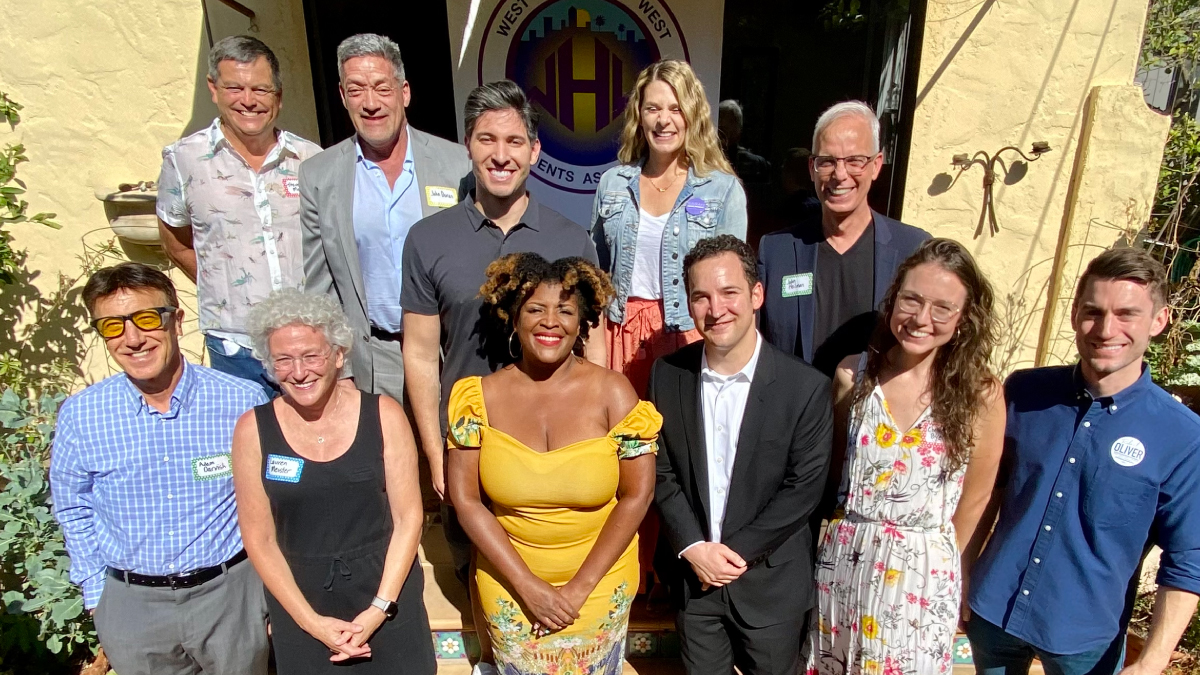 This year's West Hollywood West Resident Association meet-and-greet was held at the home of Kim Winick and Lawrence Chablee. Eleven of 12 City Council candidates attended the even, which was catered by Salt & Straw, a West Hollywood ice creamery.
Each candidate was given two minutes to introduce themselves to the approximately 20 West Hollywood West residents who were in attendance.
Candidate Ben Savage broke out to the upside. Savage's speech gave purpose to his candidacy and laid out a vision for West Hollywood that most had not heard before "We are underserved. Something is not clicking". The independent Boy-Meets-World-actor-turned-politician emerged as an effective communicator and was ready for prime time.
Candidate Marquita Thomas rebounded from an awkward interaction at the WHWRA ice cream social in her last campaign in 2017. A 27-year resident, Thomas brought laughs when she said she has lived here since Mayfair market, which pre-dated Gelson's on Santa Monica Blvd. Thomas highlighted her experience as Vice Chair of the Planning Commission and the Chair of Long Range Planning. Thomas complimented the residents of West Hollywood West for always showing up and being engaged on the most important issues.
Former Council member John Heilman spoke as to why he is running. Back to basics. The four reasons, 1) Public Safety, 2) Restore a good relationship with the business community that pays the taxes for our services 3) homelessness, new solutions and to work closer with the County 4) climate action
Former Council member John Duran led off the afternoon. He highlighted the changes of the past two years and spoke about re-establishing Public Safety and restoring the sheriff's deputies to pre-COVID levels. John is an articulate and natural speaker, and he received a warm welcome from the many undecided voters.
Former Council member Steve Martin spoke about the cutting of the deputy budget. Steve highlighted the many issues he has fought for over the years, saying 'the state of the city is not good" and "we have a crisis of confidence'. "We have City Council that is arrogant and does not particularly respond to our concerns as residents," he said. "In 2020 we got change, but not change for the better."
Candidate Robert Oliver spoke about his experience as a 10-year resident. Robert spoke to a former deputy for Paul Koretz. "A lot of the problems we have now is the result of disfunction and bureaucracy," he said. Robert confused some when he stated that he and his husband are members of WHWRA. Oliver lives in Tri-West area and is not eligible to be part of the WHWRA.
Candidate Sarah Adolphson highlighted her business experience as co-CEO of The Artemis Agency and her work that bridges the social good and causes central to West Hollywood voters. "I'm not new to public service, I've committed my whole life and career to talk about the biggest issues facing our society," she said. "The thing that West Hollywood residents care about is what I do in my day job. I want to build a safer, cleaner, kinder West Hollywood"
Candidate Jordan Cockeram did not claim to have all the answers but explained that he speaks to lots of residents who have helped him formulate new ideas. He complimented the West Hollywood West Residents association for being so passionate. "It's an opportunity for me to talk to you and come up with the answers. You all are the experts," he said.
Candidate Chelsea Byers spoke to her activism over the past eight years in Arizona and Los Angeles. "I see public safety differently," she said. "We are enacting a quilt of amazing public safety issues. I hope everyone can see all the parts working together:"
Candidate Adam Darvish spoke again about his call to service after a car accident on Larrabee Street almost killed him.
Mayor Lauren Meister had the home field advantage. Lauren echoed the name of Marty Strudler to gracious applause. Marty was a West Hollywood West resident who helped to found the association and had passed away a few years earlier. Meister highlighted the issues central to West Hollywood over the years. "You will know where I stand always".
Zekiah Wright was the only candidate who did not show up to meet the residents at the traditional ice cream social.