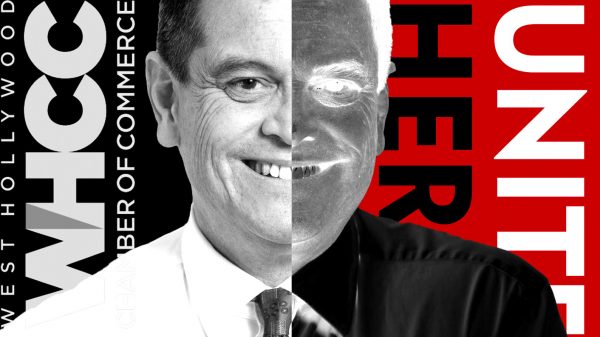 Former Councilmember Steve Martin is the last thing we need on City Council — another politician with extremist ideas masquerading as a moderate voice.
Today, Martin casts himself as the nemesis of the movement to defund the Sheriff, regularly attacking its ringleader, Nika Soon-Shiong — strange to say the least, considering he was pushing the very same plans two years ago in an opinion piece he wrote for Wehoville:
"West Hollywood is in a unique position to experiment with a new type of community-based law enforcement. We are a relatively safe community where people walk their dogs after 11 p.m. Not to make light of our issues, but often they are more quality of life than public safety. We don't have to get rid of the Sheriff, at least not immediately."
He proposed handing law enforcement over to "professionals that are lightly armed or even unarmed" e.g. the security ambassadors, and figured they could handle "over 90 percent" of the calls to the sheriff.
"Rather than going through a boot camp style police academy, our new patrol members would have degrees in sociology or mental health."
Well, you're getting what you wanted, Steve. Why aren't you celebrating?
More recently, he wrote "There is virtually no reason for having an elected Sheriff. There would be more responsive service and a change in the Department's culture if the Sheriff was simply another department head working for the Board of Supes."
These are not the ideas of a moderate. These quotes could easily have come out of Sepi Shyne's or Lindsey Horvath's mouth. They are the same kind of fringe thinking that has jeopardized our way of life here in WeHo.
Martin claims he turned his back on UNITE HERE Local 11 because of their efforts to defund the sheriff.
That's baloney. He wanted their endorsement but they didn't give it to him — which is sort of sad, because he has been an official volunteer for them, and he's been singing their praises for years:
● "I am glad that Unite Here is willing to invest in our local democracy to try to give a more balanced view of where our City is headed."
● "Unite Here is lambasted by the Chamber of Commerce and many at City Hall because they have often questioned the status quo. If Unite Here can help make our City Council more accountable and responsive, then we should welcome them as allies."
● "I don't see Unite Here as a threat; it may help level the playing field."
● "Rather than question the motives of Unite Here Local 11, we should be grateful that they are forcing a community discussion."
All direct quotes from Steve Martin.
Compare that with what he's saying today: "When I found out Unite Here commended the City Council for cutting deputies I contacted them and questioned if 'de-funding' law enforcement was their official position. I was told that it was. After a long conversation with their political director, I decided to decline an invitation for their endorsement interview. I could not be on a slate that supports de-funding after fighting against it."
Bogus.
We have Steve Martin to thank for UNITE HERE's tyranny over City Hall. He was their biggest cheerleader.
More recently Martin professes to be a huge champion of the Chamber of Commerce, citing a longstanding partnership with vocal accolades given to Chamber programs and efforts. Really???
In the Oct. 18, 2021 city council meeting he spoke in support of Unite Here 11 and directly in opposition to the Chamber of Commerce when he urged council to move forward with the minimum wage ordinance and said that restaurants in hotels should be under the same minimum wage guidelines as hotels themselves because "businesses play shell games". And if you look through footage of past council meetings or read past op-eds written by Mr. Martin you will find more specific call-outs with rather unflattering overtones targeting local businesses as well as Chamber leadership directly. That's some strange idea of "partnership" Steve!
Then there's the claim he made in a recent email blast to his supporters that the reason he did not receive the WeHo PAC endorsement is that he refused to take money from developers. It is hard to imagine there was a lineup of developers, checkbooks open and ready to write checks to him. But even if there had been, given his outright opposition to the Chamber and so many of their positions on key issues did they really need any other reason not to endorse Mr. Martin? Besides, it is worth noting that Lauren Meister who, it is well-known has not taken money from developers did receive the WeHo Chamber PAC endorsement. Once again Steve, I call BOGUS.
Across the board on so many of the key issues currently facing West Hollywood Steve Martin has proven himself to be the consummate flip-flopper, saying whatever he feels he needs to say to whomever he feels he needs to say it to in order to win their vote. Worse, he has proven himself to be an outright liar.
Who is Steve Martin and what does he really stand for? With his history of contradictory statements, actions and positions it is time to invoke the line made famous by Joe Garagiola in the original "To Tell The Truth" (recently re-introduced by Anthony Anderson): "Will the Real Steve Martin Please Stand Up."