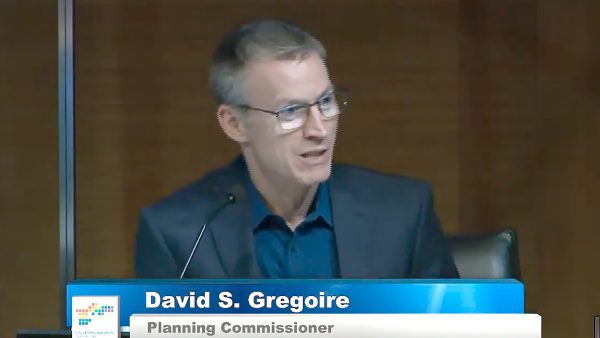 The Planning Commission on Thursday reviewed a plan by City Hall to reboot the provisions of the West Hollywood West Neighborhood Overlay District, which sets very specific — or overly strict, as some might say — rules for homeowners in the neighborhood.
The district was instituted in 2014 with the aim of "preserving the unique physical character of the West Hollywood West residential neighborhood through architecture and design guidelines created collaboratively by the City and West Hollywood West residents," according to the staff report.
In response to the California Department of Housing and Community Development's recent push to remove barriers for residential development in response to the housing crisis, City Hall is looking to re-write the district's rulebook to focus on more objective goals, rather than the subjective design-focused goals it now pursues.
The proposal includes the following regulations:
Maximum Dwelling Unit Floor Area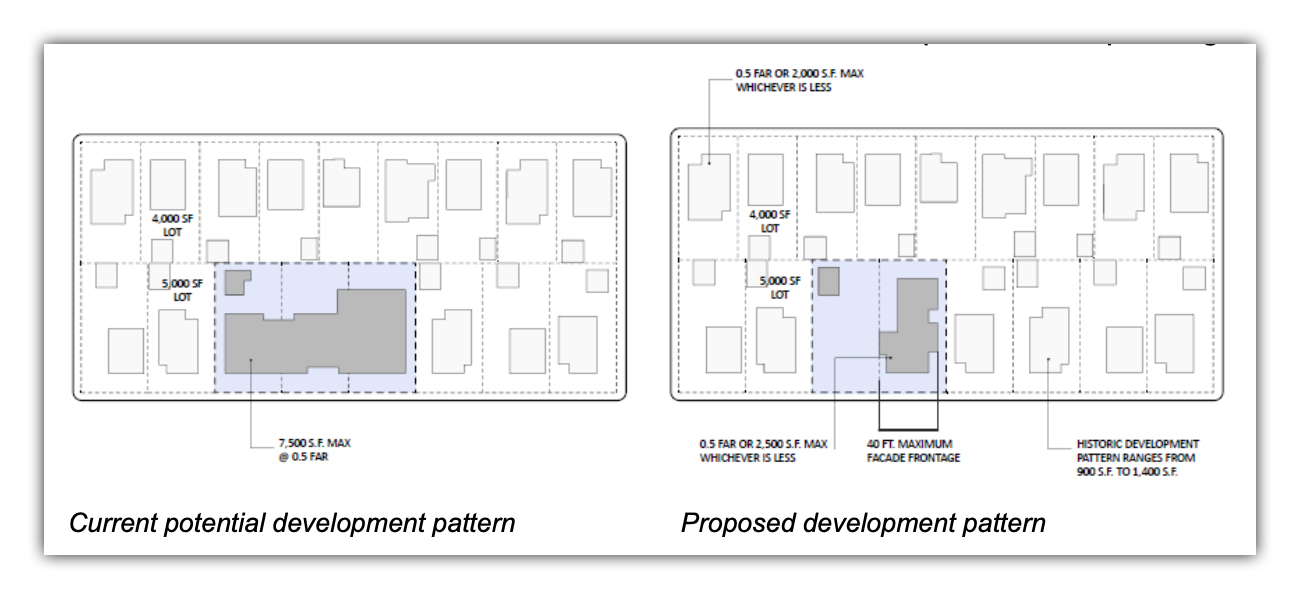 This Zone Text Amendment proposes to add to the current 0.5 floor area ratio (FAR) a second criterion for a maximum dwelling unit floor area of 2,000 square feet for lots 4,000 square feet or less and 2,500 square feet for lots greater than 4,000 square feet, whichever is less between the FAR and maximum floor area. In addition, staff also proposes to establish a maximum frontage of forty (40) linear feet along the public right of way. This will prevent a building that spans across the frontage of multiple merged property lines.
Soil Permeability
A minimum of 40% of the driveway surface and 50% of all required setbacks and yards shall be required to be fully permeable. Additionally, synthetic (or artificial) turf will be discouraged but not completely disallowed.
Driveway Visibility
Landscaped walls and other such garden perimeter features shall not be permitted if either visibility of the sidewalk from the view of a motorist on private property or visibility of the driveway from the view of a pedestrian in the public right-of-way is impeded. The maximum height limit for fences, walls, or solid vegetation will be reduced within six feet of the front yard corners at the public right-of-way to ensure from the property for driveway visibility upon exiting and to support visibility for first responders.
Exterior Lighting
Downlights mounted greater than nine feet above grade shall be spaced at least ten feet apart and light
sources shall be shielded from adjacent properties and the public right-of way.
Acoustic Trespass
Sump pumps and pool motors must be enclosed on all sides to buffer sound. All air conditioning units must be quiet-type condensing units operating within a decibel range that does not exceed 60 decibels (db).
Roof Design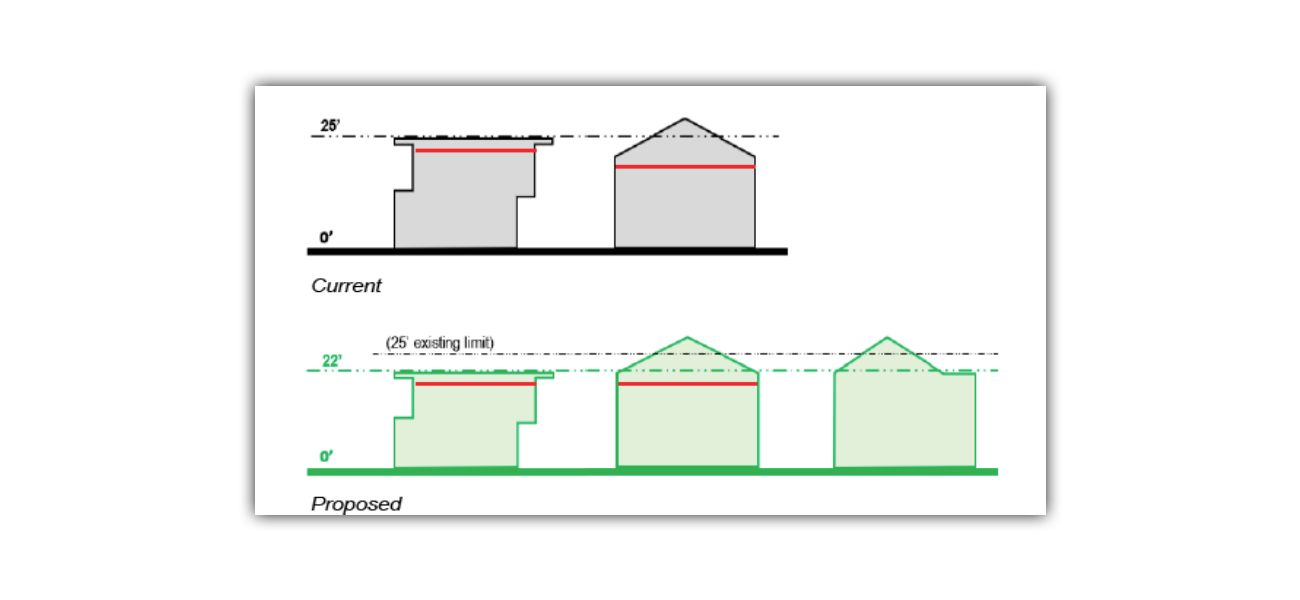 The new standard decreases height limits for flat-roofed buildings from 25-feet to 22-feet and maintains the 25-foot average for sloping roofs.
Carports and Porte Cocheres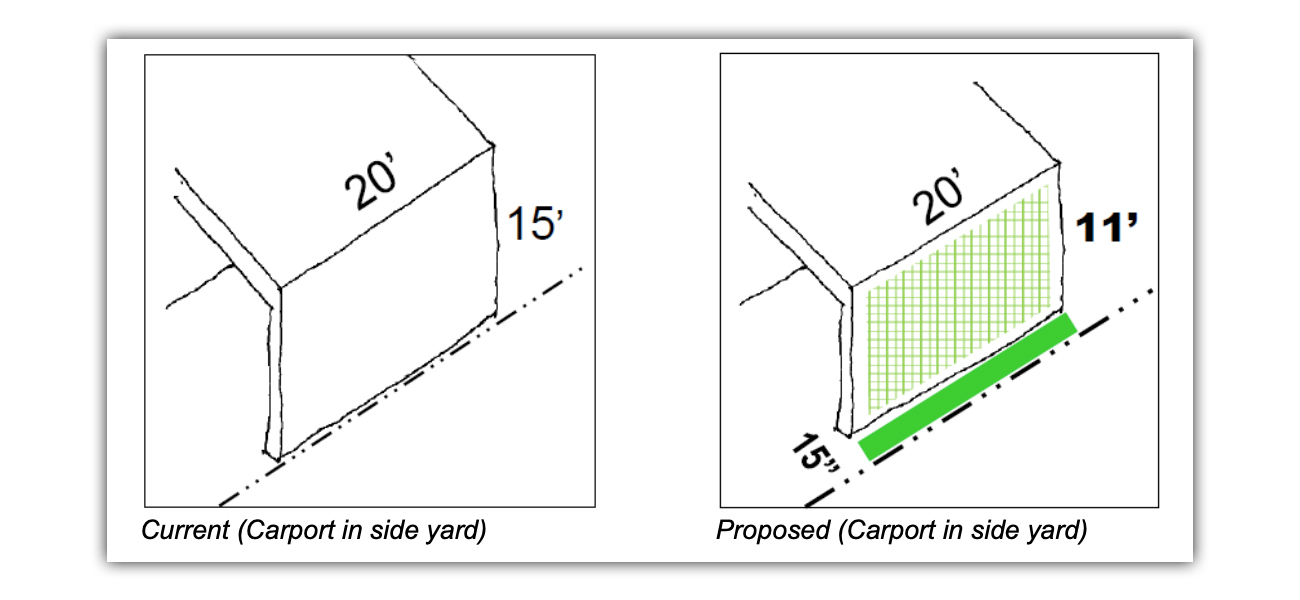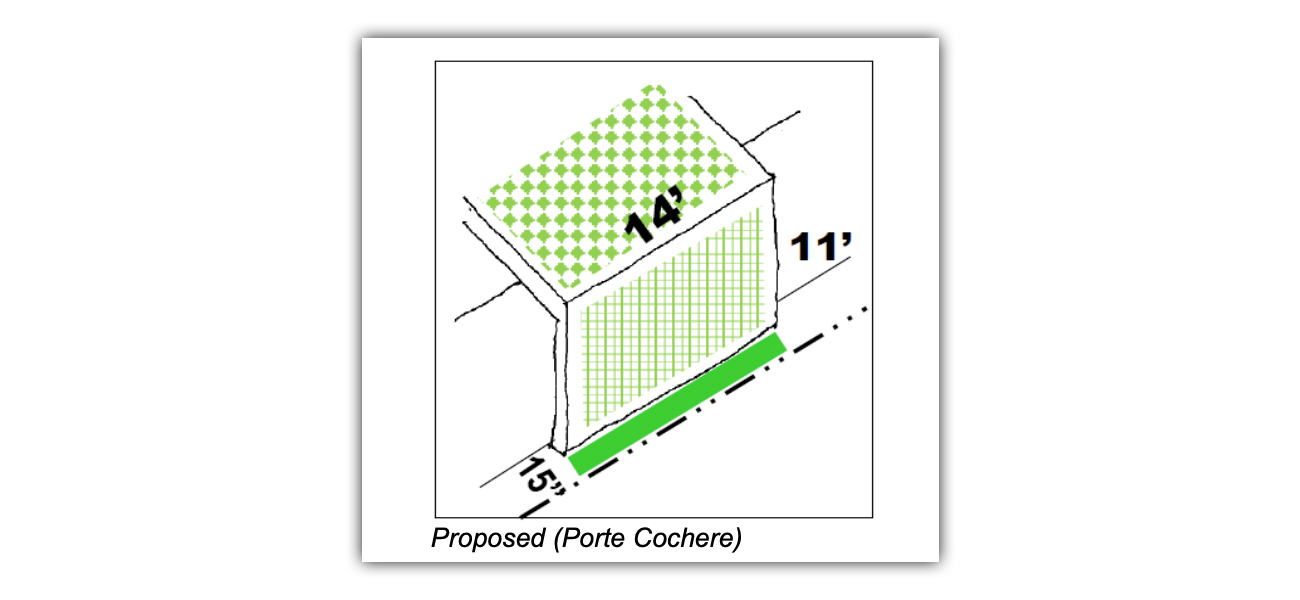 Carports will be required to have two fully unenclosed sides. A structure with three or more enclosed sides will be classified as a garage, the area of which will be included in FAR calculation. Porte cocheres (or drive-through
passageways) would be advised to have vegetative roofs as a means to add green space and support the city's CAAP.
Basements
Establish a maximum floor area of 400 square feet as well as encourage more utilitarian uses. Cooking, bathing, and toilet facilities shall be permitted in basements, but this type of use would necessitate additional provisions for light and air as well as emergency egress.
Exterior Finish
Must be carbon neutral, durable, and low-maintenance materials such as, but not limited to, brick, clay tile, natural stones, terra cotta, FSC woods, cast-in-place concrete, CMU, and recycled metals.
Public comment on the revisions was skeptical.
"The proposed changes are a violation on property rights," wrote Erald Sejdini. "Hedges, basements, and stucco? What's next, address number font? In all seriousness, it feels that West Hollywood is taking steps backwards and not heading into the future."
In light of recent news about the effects of dewatering WeHo's aquifer, many questioned whether the city should allow basements or subterranean parking at all
"Anyone proposing the allowance of these basements has a myopic penny wise-pound foolish view that doesn't reflect the dire reality of the situation. In summary, allowing basements OF ANY SIZE will cause a constant dewatering
which will cause unstable foundations and cracks that will jeopardize our homes and their future value," Ignacio Darnaude wrote.
"I think the City Council should know that the Planning Commission has expressed concern about dewatering and the impact, the cumulative impact that it's having in our community, because this problem goes beyond West Hollywood West, it applies throughout the entire city, in particular to those commercial and mixed-use projects," Commissioner David Gregoire said.
The Commission voted to continue the item to a date uncertain.