The current mess the City Council is in lies directly at John Heilman's feet. 
He is the main reason Horvath, Shyne & Erickson are on the council in the first place.  He "groomed" them each for a potential seat on the council for very self-serving reasons: To support his proposals & positions, to create a 3-member majority on the council & to vote with him as a block of three without exception.
When the seat held by Sal Guarriello became available after his passing, there was a "movement" among many voters, to hold a special election to replace Sal & let the voters decide & not let Heilman make an appointment, which he obviously already had planned. Heilman vigorously objected to a special election, saying "I don't think that's progress. I don't know why it's needed to call a special election & spend a lot of money!"
Heilman strongly objected to term limits, saying "elections are term limits".  (for thee, but not fore me). Not excactly a man of his word. Enter Lindsey Horvath, who had been waiting in the wings for her cue to occupy the vacant seat, the voters & a special election be damned!.  
Heilman subsequently appointed John Erickson, a former assistant to Abbe Land, to the Planning Commission & Sepi Shyne to the Business License Commission, ostensibly to use as a launching pad to the City Council &, once again, to help secure Heilman's voting block-of-three, especially since Horvath was planning a run for the Board of Supervisors.  So there's an undeniable pattern here, all part of Heilman's manipulative method of getting everything his way,
There seems to have been a consistency in Heilman's method of operation – to try to steer the outcome of important, prominent issues even outside the city to favor himself.  In 2010, Heilman vehemently supported a California ballot proposition to take district drawing out of the hands of a Citizens' Commission set to draw the boundaries for legislature districts & return the responsibility, i.e., the privilege, of drawing districts, back to the politicians, a shady practice called gerrymandering, a measure opposed by Jerry Brown, Gray Davis, Pete Wilson & then-governor Arnold Schwarzenegger & loudly denounced by groups such as AARP & the ACLU.  According to several online sources, Heilman was pushing for this system that favored his political buddies & not the public. As it happened, ballot measure 20 lost & district drawing was left in the hands of citizen commissions. 
In a 2010 online article L.A. Weekly wrote that John Heilman is selling out the city & founding principles of renter protection to support policies in favor of sweetheart deals for real estate developers.  Also in 2010, then former Planning Commissioner & present Councilmember John D'Amico addressed Heilman & one of his colleagues from the speaker's podium, saying "You are two entrenched elites, you no longer belong in a position of leadership in West Hollywood. Your radical suburbanizing of West Hollywood has undermined the promise of what a future West Hollywood can be."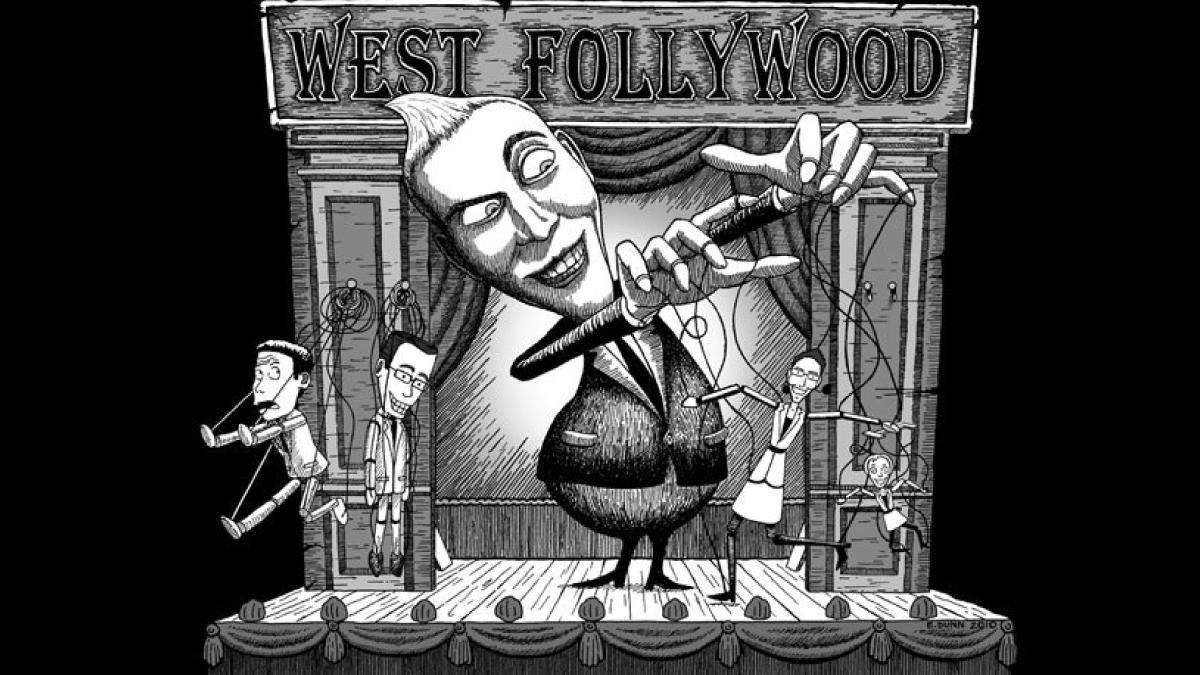 Again, in Feb. 2010,  the L.A. Weekly ran a cover story, with a cartoon drawing depicting Heilman as a puppeteer, & the other council members as marionettes being manipulated on strings. The article said that Heilman shows no leadership & having little or no vision for the future. In Oct 2010, then council member John Duran called out 2 fellow colleagues , saying the City Council was engaged in a "cultural battle" for the city's "soul"  & that he was "beginning to sense a struggle at the core of West Hollywood", citing "among other things, that a drug & alcohol center, that serves approximately 6000-7000 people every month, may be demolished so a "Tiny Tot playground" could be built in it's place.
According to the article, "Duran is almost certainly talking about John Heilman & Abbe Land" Also according to what Duran wrote, "a proposed work by world famous artist Shepard Fairey in the new library, was shot down by a majority of the City Council, including Heilman, for being "too controversial, who they say was trying to accommodate a goal by one of his colleagues to make West Hollywood more "family friendly". However both Heilman & his same colleague were against having a "family friendly" off-leash dog area in the new West Hollywood Park. Only through the hard work & perseverance of Councilmember John D'Amico did the dog park ever come to fruition.