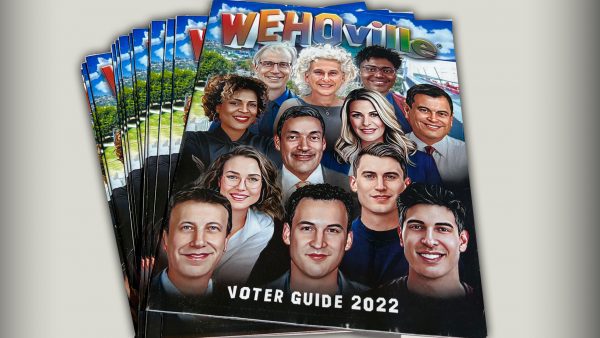 Boystown Media Inc. is proud to announce the launch of the WEHOville Voter Guide.
The company's' inaugural edition of the Voter Guide will be mailed directly to more than 12,000 high propensity households with a total production run of 15,000 copies. Additional copies will be shared with local businesses throughout the city and available for free to all residents. Copies can also be picked up at the Boystown Media registered office within the YMLA store at 8594 Santa Monica Blvd.
The 32-page, full color glossy magazine was oversold. We had to bump Steve Martin's ad, and John D'Amico's farewell letter. All West Hollywood City Council candidates received one page free with their photo and a small bio and write up. The magazine also features the Los Angeles County Sheriff race between Robert Luna and Alex Villanueva, and the race for Los Angeles County Supervisor race between Bob Hertzberg and Lindsey Horvath.
All candidates were given equal opportunity to purchase the page opposite their free page to share their own message. The pages were sold at the same dollar to each candidate on a first-come, first-served basis. PAC, or political action committees who support more than one candidate were charged a premium over the candidate page price.
The success of the voter guide has taken the WEHOville brand to a new level. We are going to get an early start on the 2023 Pride Guide and looking at an annual EAT, SHOP, PLAY, DRINK, WEHO guide to highlight some of best of West Hollywood all in one cohesive magazine.