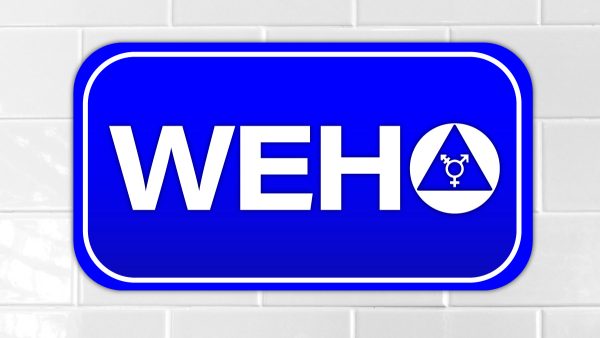 As gender-neutral restrooms took heat from the audience at the Public Safety Commission's meeting on Monday night, the commission refused to rush city staff's plans to start phasing them into West Hollywood's future.
Last year, City Council ordered staff to craft an ordinance requiring all multi-stall restroom facilities in businesses and public places to be gender-neutral. The ordinance, which applies to new developments as well as significant remodels and new commercial leases, will go before City Council on Dec. 5.
The city has also sponsored legislation that will allow local governments to require new or renovated public toilet facilities to be designed, constructed, and identified for use by all genders instead of the design standards for separate facilities for men and women currently found in the California Plumbing Code.
Public commenters were dismayed mainly about a separate but related topic — multi-stall restrooms planned for Plummer Park, and the potential for crime created by floor-to-ceiling stall doors — but they were also angered by City Hall's failure to publish Monday's report in a timely manner and by conflicting information about when the meeting was supposed to start.
Commissioner Tory Berger agreed.
"I could not give meaningful input because I didn't have the information far enough in advance," he said. "I didn't have the report. The same thing with the public. They didn't know about this."
With Council already scheduled to review City Hall's plans, the commission wondered what the purpose of their discussion was amid a public outcry.
"If the wheels are in motion and it's going to Council, what difference does anyone's input make?" Chair Tod Hallman asked Francisco Contreras, manager of the city's Long-Range Planning Division.
In a moment of candor, Contreras said "You're part of our long roadshow where we are providing folks an update as to what the bill that got signed was all about and then taking your input and any new ideas that you might have or any clarifications that we can take in, synthesize it and put into the final specs."
Former City Councilmember Steve Martin begged to differ.
"This commission's charge is to give the best possible advice and allow people to have input to talk to you about what your concerns are," Martin said during public comment. "And as we saw to some degree, that process was short circuited. What staff said inadvertently probably best describes what we have seen the last two and a half years, maybe even longer. Staff said, 'This was just part of its roadshow.' I don't know how much more dismissive staff could be to you.They're not asking your opinion. And they're not asking my opinion. They're not asking the public's opinion.This happens all the time. The only way it's going to stop is if we all take a deep breath and stand up to staff and say 'No, this is not going forward.'
While Commissioner Robert Oliver accused Martin of playing politics (both are running for City Council next month), Commissioner Kerri Balbone saw some merit in his critique.
"I think we need to work collaboratively with city staff, not in an antagonistic way," Oliver said.
"I agree with you in general," Balbone responded. "But I don't find it collaborative to get things late and I don't have a clear understanding that (the presentation) is going to every board or commission. That's why I wanted it to go to the Disability Advisory Board. They have fears that I don't have. That I don't understand. And I think that we're in the unique position to say, someone's raised a safety concern, they absolutely should be heard."
The commission motioned to agendize the item, and it will again be discussed at their next meeting.