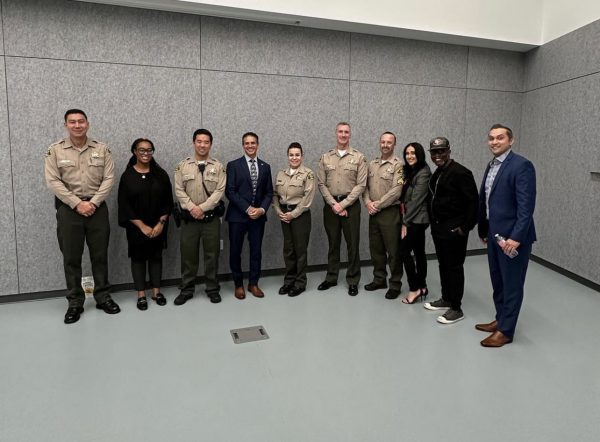 The Los Angeles Sheriff's Department kicked off its Community Academy this week with a riveting presentation by Deputy District Attorney Jonathan Tatami.
Hatami is known for his work prosecuting the parents of Gabriel Fernandez, the 8-year-old Palmdale boy who was tortured to death by his mother and her boyfriend in the mid 2010s.. He spoke about the ways the D.A.'s office works with the Sheriff's Department, as well his own traumatic youth.
As a child, Hatami and his brother were taken by their mother as she fled her abusive relationship with her father. They relocated to California and hid out from the law for eight years before the boys were recognized from a missing child ad in the Ladies Home Journal.
The ensuing custody case led Hatami to his career as a D.A. who fights for justice for children. Hatami spoke critically of his boss, District Attorney George Gascon, assailing him for removing the enhancements that increased penalties for particularly violent or egregious offenses, and he critiqued the zero bail initiatives.
He had few kind words for the defund-the-police movement, and was baffled by West Hollywood's plan to put more unarmed security ambassadors in the path of armed and dangerous criminals.
While he was generally supportive of Sheriff Alex Villanueva, he said the optics of Villanueva's investigation of Supervisor Sheila Kuehl were less than ideal, even though he thinks she likely committed a crime.
The Academy continues next week with a more hands-on course of activities, including patrol operations, K-9 units, SWAT, crime scene investigations, mental health evaluations, and other topics. It's the first time the department has held the classes in more than a decade in hopes of familiarizing WeHo's citizens with the work they do as the contracted law enforcement body in charge of public safety in the city.
Mayor Lauren Meister was in attendance at this week's workshop, as were Capt. Bill Moulder, WeHo Community Safety Director Danny Rivas, City Manager David Wilson and a number of deputies. While enrollment for the Academy is currently closed, the department is planning to host another set of workshops in the near future.