West Hollywood Chamber of Commerce (WHCC) (www.wehochamber.com) proudly announces its nominees for the 38th Annual West Hollywood Creative Business Awards 2022 (CBA) on Thursday, November 10, 2022, at the 1 Hotel West Hollywood, at 8490 Sunset Boulevard. Presented by urbn leaf (www.urbnleaf.com) – a division of Harborside, the ceremony will celebrate businesses that have shown innovation and creativity in their business models; nominees selected by their peers in the community, and the winners are chosen by the WHCC Membership, Awards are handed out when the winners are announced at the eagerly anticipated yearly event.. For decades this award ceremony has been touted as "Los Angeles' business community's most powerful networking event of the year!"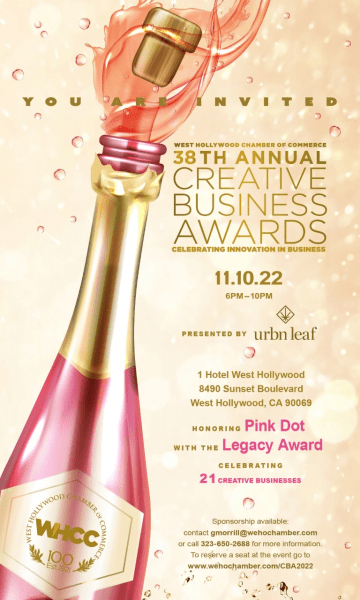 This gala event is the most important annual fundraiser for WHCC, a 501(c)(6) non-profit organization. The night begins at 6:00PM PT with a reception and silent auction sponsored by Beverly Connection (www.thebeverlyconnection.com) and Better than Sex: A Dessert Restaurant (www.betterthansexdesserts.com); and closes with an after-party sponsored by Capitol Drugs (www.capitoldrugs.com). The event sees twenty-one (21) nominees in seven (7) categories with the awards' winners chosen for their innovative approach to business and creative merits in product(s) and service(s) by the WHCC Membership and staff. The criterion for selection was that the business be a WHCC Member and have made significant contributions to the West Hollywood business community. Members vote for their favorite nominees via an online ballot and the winners are announced at the event. Donations raised at the event help to fund programs and promotions for the West Hollywood business community.
The 2022 CBA Nominees by category are: 
Creative Concept Award: 
A business that is an innovator of a cool new concept, product, or service
Corporate Innovation Award: 
A business that has shown creative innovation in their corporate business model
John Chase Art & Design Award: 
A business that falls into the categories of art, film, performance art, fashion, design, architecture, or any other creative arts realm
Creative Communications Award: 
Awarded to a business within public relations, marketing, outdoor media, branding, televisual arts, copyrighting, technology, social media, graphic design, writing, etc.
WeHo Attraction Award:
Awarded to a business that attracts people to the West Hollywood area, or caters to the visitor and tourism market
Innovative Sustainability Award 
Awarded to a business that seeks to innovate green, sustainable products/services and is environmentally friendly, while striving to forward global social progress
Creative Community Service 
Awarded to a business or individual who has shown exemplary service to the community philanthropically, or as a volunteer, an ambassador, a non-profit, or a representative of government
The WEHO Chamber of Commerce Creative Business Legacy Award 2022 will honor the continuing West Hollywood retail triumph Pink Dot (www.pinkdot.com) and owner Sol Yamini. With a powerful name respected globally for convenience, customer service and selection, Pink Dot's success story is every bit as colorful as the trademarked rose-hued vintage Volkswagen Bugs that for early decades were their delivery cars that could be seen across the city. In 2004, Los Angeles native and entrepreneur Sol Yamini, at only 23 years old, led a group of investors to become the majority owner of the store chain.  In an effort to refocus their resources, the new owner closed all but the original flagship store on Sunset Blvd. By building brand equity back into the company's busiest location, the chain was moved into the delivery business model early which soon steered the store back to record high sales. 
Yamini continued his creative innovation, growing the brand by building strategic partnerships that greatly expanded the capabilities of the business. In 2014, he was one of the first to partner with Postmates as its exclusive liquor and grocery delivery partner. Within a year, his single store became the highest-grossing business on the entire delivery platform. Yamini then took PinkDot.com virtual in 2015 which allowed them to service a global audience first with the help of Postmates and then with Uber Eats and DoorDash. Then Yamini leapfrogged the competition by allowing other liquor and convenience stores across the country to franchise Pink Dot's name and powerful reputation to new markets. Connecting these new businesses to a single virtual platform, Yamini streamlined their operations while extending Pink Dot's footprint all across North America. Currently there are over 200 virtual Pink Dot-branded locations across the country from California to Florida and north to south. Today the entire West Hollywood business community is bearing witness to his reinvention of the iconic corner where the original store was born. Currently under construction, through the multi-level, multi-purpose destination he will reinvent the Sunset Strip again. A trail blazer in home grocery, food, liquor, and tobacco delivery for over 35 years, Sol Yamini is recognized for creatively inventing Pink Dot for a new generation. This is one of countless business ventures he has personally incubated to success. Next year Yamini is  creatively expanding his empire into the new spaces of alternative medicine and Web3 bringing the first ever cannabis dispensary and cannabis consumption lounge to the Sunset Strip. 
Learn more about legacy award honoree Sol Yamini and the iconic Pink Dot at www.wehochamber.com/CBA2022. For more event information, sponsorship, and tickets, access our website at www.wehochamber.com/cba or contact:
Genevieve Morrill
310-890-1246
West Hollywood Chamber of Commerce
8272 Santa Monica Boulevard
West Hollywood, CA 90046
For Media Inquiries:
Kenneth Loo, Chapter 2
ABOUT WEST HOLLYWOOD CHAMBER OF COMMERCE:
Founded in 1921, the West Hollywood Chamber of Commerce is a 501(c)(6), non-profit organization, which supports and promotes a community environment where commerce can flourish. The Chamber fosters prosperity and champions local business by providing resources and leadership to advance activity through economic development. We advocate and represent business interests to the government, while enhancing the quality of community life and promoting the uniqueness of West Hollywood.