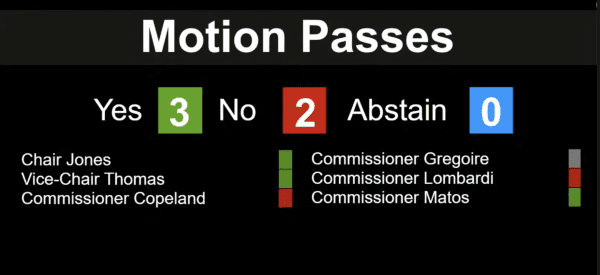 The 8500 Santa Monica project divided the Planning Commission at their meeting this week, narrowly squeaking through the approval process by a 3-2 vote. Chair Stacey Jones, Vice Chair Marquita Thomas and Commissioner Erick Matos voted in favor, while Commissioners Michael Lombardi and Kimberly Copeland voted against. Commissioner David Gregoire abstained from the vote.
The controversial project first generated headlines when former Planning Commission Chair Lynn Hoopingarner wrote an exhaustive review of the plans that brought to light various flaws that some commissioners agreed with.
"You know, I'm not even going to comment on if it's a good project or not, it has housing and it's meeting state law requirements," Jones said. "And it's meeting your local municipal code requirements. And that's just the reality whether we love it or we hate it. That's just the reality. So I'm very torn on this. This is not an easy decision."
"I didn't feel comfortable really that this project was quite ready for our recommendation," Copeland said. "There were so many issues that needed fine-tuning, correcting, not quite not yet in compliance this, that, and the other to be done in plan check. And safety and security issues with the resident parking in the commercial garage, issues with the commercial frontage and pedestrian compatibility and so on, but the main concern to me is the questionable inclusion of those nearby parcels in the calculations, which absolutely affects everything else."
"I will say that this project didn't feel like it was very amenable to any change," Thomas said. "So I think we kind of got what we got. I think there's a lot of issues and I felt like there wasn't even time today just to discuss those or that they would necessarily affect any change. There was extensive discussion about the ground level pedestrian experience. And that there is quite an opportunity on this project and it seemed like it was being missed. I still feel that way. I still feel there's a lot of issues with the design of this project and a lot of them may stem from the challenges of the amount of square footage that has been pushed into a very small lot size by way of You know, a very non-functional lot around the corner that's allowing for this additional square footage."
The Planning Commission's decision could be appealed. Appeals must be submitted within 10 calendar days from the state, to the city clerk's office appeals, must be in writing and accompanied by the required fees. The city clerk's office can provide appeal forms and information about waiver of fees.