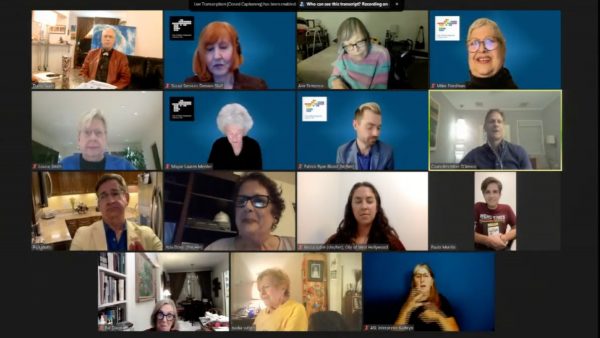 West Hollywood's Disability Advisory Board held the annual Disability Services Awards on Wednesday night during their meeting to honor individuals and groups who have provided exceptional service to people with disabilities.
The Business Award was granted to Pavilions, which Mayor Lauren Meister called "a workplace that reflects the rich university of the communities they serve, highlighting courtesy, dignity and respect as the three foundations of their workplace. The staff of the West Hollywood Williams create an environment of inclusion and do not hesitate to go above and beyond for every customer." 
Ashley, concierge of Pavilions, was present to accept the award.
Mayor Pro Tem Shyne presented the Nonprofit Award to the West Hollywood Comprehensive Service Center and Jewish Family Services.
"In this program clients can receive an abundance of support including referral to community resources, home installation of assistive devices, ongoing case management and in-home care," Shyne said. "We thank them for continuing to be a compassionate resource for community members with disabilities."
Marina Berkman of Jewish Family Services accepted the award.
"It's my honor to accept this award and I do that on behalf of our disability program with great pleasure. And I accept it with appreciation for acknowledging everything that we are able to do for the community of people who live with disabilities. And I have to tell you that we work with many people in our community and while providing services to people with disabilities, we always feel inspired by them and by many of you. You always demonstrate to us and you show us how one can live a meaningful and fulfilling life in spite of all the challenges," Berkman said
The Media Award was presented to Paolo Murillo of WeHo Times, whom Myra Freedman thanked for  "making the public aware of the challenges people with disabilities face and by making sure we are never dismissed nor overlooked."
"When I first learned about this award, you know, I'm very hard on myself and I didn't think I had done enough. This award reminds me it's not about me. It's about service. It's about spreading information," Murillo said.
Councilmember John D'Amico and Boardmember Yola Dore presented the Lovedy Brydon Differently Abled Individual Award posthumously  to Dena Saur Bowman, who died this year..
"My friend Dina had a joyous spirit," Dore said. "A contagious giggle that captivated all that heard her stories, especially the teens dealing with the challenges of HIV/AIDS. She was an amazing person who lived with multiple disabilities and yet Dina took the high road to share what she had learned with others. Because of her advocacy, others had hope. Countless hope. "
"Listen, I want to thank you very much on behalf of Dina, Donna and myself for this award," said Dena's father Gene.  "It will be cherished and and remembered. I wanted to mention that Dina was a person of love. She had a great sense of humor. She cared about other people. What more could a father want?"