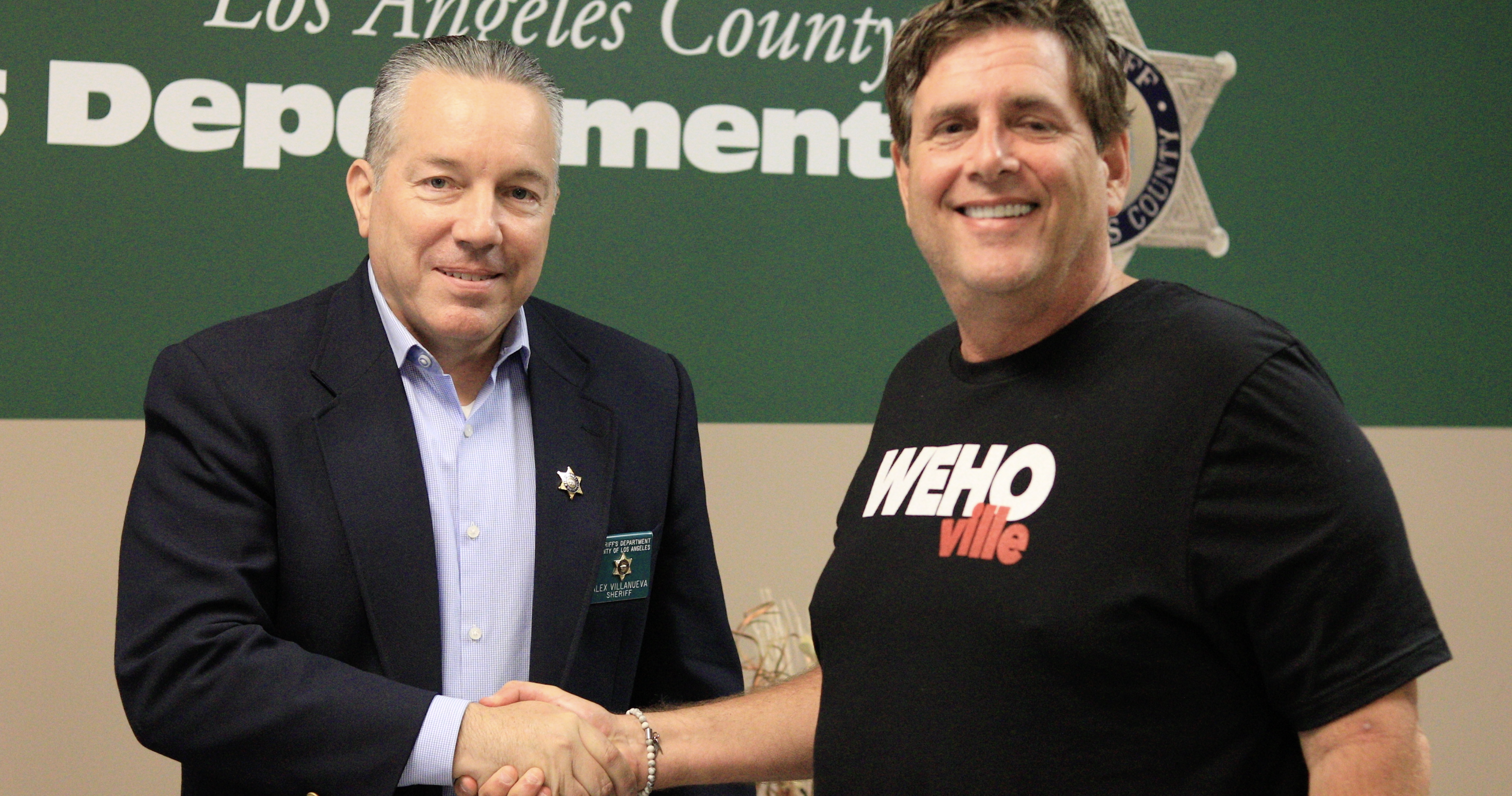 If you are not familiar with our WEHOville voter guide and our piece supporting the sheriff, many of you called with your support, many others had questions.
Choosing to support Villanueva was not the popular choice. Alex finished third in West Hollywood behind both Eric Strong and Robert Luna. We endorsed Alex Villanueva even if he was the unpopular choice in WeHo, or despite the fact that West Hollywood Chamber of Commerce went the other way.
To be totally honest, I am pretty oblivious to County government. My interactions with the Sheriff are mostly based on the daily problems facing my employees on the street and the slow response times. I had no ponies in the race at the beginning.
At the end of the State of the City event, this past June I had the opportunity to meet Robert Luna. Aaron Greene, of Afriat Consulting introduced us after the event. Robert agreed to do an interview and we exchanged cell numbers.
WEHOville had just interviewed Eric Strong in the primary race. Strong one only one city out of the 88 cities that voted. He came in first in West Hollywood.
Our interview with Luna was scheduled for late June, so we postponed it until later in the cycle. Then the Public Safety Commission went on a rampage against the Sheriff and the council was voted on defunding.
I reached out to a contact downtown, "How come zero PRA requests ever get a response? Is it possible to get an interview with Alex?" Later that day I got a response, "I'll run it up the flagpole". A couple of days later I received another text, "Still working on it", and then got a message back from Command Captain Ed Ramirez, the former Captain of the West Hollywood Sheriff. It was 9:58 am on Saturday July 23rd. "The Sheriff wants to do it. How about early next week? "Who should his folks contact? "
'Me", I answered, jumped off my chair and called Brandon. We got an interview with Villanueva!! The next thing I knew Captain Lorena Rodriguez texted me. Rodriguez is a former Lieutenant at the West Hollywood Sheriff Station. We were welcomed right in.
Ramirez was on the Patrol Division, 8th floor, close to Villanueva. We met at his office and he walked us in media room We had no preconditions, or no barriers.
Inside the Hall of Justice it was clear to see that West Hollywood had a seat next to Villanueva. I thought back to the riots and fear in my heart each night that my store would be burned down. One night a crowbar broke the way into the door but we survived that night. Nights I stayed up wondering if the riots were going to burn down our gay village. BlockParty never took down our flags. The Pride of West Hollywood never stopped waving.
Across the street teams of officers lined up. It was the scariest moment of my life. Sitting with Alex I asked about the command post set to protect West Hollywood. He explained that it was County forces and not part of West Hollywood's Sheriff budget. Villanueva created a home base in WeHo, – and as those riots and fires crept closer to West Hollywood's borders an army moved in to protect us all. That army was under the command of Sheriff Alex Villanueva.
If you missed the Villanueva interview here's a copy.
We tried to give equal time to Robert Luna. We both kept missing eachother. Luna's schedule seemed tight. We offered to meet at his office in Long Beach and was told that he does not have a campaign office. I invited him to my house, but he could not get to WeHo. The only way to give Luna equal time was to submit the questions to his campaign in writing. And they responded promptly.
If you missed a copy of the Robert Luna interview, here it is.
We did not set off to take sides. But as we learned more about each candidate the sands on the balance beam were leaning Villanueva. Four years ago we elected the first Democrat in 138 years to run the Sheriff Dept. Everybody was behind the change; it seems like the Board of Supervisors wants a puppy dog instead of a guard dog. The Board of Supervisors trying to take away the power of the people to elect their own Sheriff. The politics of all this didn't make much sense to me.
It was great to see Villanueva at the Abbey two weeks ago meeting with residents and business owners. It's great to know that West Hollywood has two 'wing-men' close to Villanueva every day.
VIllanueva was just elected in 2018. Covid hit in 2019. The years were not easy. Criminals were let out of prisons, our streets are crowded with homeless. The Sheriff lost almost 1300 personnel since pre-Covid. The Board of Supervisors cut the budget and put in a hiring freeze. It's not an easy job. And the rank-and-file that I've spoken with support Villanueva. What can Luna do better?
Yes there is lots of controversy and screaming loud voices for change. Those voices were screaming Villanueva just four years ago. Maybe they can't admit they were wrong. But I'm sticking with Alex. He is paying attention to West Hollywood and we are paying attention to him. I'm glad we can build a relationship with the Sheriff – not one of our City Council members have sat face to face to discuss solutions. If re-elected maybe we can do a better job of working with the Sheriff.
But no matter who wins Villanueva, or Luna, we are on the same team. And WEHOville will tell the story or ask the questions that will bring the Sheriff closer to our community.