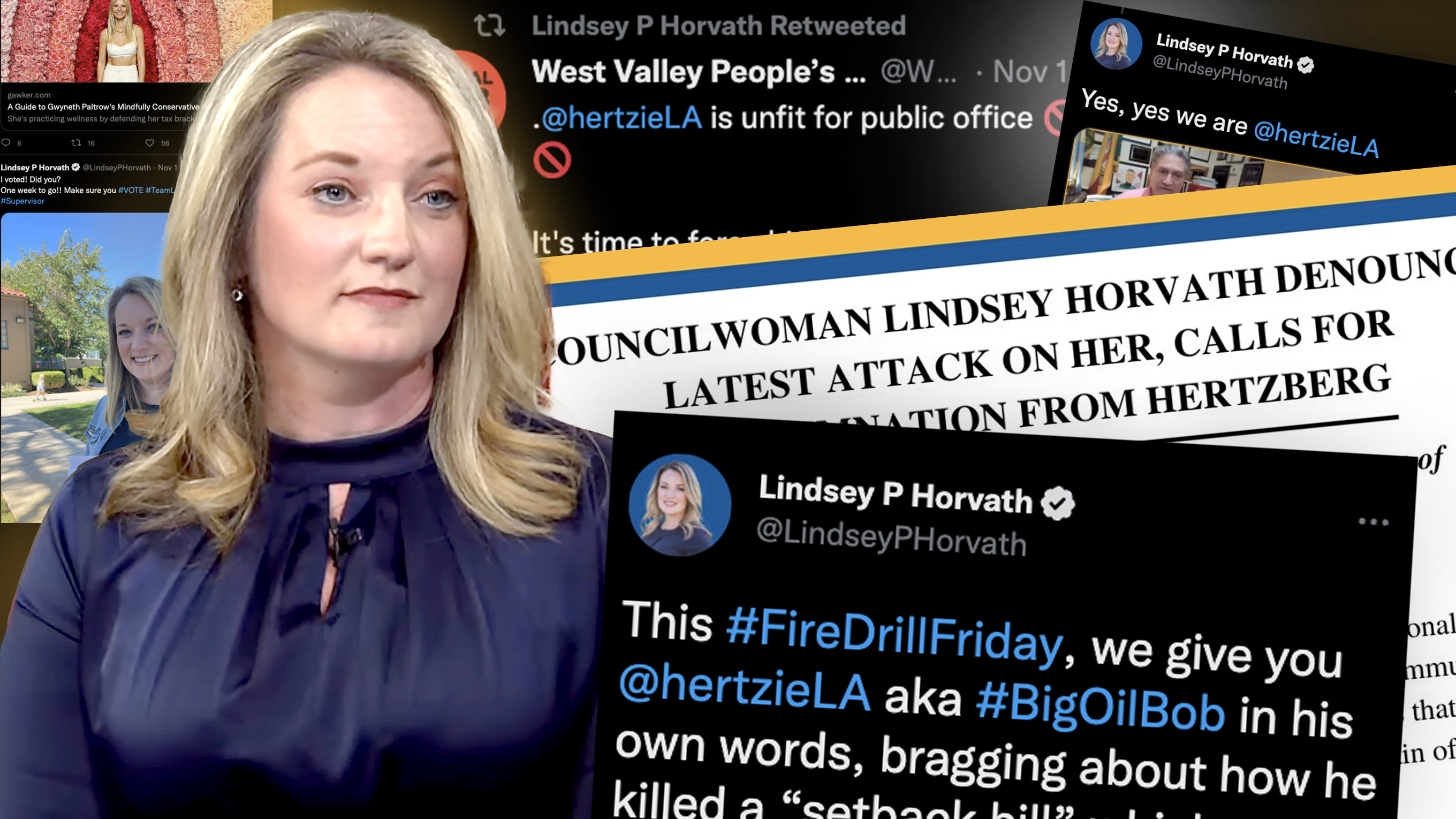 With just days to go and no winning message, Lindsey Horvath resorts to finger-pointing, deflection and drama in the race for County Supervisor against Bob Hertzberg.
In today's episode of Horvath's instagram, she attacks Bob Hertzberg for a mailer sent out by an Independent Expenditure Committee. The Alliance for Affordable Housing mailer accuses Horvath of being anti-semitic.
Horvath posted on her instagram: I am sickened by the latest attacks from @hertziela & his cronies. #Antisemitism should not be weaponized, especially for one man's personal political interests.
Who is weaponizing?
If Horvath is accusing Hertzberg of being anti-semitic that is not true. If Horvath is accusing Hertzberg of being responsible for the mailer of an Independent Expenditure Committee she knows better.
Did Lindsey take responsibility for the illegal mural painted on Santa Monica Blvd by her independent expenditure committee? No! She said, "that is an independent expenditure committee!"
This is similar to the way she acted after her appointee Nika Soon-Shiong brought forward the motion to defund the West Hollywood Sheriff. Lindsey defended Soon-Shiong and picked up the endorsement of the LA Times. De-Fund Lindsey accused anybody who opposed that decision of being racist.
The deflection is that Lindsey Horvath encouraged Chelsea Byers to run in this years' WeHo city council election. Last year I asked Lindsey if she knew of other candidates who may run in 2022. Horvath replied, 'Chelsea Byers, I hope she runs".
Chelsea Byers lives with Austin Cyr. Cyr is on Horvath's campaign team for Supervisor and a former campaign manager. Chelsea Byers has been loudly admonished and denounced for her antisemitic views. Specifically the Israeli-American PAC opposes only one candidate in the West Hollywood City Council election. That candidate is Chelsea Byers. Lindsey Horvath is deflecting from her own support for an antisemitic candidate for the West Hollywood City Council.
Bob Hertzberg helped to build the first green solar plant in Los Angeles in the 90's, and was selected with Al Gore as one of 4 Americans to save the planet. Horvath wants to calls him "Big Oil Bob," yet she supported "Big Oil Bush" in the 2000 campaign for President.
On abortion Horvath screams loudly "my body, my choice," but she supported"pro-life" George Bush against pro-choice Al Gore in the 2000 election.
Horvath's campaign is driving a pink van around down with #metoo and face of Hertzberg. Her closing argument is lots of drama and deflection.
If you scream loud and tweet like Trump you can be Horvath… .
Remember when Lindsey Horvath banned Trump from coming to the City of West Hollywood? It was by her decree. Is that how Lindsey plans on solving the problems of Los Angeles County?
Are any of Lindsey Horvath's closing arguments filled with ideas? Lindsey's closing message is DRAMA, NOISE, antisemitism, big oil, me too, smear and blame. That's why so many of us who know Lindsey Horvath up close will be voting for Bob Hertzberg.
I've asked Bob over the course of the campaign how come he didn't attack Lindsey at all and his answer was always the same. "It's just not right to do. It's not the way to bring people together". "I have other things to talk about"
If we are going to tackle the problems facing Los Angeles County we need leaders who talk ideas and solutions. That is not Lindsey Horvath. Don't be fooled by the drama.
---
In her own words:
"I don't even know if I would count as a 100% pro-choice because I'm not an on-demand-and-without-apology person — to me, that's 100%. I'm not that person."
---
Lindsey Horvath on supporting George W. Bush over Al Gore during the 2000 Presidential campaign. George W. Bush appointed pro-life justices Samuel Alito and John Roberts to United States Supreme Court:
"Governor George W. Bush will use his ability and implement his effective plan of action to lead the United States through the beginning of the 21st Century… Governor Bush will renew and strengthen the [social security] program by providing new terms and options, such as investing a portion of a person's payroll tax into personal savings accounts for increased profit… He will empower parents to protect children from harmful material on the Internet, television or radio, as opposed to Vice President Gore's desire to limit free speech and expression… will remove the excessive taxes placed on couples simply for being married… will restructure the military to more effectively deploy troops and better spend funds, while also increasing funding toward military efforts to better prepare them to protect America… will be an effective global leader." – Lindsey Horvath writing from her student newspaper at the University of Notre Dame.