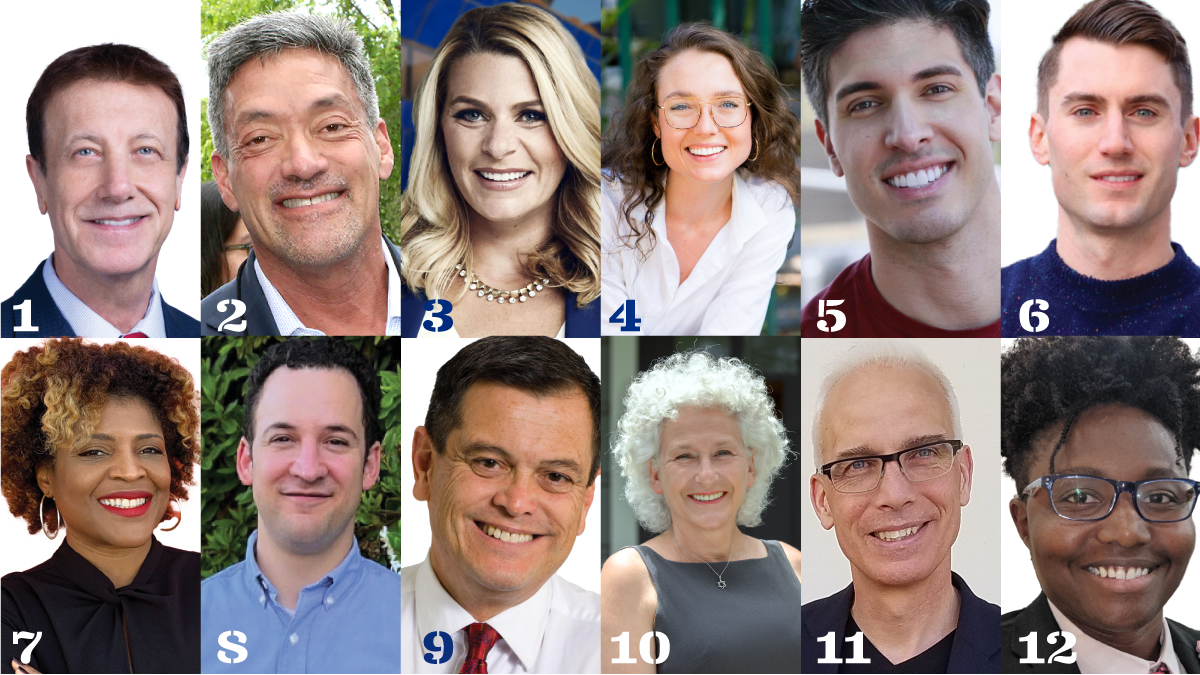 The election is today. The polls close in 2 1/2 hours. 26,168 ballots were mailed to registered voters in West Hollywood. In the 2020 election there were 28,971 ballots mailed to voters. A loss of almost 3000 voters in the past two years.
The 2020 election took place during the COVID-19 pandemic. It was the first City Council election held in tandem with the presidential election in November. Of the 28,971 mailed ballots, a total of 22,802 ballots were returned for a record voter turnout of 78%. There were two open seats on the ballot in 2020.
The last time three open seats were on the ballot was the March 2019 election. That year 28,302 ballots were mailed to voters. 6,170 ballots cast a total of 13,345 votes. Voter turnout was 22%. Roughly 2.2 votes were cast per ballot.
---
In this year's election, as of today, 6608 ballots had been cast. Overall about 75% of voters will vote by mail. For the purpose of placing our bets we are going to project a total of 12,000 total ballots, and 26400-30000 total votes.
In 2019 Meister came in second with 3,616 votes cast on 6,170 ballots. Meister was on 58% of those ballots. Two incumbents, Lindsey Horvath and John D'Amico were also on the ballot in that year. In today's election Mayor Lauren Meister is running as the only incumbent on the ballot. I'm going to project Meister at a low of 60% and high of 67% of all ballots. Based on 12000 ballots Meister's first place winning total would be between 7200-8000 votes.
John Heilman ran in the 2020 election and received 6,233 votes. Heilman appeared on 27% of all ballots cast in that two-seat race. This is a 3-seat race. I'm going to project John Heilman on 35-45% of all ballots. Based on 12,000 ballots, that gives Heilman a vote total of 4200-5400 votes.
John Duran ran in the 2020 election and received 3,363 votes. Duran appeared on just under 1 in 6 ballots in the two-seat race. If Duran appears on 1 out of 4 ballots his vote total will be approximately 3,000 votes. In Duran's last 2017 election he received 2828 votes. Duran's core support range is between 2800-3400 votes. In my eyes Duran ran the best campaign on the issues, – and if people are listening Duran can suprise.
Steve Martin ran in 2017 and received approximately 2,200 votes. In early confidential polling Steve Martin was polling second behind Lauren Meister. Meister and Martin's campaign's are closely linked, with Renee Nahum running both the ground games. If Meister is selected on 60-65% of the ballots and Martin can carry 35- 45% of those ballots, his total would be about 4,200-5,400 votes. The key to Martin's win is for Meister to run strong and to run strong on her ticket.
Money counts and the most heavily financed candidate is Robert Oliver. Let's give Oliver 30%-35% of the vote opposite Meister, and let's assume he is on 1 of 10 ballots of Meister's. In this case, Oliver's vote total 3,600-4200 votes, plus an additional 700+ votes putting his vote total at 4,300-5000+ votes.
Byers was polling 3rd in early polls at roughly 13%. She is also supported by the same developers and Unions supporting Robert Oliver. Byers does not appear to have crossed over, – If she runs between 1 in 4 to 1 in 5 ballots, or 20-25% of the votes that places here at 2400-3000 votes.
Marquita Thomas and Sarah Adolphson are both supported by the WEHO PAC. Thomas garnered just over 1,000 votes in her 2017 election. Thomas campaign feels softer. If Thomas runs on 1 in 4 ballots to 1 in 8 ballots her range is 1500-3000 votes.
Sarah made an impressive debut but she is relatively unknown and her campaign began late in the cycle. That places Sarah between 1 in 6 to 10 ballots would equate to 1200-2000 votes.
Zekiah Wright is supported by Sepi Shyne and UNITE HERE Local 11. With Shyne's solo endorsement and UNITE HERE Local 11's support, we might expect Wright to gather at least 30% of the vote or 4000 votes based on 12000 ballots. But I'm guessing lower at 1 in 6 to 10 ballots or 1200-2400 votes. In many ways Wright's campaign is a proxy on Shyne.
Jordan Cockeram has run an impressive campaign with less money than most of the other candidates. I'd expect him to get more votes per dollar than the other candidates. An impressive showing placing Jordan in the same category of 1 in 6 to 10 ballots and the same range of 1200-2000 votes.
The first man on the ballot Adam Darvish was a late arrival and did not accept donations. Adam had a very quiet campaign. I'm going to place Darvish in the caboose, with 3% or less of the vote total or 400 votes based on 12,000 ballots.
The wildest card in the race is Ben Savage. The Boy-Meets-World star came into the race with more national name recognition than any candidate on the ballot. But, I don't expect Savage has the chops to upset the field. He missed the first debate to kick off his campaign. He made a loan to himself but it does not appear he went spent all the money he put into the campaign. If Ben appears on 1 in 5-8 ballots, that would be 1500-2400 votes.
This forecast method builds in an extra ten percent, – perhaps there will be a late voter surge…- and it's anybody's guess. Here is mine.
It's Meister for the win!
Heilman, Oliver and Martin battling it out the 2nd and 3rd spots. Duran on the outside lane-
At the end of the day, it's up to the voters.
What do you think?