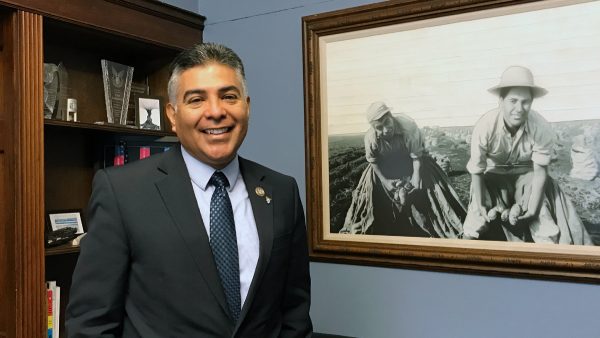 Rep. Tony Cárdenas of Los Angeles has announced his candidacy for chair of the Democratic Congressional Campaign Committee, a group that recruits candidates, raises money and organizes races to elect more party members to the U.S. House of Representatives.
Cárdenas sent a letter to House Democrats Friday putting himself forward to replace outgoing Chair Sean Patrick Maloney of New York, who lost his re-election race to Republican Mike Lawler on Tuesday. Democrats did better overall than many analysts expected in Tuesday's election, but still face the possibility of losing control of the House.
"I want to thank Chairman Sean Patrick Maloney for his leadership and his team for their work over the past two years, which helped us prevent a `red wave.' In the coming weeks, we will make time to figure out how we can do better. But the work to win back the seats we lost and expand our Democratic Caucus begins today," Cárdenas' letter said.
"… When I traveled across the country this election cycle — from Nevada to Pennsylvania and down to Florida — one thing was clear: no one knows how to empower your community and win for your district the way you do, especially when given the necessary resources. In that spirit and understanding of the grave challenges that lie ahead as we approach a Presidential election, I humbly ask for your support to be the next Chair of the Democratic Congressional Campaign Committee (DCCC) to fortify and expand our historically diverse Democratic Caucus for the people who are counting on us to give them hope and power."
Cárdenas, 59, handily won re-election to his 29th Congressional District seat Tuesday, with 59.1% of the vote at last count to 38.1% for fellow Democrat Angelica Duenas.
The former Los Angeles city councilman was first elected to the seat in 2012.
The district includes several eastern San Fernando Valley communities including Granada Hills, Lake View Terrace, North Hollywood, Pacoima, San Fernando, Sun Valley, Sylmar, Valley Village and Van Nuys.